Will Myanmar's 'Genocide Gems' Become the New Blood Diamonds?
(Bloomberg Businessweek) -- A little more than a year ago, Myanmar's military carried out what the United Nations has called a campaign of genocide and war crimes against the Rohingya minority, driving almost 1 million people from their homes. The Trump administration announced limited sanctions against some top generals and their units in August, but the abuses have drawn few other punitive actions. Now human-rights activists are revving up a global campaign seeking to pressure status-conscious jewelry retailers to stop buying precious gemstones that are mined primarily by military-linked businesses of Myanmar, formerly known as Burma. The goal: to make these so-called genocide gems as reviled by jewelry customers as the blood diamonds sourced from warlord-controlled conflict areas in Africa.
Starting in November, organizers plan to picket, pass out leaflets, and gather petition signatures outside the stores of luxury jeweler Bulgari SpA in Bangkok, Boston, Kuala Lumpur, London, New York, San Francisco, Washington, and other cities. Bulgari, a unit of LVMH Moët Hennessy Louis Vuitton SE, features Burmese gems—considered among the world's highest-quality rubies and sapphires—in its luxury jewelry collection. A Bulgari platinum and pavé-diamond necklace is centered by what its website calls a "breathtaking" 180-carat Burmese sapphire, for example, and a "Divas' Dream" cocktail ring boasts a 4.5-carat Burmese sapphire. "The point of the campaign is to make the Burmese military see consequences for what they've done to the Rohingya in Rakhine state," says Simon Billenness, executive director of the International Campaign for the Rohingya in Washington, who coined the term "genocide gems."
The campaign started targeting retailers last December, going after Cie. Financière Richemont SA's Cartier jewelry unit with a petition that drew almost 150,000 signatures. It also sent letters to major jewelry retailers, asking them to account for the origin of the gems their companies use. The pressure prompted Cartier to announce it would stop sourcing gems from Myanmar. In a statement, the company said it "makes its best effort to ensure noncertified gemstones did not originate there."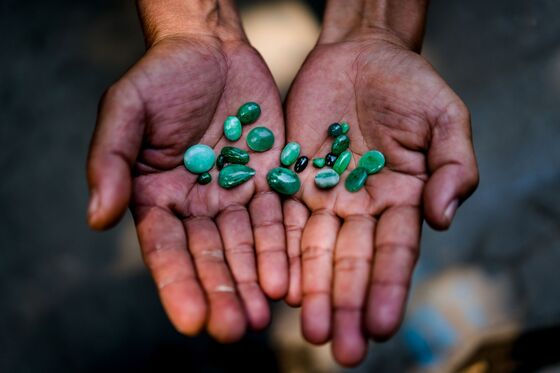 A similar petition aimed at Bulgari that drew 80,000 signatures failed. The company announced that it doesn't buy gems "in Myanmar," but only from reputable international merchants. Yet virtually all Burmese gems are exported raw to Thailand, where they are cut, polished, and sold to international merchants. No major Western company buys directly from Myanmar.
In a clarification in April, Bulgari said the company follows its own code of ethics and participates in the Dragonfly Initiative, a set of compliance standards for purchasers of natural resources. "Also, we believe that individual and noncoordinated private initiatives from nonofficial institutions, rather than helping solve some potential issues, may backfire, creating other issues such as illegal trading and further poverty," it said.
After the one-year anniversary of the most serious attacks on the Rohingya passed in August with little action by the international community and with this year's holiday shopping season approaching, the activists decided to make another run at Bulgari. "We're cranking up the campaign again now that Christmas sales are starting to crank up. It's seasonally relevant now," Billenness says, adding that concerned people want to feel as if there's something they can do. "There's growing interest in these types of 'civilian sanctions.' "
Myanmar's gem business has already been adversely affected. The value of gemstone exports crashed 65 percent in the fiscal year ended in April, to $4.6 million, according to data from Myanmar's Ministry of Commerce. Rather than blame the boycott, Than Zaw Oo, general manager of Myanmar Gems Enterprise, which runs the biannual auctions that export the gems to Thailand, says the quality of gemstones mined in Myanmar, which varies each year, took a downturn. Myanmar's much more plentiful production of jade is sold primarily to China, and those exports increased 68 percent in the same period, to $761.4 million, official data show.
A report by the nonprofit Global Witness in 2015 found that some of Myanmar's senior ruling party figures, including active and retired military officers, control the gem and jade trade and that the military itself owns large or majority stakes in the mining companies.
Bulgari was one of the companies that joined a 2007 voluntary boycott of gems from Myanmar before a U.S. ban prohibiting jade and ruby imports from the country, even if the gems were processed in and exported from another nation. Following elections and efforts to restore democracy in Myanmar, the U.S. in October 2016 lifted sanctions. Even so, international buyers have been slow to return to Myanmar's gem market.
"People are still leery after the sanctions were lifted in 2016, and less than a year later things blew up," says Erin Murphy, founder of Inle Advisory Group, who led an American Gem Trade Association delegation to Myanmar when the ban was lifted. "When it comes down to it, sales are minimal. I just don't see how much impact it [the genocide gems effort] would make in terms of overall supply and production."
The campaigners are using the same playbook they relied on to get Levi Strauss, Macy's, Eddie Bauer, Liz Claiborne, OshKosh B'Gosh, and J.Crew Group to stop sourcing apparel from Myanmar in the 1990s because of political repression and human-rights concerns. "Certainly when we got the first companies, like Levi Strauss, to pull out of Burma, people tended to scoff" that it was so small it didn't make a difference, says Billenness, who participated in those campaigns. "But this is where it starts. This has a big capacity to snowball." —With Kyaw Thu