Why Venezuela's Maduro Is Making a Play for Legitimacy Now
(Bloomberg Businessweek) -- It's 11 a.m. on a Saturday in early June, and I'm in Caracas, Venezuela's capital, on the 10th floor of the finance ministry. One side of the building overlooking the dilapidated downtown has enormous portraits of Simón Bolívar, South America's great liberator; Hugo Chávez, the socialist revolutionary who won the presidency in 1998; and Chávez's successor, Nicolás Maduro, who rules Venezuela today. The presentation I've been summoned to see starts with a PowerPoint slide in Spanish. It reads: "The Attack on Venezuela." I've been in the country less than 24 hours. Let the propaganda begin, I think.
A few weeks earlier, in mid-April, I'd received a WhatsApp call dangling the possibility of an interview with Maduro. It was from Hans Humes, a New York-based hedge fund manager whose specialty is investing in places few others dare to tread. He owned some of Venezuela's defaulted debt in an emerging-markets fund, knew people in the government, and had recently returned from Caracas. While Maduro is a fan of Bloomberg Television, I figured it was a long shot. Plus, the last interview he gave to a foreign journalist—Univision's Jorge Ramos in February 2019—ended after 17 confrontational minutes.
But Maduro's situation had become desperate. Venezuela, once the richest nation in South America thanks to its vast oil reserves, had been strangled by U.S. sanctions and frozen out diplomatically. Its economy had contracted a staggering 80% in eight years. Some 5.4 million Venezuelans—a fifth of the population—had fled elsewhere to escape the hardship and political oppression. Those who remained have endured a terrible humanitarian crisis.
The sanctions on Maduro and his authoritarian regime, significantly expanded in early 2019, were supposed to spark a popular uprising and maybe even a military coup. Instead, he outlasted Donald Trump. Now the Venezuelan government was showing signs it wanted to reset relations with the U.S. and negotiate terms of democratic elections with the domestic opposition. "I think he's ready to talk," Humes said.
My odyssey began with phone calls to lawyers, travel agents, and security experts. The U.S. State Department considers Venezuela as risky for travelers as North Korea and Afghanistan, so getting there requires more than a few smartphone taps on Kayak or Expedia.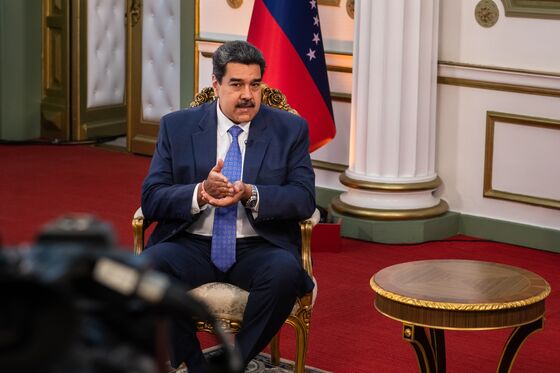 There's a Venezuelan carrier with flights from the Dominican Republic, but its planes are frighteningly old. I opted for Copa, the last major airline in the Americas with service to Caracas, via Panama City. When I checked my suitcase in New York, the ticketing agent had to handwrite "CCS" on the baggage tag because the airport code no longer appears on U.S. computers.
The journey into Caracas leaves a strong impression. Buildings are abandoned, the infrastructure is derelict, cars wait endlessly to fill up at roadside gas stations. Every few miles there's a military checkpoint. Our driver explains that's how soldiers make a living in a country with no money: shaking down drivers for bribes.
At the finance ministry, the PowerPoint presentation is delivered by Patricio Rivera, an adviser to Vice President Delcy Rodríguez and himself a former economy minister in Ecuador. He says sanctions—the "attack"—wiped out most of Venezuela's revenue and the state was forced to respond with radical changes to the neo-Marxist policies that Chávez called "Socialism of the 21st Century." Maduro, guided by Rodríguez and Rivera, has over the past two years cut subsidies on everything from gasoline to credit, eliminated price controls, dropped restrictions on imports, and allowed for an ad hoc dollarization of the economy. The mandarins of capitalism at the International Monetary Fund couldn't have scripted it better.
It turns out my trip to the finance ministry isn't so much a propaganda exercise as the first in a series of tests. When there's no dialogue between two sides in a geopolitical stalemate, we journalists can be used as pawns. Rivera wants to see me demonstrate a genuine interest in Venezuela's predicament and prove I'm no Yanqui imperialist. So do Rodríguez and oil minister Tareck El Aissami, both of whom I meet the following week. If I pass, Maduro might see me.
On the streets of Caracas and beyond, the fearsome power of U.S. foreign policy is on display. Starved of the tens of billions of dollars it once generated selling oil, the Venezuelan government has shrunk in size and slashed its support programs. The minimum wage is down to $3 a month.
Economic liberalization—what Maduro calls a "safety valve"—has helped ease conditions, but mostly for consumers and businesses with access to dollars. At the 2doce Market on fashionable Calle Madrid, the shelves and freezers are stuffed with imported goods at exorbitant prices. A pint of Häagen-Dazs ice cream is $9; a 500-gram tub of ketogenic collagen protein powder goes for $59.50.
The easy solution to the deprivation and inequality is obvious: free and fair elections. Without them, the sanctions remain in place and the U.S. continues to recognize Juan Guaidó, an opposition politician, as Venezuela's rightful leader.
Will Maduro yield? It's the question I most want to ask, and what everyone in Caracas wants to talk about openly but can't. Informants are everywhere, I'm told, and my hotel may be bugged. Local businesspeople I meet refer to Maduro by code names. All calls and texts are on Signal, the secure messaging app. Even WhatsApp, despite being encrypted, is considered too vulnerable.
The interview with Maduro was supposed to happen on a Wednesday at the Miraflores Palace. Now it's Friday and still nothing. One theory: Hard-liners in the government opposed to U.S. reconciliation are trying to sabotage the plan.
I'm told to meet Vice President Rodríguez at a party rally near Cementerio del Sur, one of the poorest and most dangerous neighborhoods in Caracas. When I arrive, she's making a live appearance on state television, championing the power of the people and recognizing warriors of the socialist revolution. Then we sit down to talk, and she makes a promise: Maduro will see me on Monday at 2 p.m. Evidently, I've passed the last test.
The final few hours are, predictably, a torment of more delays. First, my colleagues are ejected from Miraflores while the president's security team inspects our camera gear and lighting arrays. Then, there's a fight by text message over how many people we can have present for the interview.
At about 6 p.m., we're ushered down a colonnaded garden and into the Despacho Presidencial, Venezuela's ornate equivalent of the Oval Office. There's a shushing by aides and then Maduro enters the room. He's much taller than I am—maybe 6'3"—and has the same bushy mustache you've seen in photographs. "You're famous," he tells me. We take our seats on a pair of gilded Louis XVI chairs, supervised by a full-length portrait of the omnipresent Bolívar.
Over the next 85 minutes, as expected, I get an earful about the cruel and brutal injustices of U.S. neocolonialism. But underneath there's a calculated pragmatism at work. Maduro proposes a dialogue with the Biden administration and makes clear he wants a deal to ease the sanctions. "We have to reach a point where we can normalize that relationship," he says. If Maduro lines up everything just right—revives the economy, rebuilds his base of support, frustrates the fragmented opposition—maybe he can win an election fairly.