Salesforce Gets Into the Streaming Wars in a Very Salesforce Way
(Bloomberg Businessweek) -- In her essay "The White Album," Joan Didion famously wrote, "We tell ourselves stories in order to live." As far as human beings go, it's as good an explanation as any. But how about business-to-business software companies? Why do they do it?
At this late stage of the streaming wars, it seems like there's no business that isn't in show business. Consider Salesforce+, the online streaming channel that Salesforce.com Inc., the world leader in customer relationship management software, started in September. The channel, which I recently spent a couple days watching, is a collection of shows available through Salesforce's website where people (usually company executives) interview business owners, entrepreneurs, and fellow executives. There's The Inflection Point, where chief executive officers (and, in one episode, CNBC's Jim Cramer) talk about themselves. The series Leading Through Change focuses on "how business leaders are navigating the Covid-19 pandemic." Simply Put promises, in six-minute episodes, solutions to "complex industrywide problems." A lot of the interviews are about telling stories: either of personal journeys, or corporate transformations, or, ideally, stories that tie the two together into parables of purpose-driven capitalism. In one episode of Connections, Sarah Franklin, Salesforce's chief marketing officer, travels to Austin to speak to Carla Piñeyro Sublett, IBM Corp.'s chief marketing officer. As the two walk through a park wearing athleisure clothing and matching foam-and-mesh trucker hats, Sublett confides that she wants IBM's marketing to win an Academy Award. "I want to bring these stories to life in a way that no B2B tech marketer ever has done before," she says. "I just got chills when you said that!" Franklin responds. "That's such beginner's mind and such innovative thinking."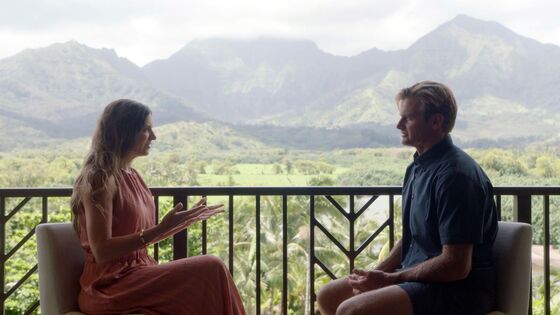 The good-natured willingness of Salesforce executives to try their hand at being TV personalities is admirable. My journey through the Salesforce+ catalog, though, brought me no closer to understanding why the channel exists. (Admittedly, I'm not really the target demographic: Like many business journalists, I've never actually run a business, though I've developed a very high tolerance for business content.)
I reached out to Salesforce and ended up speaking to Franklin herself, who said she came up with the streaming idea soon after taking on her current job in January. "I came into the CMO role with an innovator's mindset and in the middle of this pandemic, and I was thinking, 'How should we adapt? What do we need to do differently?' " she said. She looked at Netflix, ESPN+, and Disney+ and thought there was a place alongside them for "engaging content and inspirational stories" related to business.
On some level, Salesforce+ is just Salesforce telling its own story. What good is it to be a purpose-driven, change-making company if you can't tell people about it? In Episode 3 of Leading Through Change, Salesforce CEO Marc Benioff interviews Julie Sweet, the CEO of Accenture Plc. At one point, he unspools, with justifiable pride, a long soliloquy that starts with how Salesforce secured and distributed to health-care workers early in the pandemic millions of pieces of personal protective equipment, then describes the company's work with Accenture to help clients do contact tracing, before segueing into a discussion of the contagion risk of elevators, all while Sweet nods along politely. "Tell me," Benioff concludes, "how are you thinking about that?"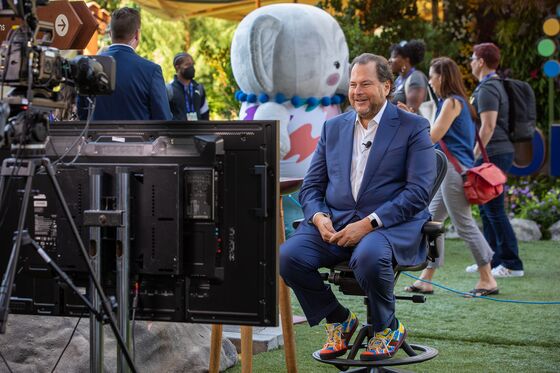 The context for all of this is that it's getting harder for companies to reach people the way they used to. Customers have "become experts at tuning out traditional advertising," says Allen Adamson, a brand strategist and founder of marketing consulting firm Metaforce. At the same time, the public backlash against cookies and ad tracking software more broadly has led Apple Inc., Google, and the other big software and hardware platform companies to pledge (with varying degrees of enthusiasm) to phase them out. A streaming service could be a way to connect to customers who won't let you pay to reach them.
Obviously, this only works if people come and watch the stuff. Salesforce+ was launched at Dreamforce, the company's annual conference, a mostly virtual affair this year streamed on the new channel. Much of the content retains the feel of something adapted from a conference stage. But instead of sitting in the same room for a few hours until the alcohol-lubricated networking begins, Salesforce+ viewers are being asked to focus on a screen that could just as easily be playing sports highlights, episodes of their favorite childhood TV shows, or pornography. While I was watching it, I found myself constantly clicking away to deal with my online to-do list.
Salesforce+ is still new, of course, and a work in progress. Franklin is thinking of expanding into scripted content—she mentioned the HBO satire Silicon Valley as an inspiration. I'm definitely curious what that would look like. For now, though, the channel failed for me, at least as infotainment. As a productivity aid it worked pretty well.
 
Read next: Patreon Battles for Creators by Investing in Original Content