Why Poland Is Planning Europe's Biggest Airport
(Bloomberg Businessweek) -- The village of Baranow, Poland, is a bucolic place, with little more than a general store, a school named after Pope John Paul II, and a church whose spire juts above groves of apple and pear trees. Rafal Milczarski wants to see it bulldozed and filled with screaming jetliners.
The chief executive officer of LOT Polish Airlines SA says his company and his country need a modern airline hub to serve Warsaw, 40 kilometers (25 miles) to the east. In place of modest farmhouses surrounded by flower beds, Milczarski envisions terminals, hangars, and runways—a 70 billion zloty ($19 billion) project after new rail links and highways are included—to handle 45 million passengers a year and rival Heathrow in London, Charles de Gaulle in Paris, and Schiphol in Amsterdam. "Central Europe needs a proper aviation hub," Milczarski says in his office at state-owned LOT's current home base, a cramped air facility named after composer Frederic Chopin that opened in 1934. "We are going to be part of planning it and building it."
The new airport, which would be 15 minutes from Warsaw's central station by train, is key to LOT's ambitions to triple passenger traffic and boost long-haul service to Asia and the Americas. Construction is slated to begin in 2021, after the government acquires the land in Baranow and nearby towns, and flights will begin in 2027. Further phases would add more runways and terminals, increasing capacity to 100 million passengers a year—more than Heathrow, Europe's busiest airport.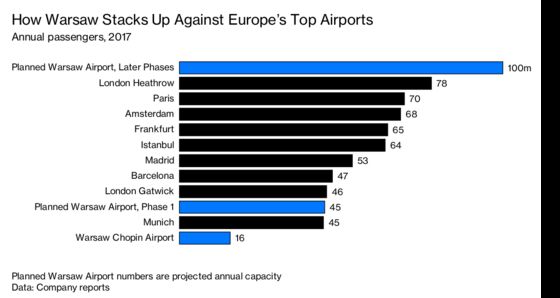 Although Chopin was updated with a new train station and terminal in 2012, it will reach its annual capacity of 20 million passengers within four years. In 2017, 16 million people passed through the low-slung terminal's silver facade, more than double the traffic in 2005. With Poland's economy growing at an average of 3.3 percent annually in recent years, "the region is getting richer and richer," Milczarski says. "Our aspiration is to become the favorite network airline of central Europe."
The plan dovetails with the nationalist agenda of the ruling Law and Justice party. Poland is the sixth-most populous nation in the European Union, with the bloc's No. 8 economy, and the government says the airport can showcase the country as an emergent power. "It's the biggest under­taking in the modern history of Poland," says Deputy Infrastructure Minister Mikolaj Wild, who is overseeing the project. Given its location on Europe's eastern flank, the airport can be "the gateway from the EU to the east."
With a projected 9 million passengers this year, LOT is only Europe's 19th largest airline, but it has some distinct advantages. It's one of just a handful of independent flag carriers still operating in the region. Its home base is a country of 38 million that's seen millions emigrate over the past century, many with lasting ties to their homeland. LOT's fleet of 73 airplanes includes 11 Boeing Dreamliners it uses to serve Polish enclaves such as Chicago, New York, and Los Angeles, as well as routes to Asia. "Of all the Eastern European airlines, LOT has the greatest chance of succeeding," says John Grant, director of advisory firm JGAviation Consultants. "Family ties and bonds are still quite strong."
But LOT isn't even the biggest airline in its home market, with discounters Wizz Air Holdings Plc and Ryanair Holdings Plc both carrying more passengers to Poland. LOT's operating profit is on track to fall 22 percent this year, to 225 million zloty—mainly because of rising fuel and leasing costs—even as revenue is projected to rise 25 percent, to 6 billion zloty. And at about 2 million residents, its home city, Warsaw, is relatively small.
Skeptics say the money would be better spent on highways, rail lines, and updating Chopin and another airport 40km north of Warsaw that's served by Ryanair. The first phase of the project will cost 35 billion zloty, or more than 10 percent of this year's national budget. Some part of that would come from the EU, but the government says it's also likely to take on debt.
Ryanair CEO Michael O'Leary calls the idea "stupid" and a "shiny cathedral in the middle of nowhere." And the residents of Baranow have voted against the plan. "I see more megalomaniacal self-aggrandizement than any realistic analysis in this project," says Marcin Swiecicki, a former Warsaw mayor and member of parliament from Civic Platform, the biggest opposition party.
The government insists the project is sound and is moving ahead. Officials say expanding Chopin makes little sense, because it's inside Warsaw's city limits, with hundreds of thousands of people living nearby. And for Milczarski and government leaders, building a new facility is the best way to ensure LOT's—and Poland's—role in the global economy. "We are Polish, and we are proud of that," Milczarski says. "But we define the scope of our activity more broadly."
To contact the editor responsible for this story: David Rocks at drocks1@bloomberg.net