The Power Grid Is Just Another Casino for Energy Traders
(Bloomberg Businessweek) -- One morning in January, Andrew Kittell climbed into his gray Toyota pickup and drove to the top of the San Diego-Coronado Bay Bridge. He parked in the service lane and got out, leaving his driver's license in the car. He walked toward the railing.
Kittell was a trader in the market for financial transmission rights, also known as congestion contracts. These are essentially bets that at specific places and times, demand for electricity will rise enough to create bottlenecks, or congestion, on the power grid, causing prices to jump. The tools of this trade are weather forecasts and demand curves and proprietary prediction models; the field tends to attract understated, cerebral people. But Kittell was an outlier, an extrovert prone to testing limits. A decade earlier, he'd helped JPMorgan Chase & Co. make more than $125 million in California's and the Midwest's electricity markets, only to have regulators accuse his team of gaming the system. The bank settled the case by paying $410 million in penalties and relief. Kittell himself wasn't penalized, and nobody admitted any wrongdoing.
Then, in 2014, he and two colleagues launched a company that began trading congestion contracts and quickly amassed a portfolio that dwarfed all others in the regional market in which it operated. In less than four years, that company, GreenHat Energy LLC, defaulted on its debts and lost almost $180 million. Kittell and his partners became targets of civil lawsuits and possible criminal action: The Federal Energy Regulatory Commission's enforcement staff has alleged that GreenHat fraudulently exploited regulatory gaps to acquire its huge array of positions on credit with very little collateral. In simple terms, FERC says it pursued a strategy of buying a boatload of contracts, cashing out the best, and walking away from the rest. Other market participants, including utilities and their customers, were left to cover the losses.
On Jan. 6, one day after FERC's investigators served notice that they were forging ahead with fraud allegations, Kittell made the morning drive to the Coronado Bridge. A security camera on the bridge captured him climbing the railing and jumping. He was 50.
Legal arguments over GreenHat's conduct and FERC's investigation might continue for years. Attorneys for Kittell's estate and the company's surviving principals say their clients did nothing illegal. But the damage done by GreenHat's trading reveals an inherent risk in the U.S. power system. The contracts the company was dealing in were designed to allow utilities to offset spikes in the cost of electricity they buy and then provide to homes and businesses. Speculators are part of this ecosystem—but no one had seen a speculator like GreenHat. The company played the game an entirely different way, and regulators weren't ready. It's not clear that they're ready now, should there be another GreenHat.
Anyone who pays a utility bill in the U.S. is familiar with the symptoms of an aging power grid perpetually in need of upgrades. Less visible are the entities that bet on, and make multimillion-dollar profits from, the grid's shortcomings. GreenHat's story shows that not only do American power customers have to contend with high electric bills, rolling blackouts, and increasingly common outages—they're also underwriting a trading system that allows speculators to pocket the winnings and sticks ratepayers with some of the biggest losses.
 
Andrew Kittell grew up in the shadow of Wall Street. His father, Donald Kittell, was an executive with Morgan Stanley Dean Witter and later served as the chief financial officer for Sifma, the Securities Industry and Financial Markets Association. Andrew liked excitement—he skied and surfed—but told friends he'd learned from summer jobs on Wall Street that he didn't care for financial risk. At Columbia Business School, he wrote in-depth research on the odds of winning at a casino, reaching conclusions that soured him on gambling, close associates say.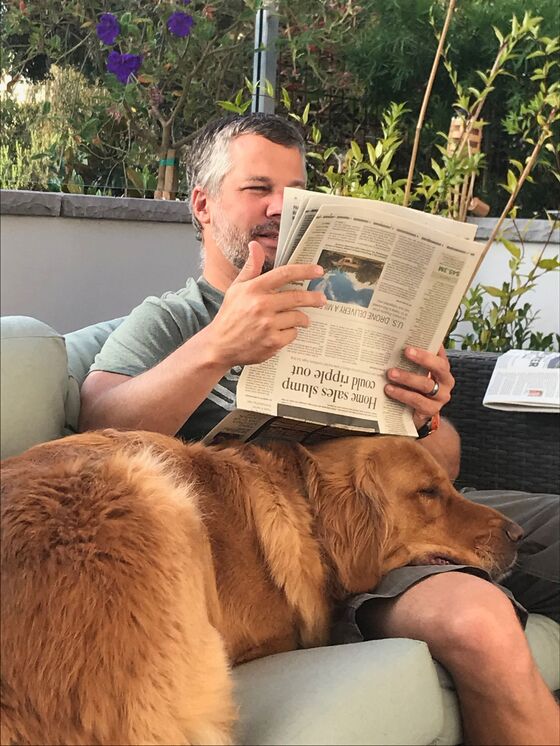 Kittell was hired out of school by Bear Stearns, for a unit that aimed to wring profit from the investment bank's portfolio of power plants. After Bear's 2008 bankruptcy, he wound up in Houston at JPMorgan Ventures Energy Corp. (JPMVEC), where he worked alongside fellow trader John Bartholomew. Bartholomew had spent years as a power purchaser at a Southern California utility; he boasted on his résumé that the experience had taught him how to take advantage of flaws in the state's payment formulas for power generators.
In the broadest terms, power traders try to anticipate when demand will rise and supply will falter. JPMVEC did all that—and also focused on finding rules it could exploit. One example: During times of heightened demand, California officials would pay plant owners hefty ramp-up fees to bring more generators online. So JPMVEC wouldn't switch on the handful of plants under its control until it could charge as much as 83 times the normal price of power. The plants would run for a bit, then shut down to await the next demand peak. In all, the firm employed 12 different strategies that federal officials determined went beyond typical behavior and were designed to game the system.
According to internal emails, senior JPMorgan executives expected the power unit to reap hundreds of millions of dollars, but by 2013 regulators had intervened. JPMorgan agreed that year to the second-largest settlement in FERC's history: It paid a $285 million fine for what the settlement called "manipulative bidding strategies" and returned $125 million more in "unjust profits."
The next year, Kittell, Bartholomew, and a third JPMVEC alumnus, Kevin Ziegenhorn, formed GreenHat. Through their lawyers, Bartholomew and Ziegenhorn declined to comment for this story.
FERC is the main enforcement authority for U.S. electricity markets. The Securities and Exchange Commission has also led major investigations into energy trading firms, including Enron, whose market manipulation and accounting fraud led to bankruptcy in 2001 and landed top executives in prison. But consumers' first line of defense consists of four regional transmission organizations, or RTOs, and three single-state independent system operators, or ISOs (New York, California, and Texas have their own grids). These private companies grapple with a system that is part Escher, part Rube Goldberg. Day to day, the essential task is balancing supply and demand—and the power flow has to be precise, at a frequency of 60 hertz, or the grid can become unstable. It's a daunting task considering that the grid is a sprawling patchwork cobbled together from lines running along paths built a century ago and vulnerable to challenges as unpredictable as extreme weather, mechanical breakdowns, falling tree limbs, cyberattacks, and solar flares. The grid operators also run the markets for financial instruments based on the cost of those disruptions.
GreenHat traded in a market operated by the largest of the grid keepers, the RTO known as PJM Interconnection LLC. PJM (the name originally stood for Pennsylvania, New Jersey, and Maryland) directs power from 1,400 generators through 85,100 miles of high-voltage cables in 13 Eastern states and the District of Columbia. Its 65 million electricity consumers have been spared the widespread blackouts that have affected tens of millions of people in Texas and California lately, but they've paid for that stability.
PJM is supposed to balance the interests of power companies, consumers, and communities, but for years it's allowed major suppliers such as Exelon, Duke Energy, and American Electric Power to bill ratepayers for high-priced upgrades to sections of the grid where they predominate, according to an assortment of studies. Ari Peskoe, director of the Electricity Law Initiative at the Harvard Law School Environmental and Energy Law Program, says PJM's reliable checkoff on new projects allows suppliers to preserve their market dominance and freeze out competition. It's effectively "a protection racket" for the biggest providers, Peskoe says.
PJM has also allowed power providers owned by Wall Street firms such as Blackstone Inc. and KKR & Co. to tap into the billions of dollars a year PJM pays for what's called reserve generation—the maintenance of clunker plants that are used only in emergencies, typically a few days a year. That limited role has been a lifeline for aging plants like the 52-year-old Homer City Generating Station in western Pennsylvania, once owned by General Electric Co. It's a coal-burning plant made all but obsolete by the shale gas boom in the surrounding area. PJM pays it to stay online to help meet peak demand. Federal regulators, academics, consumer advocates, and market participants all say PJM pays for far too much capacity. PJM disagrees.
GreenHat found a similarly accommodating environment in PJM's market for congestion contracts. Grid operators dole out rights to the excess congestion revenue they collect to utilities and other power suppliers. At regular auctions, the recipients can resell such rights as futures contracts. Winning bidders, including speculators like GreenHat, acquire their positions on credit; no money changes hands until the contracts' terms end. That can be years in the future.
Similar markets operate around the country, but GreenHat found PJM's especially attractive. In comments to close associates, Kittell cited one particular aspect: PJM allowed traders to buy large numbers of congestion contracts while posting very little collateral. To secure the positions that ultimately lost $180 million, PJM required GreenHat to pledge less than $600,000, FERC records show.
PJM declined to comment on the GreenHat case, citing FERC's ongoing investigation. In emailed statements, PJM has said that since GreenHat's default it has implemented "a comprehensive overhaul of credit reform, mitigation policies and procedures" that include stricter collateral requirements and the appointment of a chief risk officer in 2019. The new policies give PJM officials "authority to limit, rescind or terminate participants."
PJM has also closed another regulatory gap. When GreenHat set up shop, PJM had no screening process in place for new traders or trading firms. It does now. The applications of the GreenHat executives were approved without so much as a Google search.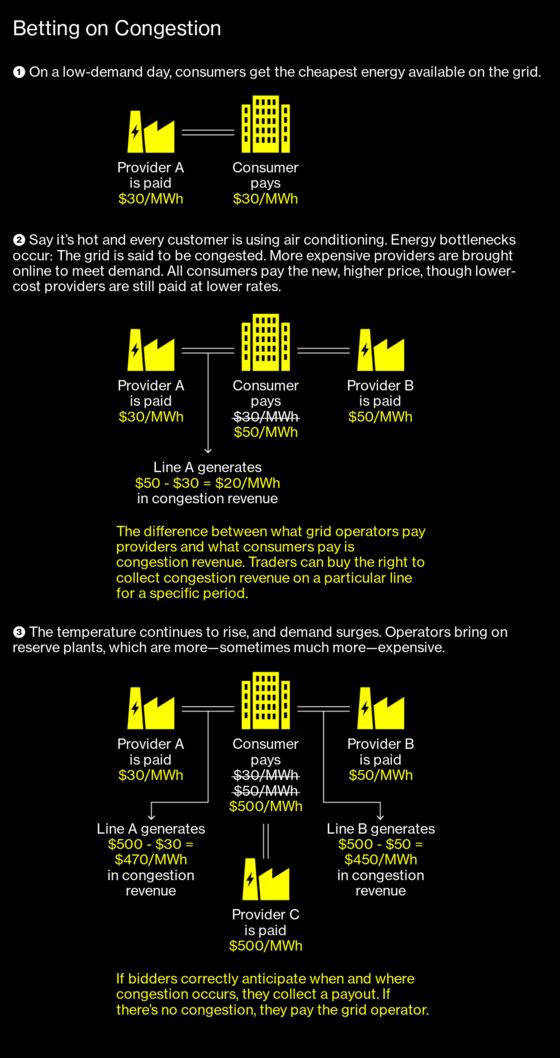 Anyone who's paid surge pricing for an Uber has a general idea of what creates congestion revenue: Prices and surcharges climb steeply whenever demand exceeds suppliers' capacity. In the electricity market, there are additional wrinkles. Overloading a power line causes wires to retain heat and stretch, putting them at risk of failure, so grid operators like PJM have to balance the limited capacity of the lines against the ceaseless ebb and flow of demand. When needed, they bring on additional power providers, at higher prices. Say the price on a given day is $30 per megawatt-hour. When there's a little pressure on supply, that might rise a few dollars. As the pressure increases it might double, then increase tenfold, then twentyfold. PJM finally caps prices at $1,000 per MWh—but in the most extreme conditions they could surge to $3,750. Next year those prices can rise to more than $12,000.
When prices jump, grid operators charge every ratepayer the new, higher price—even though the initial providers continue to receive the previous, lower price. Imagine you're riding in an Uber economy car when demand leaps so high that the only option available for new riders is limousines. And then imagine that the price you have to pay automatically increases to the limousine rate—even though your driver will collect only the economy rate.
The money that grid operators collect from consumers but don't pay to power providers is congestion revenue. During the first six months of this year, consumers in PJM's service area kicked in $354 million in such revenue, a 97% increase from a year earlier.
Wholesale electricity buyers, such as utilities, use congestion revenue markets to hedge against sudden price hikes. They sell the contracts allocated to them to raise cash, or buy contracts from other utilities and power traders in an attempt to profit from congestion elsewhere on the grid. But the market is open to other traders, too, speculators who never purchase a single kilowatt of power. The idea is that they'll add liquidity and competition. To guide their bids for congestion contracts, these investors create algorithmic power-flow models that aim to out-forecast meteorologists, civic planners, electrical engineers, and the grid operators themselves.
Kevin Kelley, founder of a Houston energy trading firm called Roscommon Analytics, recalls his first impression of Kittell: "This guy's too personable to be a trader." And his first impression of GreenHat's forecasting strategy: "Alarms went off." Kelley met Kittell in September 2016 at a coffee bar. Kelley had set up the meeting; he was considering offering Kittell a job. It quickly became clear that Kittell was more interested in soliciting investments for GreenHat than working for someone else. So Kelley listened to Kittell's pitch and then asked what he considered the most fundamental question: Who was doing GreenHat's power-flow forecasting? No one, Kittell said.
Kelley was stunned. "It's the most basic step of building a trading company," he says. "Without it, you don't really know the value of what you're buying."
Another financier, who was unfamiliar with the particulars of electricity markets, recalls asking Kittell in 2015 to explain GreenHat's approach. "Do I root for a blizzard?" he asked. "A heat wave? Or a hurricane? How does this work?" Kittell shook his head. "It doesn't matter about the fundamentals," he said. "I'm betting against the model." It appeared that the speculator who hated risk thought he'd found a way around it.
Alone among the investors in this market, GreenHat wasn't trying to predict congestion patterns. As the company told prospective investors, its bets were guided by information that PJM itself had developed and published. PJM occasionally put out an Excel spreadsheet showing traders how much collateral they'd have to front if they placed a bid that deviated from the three-year average cost of congestion on a particular part of the grid. A bid below that average would require zero collateral, because PJM considered it such a low-risk bet. That's where GreenHat concentrated its trades.
With its unconventional strategy and $3 million in capital that Kittell had kicked in to start the firm, GreenHat began trading in 2014. According to a FERC enforcement staff report, GreenHat quickly lost $2.2 million. Some of its trades left other market participants scratching their heads: It appeared GreenHat was using declining prices as a signal to invest. But other traders, who did far more granular research about the grid than GreenHat, recognized that many low-cost contracts were getting cheaper for a reason: Natural gas prices were declining and new transmission lines were being completed. GreenHat was betting on congestion in places where congestion was being eased.
GreenHat tweaked its strategy. It had initially purchased short-term contracts, but beginning in 2015 it focused on buying positions that would settle further in the future, according to internal company documents and FERC records.
In other words, a trader that said it had no forecasting method of its own began trying to see further ahead. Even now, almost five years after their meeting, Kelley says he's not certain whether Kittell was too naive to know he was flirting with disaster or too cynical to care.
FERC's enforcement staff has its own view: It concluded that GreenHat's trades weren't naive at all. In legal filings, FERC officials describe the firm's trading strategy as a textbook example of a Sopranos-style bust-out scheme. In a bust-out, criminals max out a business's line of credit, "busy themselves disposing of their purchases at substantial discounts," and then walk away without repaying creditors, FERC says.
GreenHat's lawyers have denied that characterization. The company tried to buy profitable contracts, the lawyers said in a filing with FERC this summer; at one point GreenHat calculated that its portfolio stood to make $146 million in profit. "Using PJM's valuation methodologies, GreenHat expected to make money—a lot of it," the firm claimed in its response.
In fact, GreenHat did make some money. PJM allowed its congestion traders to make side deals, so GreenHat began harvesting groups of its most promising contracts and selling them to other traders at reduced prices in exchange for immediate cash. For example, Shell Energy North America purchased an assortment of the firm's contracts at a discount in 2016 and 2017; GreenHat got $1.49 million upfront. In all, the company made four bilateral deals, according to FERC records, and received $13 million. Kittell and his partners had much of it transferred into their personal accounts, FERC's enforcement report says.
 
GreenHat's massive buying spree set off alarms among other traders. By early 2017 the firm had purchased tens of millions of dollars' worth of congestion contracts. GreenHat was PJM's biggest trader by far; it held many more contracts than its two closest rivals combined, according to a panel of independent consultants hired by PJM.
A company called DC Energy, one of the market's most consistently profitable players, assessed GreenHat's positions in early 2017. It sent an urgent email to PJM officials that said GreenHat hadn't factored in transmission upgrades that had eased congestion in various spots and stood to lose tens of millions of dollars.
PJM initially brushed that warning aside. Two months later, it reexamined GreenHat and concluded that it was in fact exposed to $35 million in losses. It banned GreenHat from trading. The ban lasted less than three weeks, because PJM officials worried that GreenHat might sue, according to the consultants' report.
When PJM officials asked GreenHat for additional collateral, Kittell told them Shell Energy North America owed his firm $62 million, according to FERC records. But Kittell wouldn't give PJM permission to ask Shell for confirmation of those receivables. PJM decided against approaching Shell without GreenHat's approval.
With its trading privileges restored, GreenHat went on a new buying spree, offering the $62 million it said it was owed by Shell to offset any future losses. Now the company focused on contracts that would reduce its immediate collateral requirements even further. During the final eight months of 2017, GreenHat managed to increase the size of its portfolio by more than 50% while cutting its collateral requirement by 90%.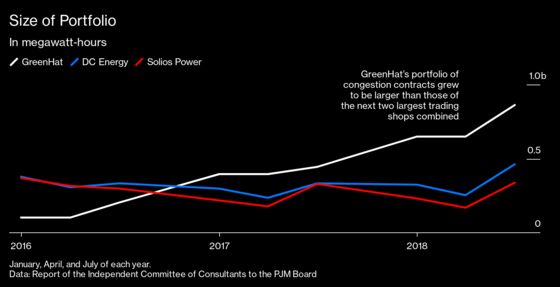 Bartholomew and Ziegenhorn stepped away from GreenHat in January 2018, selling their shares to Kittell. That April, PJM revamped its method for calculating collateral requirements, using a new market analysis system with at least one significant improvement: In assessing potential congestion, it could factor in plans for grid upgrades. Using its new tool, PJM informed Kittell that GreenHat was in danger of defaulting. At least three other firms joined DC Energy in warning PJM about the risk in GreenHat's portfolio. Nonetheless, PJM allowed the firm to keep trading.
The next month, the wheels came off. PJM officials learned Shell was disputing that it owed GreenHat any money. PJM demanded new collateral. GreenHat was unable to pay, and on June 21, 2018, PJM declared the firm in default.
Why didn't PJM act earlier? The consultants identified three reasons: First, the fear of a lawsuit. Second, PJM underestimated the losses. (Just weeks before GreenHat's default, an internal PJM analyst had concluded that its portfolio "had a positive value," according to an email unearthed in the FERC probe.) And third, it dismissed the other traders' warnings as professional jealousy.
In truth, the other firms had a financial incentive to worry about their rival trader. PJM handles defaults by apportioning losses among all market participants—including utilities, which pass the cost to consumers. When GreenHat defaulted, it cost them all.
The theory is that auctions for congestion contracts will produce enough revenue for the utilities to roughly equal what they pay in congestion increases. But in reality, there's too little competition for many contracts in the auctions. As a result, less than 80% of congestion revenue goes back to the utilities, and hence to consumers, in many years. This year, PJM is on track to return less than half. Financial traders will pocket most of the rest.
 
As investigations and lawsuits swirled around Kittell, he told friends and confidantes that he'd broken no laws. He said overzealous regulators had upended his life and unfairly smeared his reputation, because of what he called their resentments over the JPMorgan case. He was looking forward to his day in court, he said—though as his legal bills mounted, he told one person that he worried he'd run out of cash before he could clear his name. Three days before Christmas 2020, FERC sent Kittell a settlement offer, indicating that it would forge ahead with its case unless he paid more than $200 million in fines, according to people familiar with the matter. A little more than two weeks later, he made his final drive to the bridge. He left behind a wife and two children.
FERC has continued to investigate Bartholomew and Ziegenhorn; it's seeking $242 million in damages from them and from Kittell's estate. That effort can succeed only if the regulator proves that GreenHat's trading was intentionally fraudulent.
"GreenHat's strategy proved mistaken," lawyers for Kittell's estate said in a response to FERC's allegations. "But that does not make it fraudulent." GreenHat's mistake, they said, was relying on PJM's expertise. The lawyers went further: They said FERC's pressure on Kittell pushed him to the edge. "This case drove an innocent man to his death," wrote lawyers at Skadden, Arps, Slate, Meagher & Flom LLP in a July 7 response to the allegations. FERC officials have declined to comment. In an official filing, the agency said members of its enforcement staff "were shocked and saddened to hear of Mr. Kittell's passing. But his death does not relieve staff or the commission of the obligation to evaluate the merits of this proceeding and to enforce the law."
The consultant panel hired by PJM issued a blistering critique. Its report faulted PJM managers for failing to adequately screen or monitor traders, for implementing a faulty credit policy, and for having a fundamental misunderstanding of PJM's regulatory duties.
PJM has adopted some of the changes suggested in that report, and next month a panel of its members is slated to vote on additional changes aimed at increasing the amount of congestion revenue that goes back to the utilities and other companies that serve consumers. Consumer advocates say more fundamental changes are needed. The most "simple and elegant solution" would be to stop creating financial products out of power costs, end the auctions for those products, and just give congestion revenue back to consumers, says Eric Hildebrandt, the market monitor for California Independent System Operator, the state's ISO. He compares the current system to an overly generous casino, "a game that bettors win 60% or 70% of the time."
Hildebrandt is skeptical of claims that such trading makes the transmission system more efficient. If regulators are intent on preserving it, he says, they should let traders bear all the risk. "In every other commodity market, you have a willing buyer and a willing seller," Hildebrandt says. "Here, the ratepayer is an unwitting underwriter. It's not efficient, it doesn't make sense, and it's costing consumers hundreds of millions of dollars a year."
 
Read next: The Energy Revolution Is Going to Need Better Batteries