The Super League Went Supernova Over the Beautiful Game's Future
(Bloomberg Businessweek) -- The blowback against the European Super League can be explained in one word: risk. Fans love it, and owners hate it. In the end, the fans won. Less than two days after the idea was floated, the plan collapsed as most of the soccer league's would-be founding members pulled out in the face of furious opposition from pundits, politicians, players, and—especially—fans.
Eliminating the possibility that your team will be booted out of the top-level competition was a key feature of the elite league that a dozen English, Spanish, and Italian soccer clubs wanted to launch. The way things are organized now, owners have trouble borrowing from banks or selling bonds because they're at constant risk of relegation to a lower, less lucrative league if they lose too many matches. Fifteen teams in the Super League were to be cemented in place, with an additional five that would have come and gone, depending on their performance. The plan was to put Europe's most popular teams head-to-head in midweek matches that would generate piles of cash from global broadcasting rights.
That closed structure made the Super League more like an American competition: Even after their lousiest seasons, the Chicago Cubs or New York Yankees needn't fear being sent down to Triple‑A to face the likes of the Toledo Mud Hens and the Lehigh Valley IronPigs. "It's not just that they would make more money in this arrangement, it's also that it would be much more predictable," says François Godard of research firm Enders Analysis. "Investors like this very much, especially American investors used to American clubs."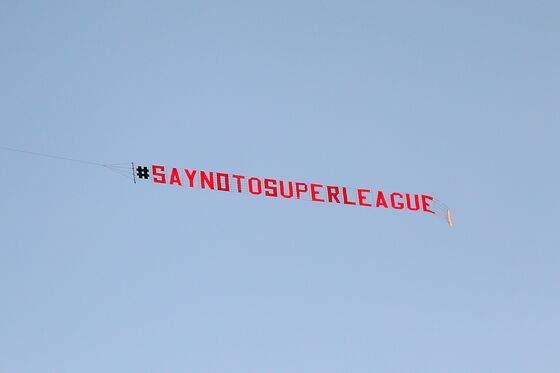 European fans had a different opinion. In London, hundreds of Chelsea supporters congregated outside the team's stadium on April 20, singing songs and carrying banners reading "Football Belongs to Us Not You" and "Buck Off Super League"—a reference to Chelsea's American chairman, Bruce Buck, as well as the obvious rhyme. They blocked the team bus, delaying that evening's match. They also had powerful allies in coaches including Manchester City's Pep Guardiola and players like Manchester United forward Marcus Rashford, who tweeted a quote from legendary manager Sir Matt Busby: "Football is nothing without fans."
The Super League may be in ruins, but the problems it was meant to address aren't going away. Sure, the owners are rich, but the teams are struggling, especially after Covid‑19 cratered attendance. According to KPMG Football Benchmark, most of the dozen would-be founders of the league were deep in the red last season, led by A.C. Milan, with an after-tax loss of €195 million ($235 million), and Manchester City, which lost €144 million.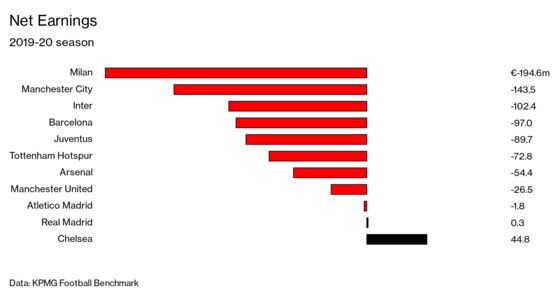 The owners say the current setup is untenable. The Champions League, made up of the best squads in the region's national competitions, pits 32 teams against one another in midweek matches. Even though most popular clubs typically qualify, there's always a chance they won't. This year, three Super League candidates—Arsenal, A.C. Milan, and Tottenham—didn't make it in. UEFA, the governing body of European soccer, has proposed reforming the Champions League, but a big part of its plan is more matches and an expansion to 36 teams. The trouble with that, the owners say, is it effectively exacerbates the core problem—too many matches between teams that few people beyond die-hard supporters find interesting.
One idea is American-style limits on pay, which would help to keep rich clubs from dominating the standings season after season. Soccer business website Off the Pitch published an early proposal by the Super Leaguers that would have capped spending for player salaries and transfer and agent fees at 55% of revenue and would have more evenly shared income between winners and losers. Although it's unclear whether those concepts were part of the final plan, both might survive the league's extinction if they're not steamrolled by Europe's tough antitrust laws. America's leagues—which operate more like one big corporation than a bunch of competing businesses—require waivers from antitrust authorities. In short, Europe would have to import a socialist sports model from capitalist America.
In fact, Americans were among the Super League's most ardent proponents: The Glazer family owns Manchester United and the NFL's Tampa Bay Buccaneers; John Henry controls Liverpool and MLB's Boston Red Sox; Stan Kroenke owns Arsenal, the NFL's Los Angeles Rams, the NHL's Colorado Avalanche, and several other teams. And financing for the league was to come from JPMorgan Chase & Co. But the owners' cash-flow calculations were never any match for the passion of the crowds that fill stadiums in Milan, Manchester, or Madrid. Half the fun is knowing that in any given season, a David can unseat a Goliath. "The reason people want to watch is there's jeopardy, there's story, there's narrative, there's variability, there's unpredictability, there's drama," Dan Jones, a partner in Deloitte's sports business group, told Bloomberg TV on April 20. The Super League ignored that.
The ham-handed gambit exposes what Harvard government professor Michael Sandel calls the "nonmarket norms" that govern soccer. Yes, money is at the heart of the game, with players earning millions of dollars and wearing jerseys plastered with advertising. But fans are able to look beyond that and still feel a visceral connection to teams and players—and reject the power grab on the part of the owners. FC Barcelona's motto, in Catalan, is Més que un club: "More than a club." Liverpool supporters lustily sing, "You'll never walk alone." Fans love their clubs like family, but that love can curdle into fury when a family member feels betrayed. The notion of the Super League triggered a sense of betrayal, says Kay Dammholz, chief executive officer of German sports business consultant Sass Media GmbH. Fans "shouldn't make a club's business decisions, but they also shouldn't be ignored," Dammholz says. "There needs to be a balance."
 
Read next: The Company Quietly Building a Board-Game Empire With Catan, Pandemic, and Ticket to Ride