Maduro Got a Salt Bae Feast, But Turkey Gets Venezuela's Gold
(Bloomberg Businessweek) -- When Venezuelan President Nicolás Maduro was feted with thick cuts of beef and luxury cigars at Salt Bae's celebrity steakhouse in Istanbul last month, he provoked outrage—his citizens at home are starving. But the visit also drew attention to an emerging alliance: As the West isolates his government over abuse and corruption, Turkey has become one of its most important backers.
Turkish products—pasta, rice, and corn flour—fill the heavily discounted food packets Venezuelan officials use to maintain political fealty among the increasingly cash-strapped citizenry. The two countries recently announced joint ventures for gold and coal exploration and have begun talks about Turkey investing in Venezuela's crippled oil industry. And while most big North American and European air carriers have ended service to Venezuela, Turkish Airlines does a three-times-a-week run to Caracas, via Cuba, and plans to step it up to daily flights.
Tons of Venezuelan gold—strip mined in rancid conditions overseen by the military—are being shipped to Turkey for refinement and processing. U.S. officials say some may be making its way to Iran in violation of sanctions on the Islamic Republic.
All told, the deals are further evidence that President Recep Tayyip Erdogan's Turkey, a NATO member, may be shifting away from the West toward China, Iran, and Russia. In August, the U.S. imposed sanctions on two Turkish government ministers to pressure Erdogan into releasing an American pastor being held on charges of espionage. Further sanctions are being considered.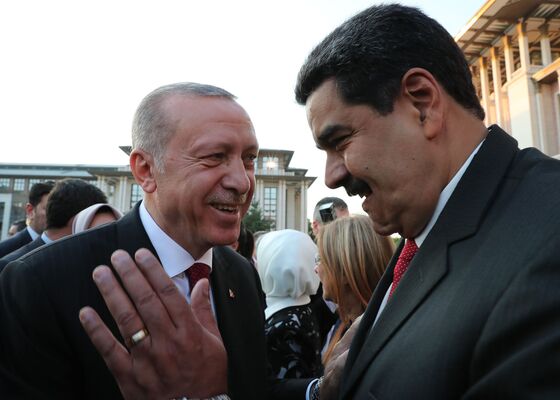 When Marshall Billingslea, assistant U.S. treasury secretary for terrorist financing, was in Turkey in late July, he raised the issue of possible gold sales to Iran. "We certainly would be very, very concerned about trying to trade with Iran in gold," he told reporters in Ankara. "We are tracking large purchases of gold in Turkey these days, and we're trying to understand why that's happening."
Another American official said that the U.S. hasn't been able to confirm that Venezuelan gold is going to Iran via Turkey but that the U.S. will go after that trade if it's occurring. With the U.S. threatening economic sanctions and relations deteriorating, Erdogan could be deliberately taunting America with such transactions, the official said. Asked whether its gold was going to Iran via Turkey, the Venezuelan government declined to comment and the Turkish government didn't respond. In Iran, trade officials didn't reply, while a foreign ministry official said he knew nothing about the matter.
At a United Nations session last month called by the U.S. to highlight Venezuela's corruption and human rights abuses, Billingslea spoke about gold mining. "The forest is being ripped away, and illegal mining operations are resulting in massive water contamination, including introduction of mercury and other industrial chemicals," he said. Showing satellite photos, he added, "These sites are clearly being run in an illicit fashion."
Many Venezuelan mines are controlled by criminal gangs. A Bloomberg report on the gold-mining region earlier this year highlighted the bloodshed: Soldiers raid neighborhoods and clandestine mines across 70,000 square miles, asserting themselves over gang lords and claiming revenue from operators of legal and illegal strip mines.
At the UN, Billingslea said the U.S. is "keenly interested in where the gold from these strip mines is going." He urged member nations to report suspicious activity related to Venezuela's gold. Nikki Haley, the outgoing U.S. ambassador to the UN, called Venezuela a "criminal narco-state that is robbing the Venezuelan people blind" and said other countries should do much more to isolate it.
Turkey is doing the opposite. Maduro, unwelcome in many capitals, has visited Turkey four times in the past year, even making an appearance on the set of Dirilis Ertugrul, an historical TV soap opera that's popular in the country. Turkey's foreign minister was in Caracas in September, saying his country's investors see great opportunities there. And Erdogan says he hopes to visit Venezuela after a Group of 20 meeting in Buenos Aires in November.
Turkey's pro-government business lobbying group Musiad set up shop in Caracas this year, and trade is quickly picking up, according to the organization's Venezuelan representative, Hayri Kucukyavuz. "If I had my way, Venezuela and Turkey would wed," he says. "Turkey has the businesses and the know-how, Venezuela the minerals and resources. Turkey and Venezuela have the same enemy, the United States, which attacks everyone."
Turkish businesses are heeding the call. Bivas Gida, a company based in the southeastern city of Gaziantep, has been selling cleaning products to Venezuela for the past year. "Currently our sales are at about $100,000 per month, but we expect this volume to increase," Chief Executive Officer Hamit Gurbuz says.
Carlos Romero, a political scientist at Central University of Venezuela in Caracas, says Turkey's role in Venezuela is vital, because it provides just enough food and medicine in exchange for gold that Maduro can reject humanitarian aid from the West and the UN. "There's a continual airlift between Turkey and Venezuela, a sort of humanitarian channel," he says, calling it part of an "authoritarian brotherhood" that includes China, Russia, and Iran. "The Turkish aid will never be enough, but it helps to maintain the regime in power. The central thesis right now is: 'How do we survive?' "
The U.S. Department of the Treasury and some independent reports charge that the Venezuelan government's food distribution scheme, the Local Supply and Production Committees (CLAP by its Spanish acronym), has also become a key source of official embezzlement through overcharging for low-cost products, including the Turkish food staples, while reselling goods on the black market. Billingslea said at the UN that CLAP could be feeding three times as many Venezuelans "if the regime and the military were not rapaciously looting the process." The Venezuelan government has repeatedly denied such charges from the U.S.
Turkey's agreement to replace Switzerland as the locale where Venezuela's gold is refined and certified is also a key way for the Maduro government to weaken Western leverage. In July, Venezuelan Mining Minister Victor Cano said the shift from Switzerland was done to prevent the possibility of sanctions affecting its precious-metal hoard. "Imagine sending gold to Switzerland and their keeping it because of sanctions," he said. With a Turkey increasingly at odds with the West handling the valuable assets, that's one less worry for Maduro. —With Benjamin Harvey and Onur Ant
To contact the editor responsible for this story: James Ellis at jellis27@bloomberg.net