Why Damien Hirst Designed a $100,000-a-Night Vegas Hotel Room
(Bloomberg Businessweek) -- Billionaire brothers Lorenzo and Frank Fertitta's first ­encounter with art was through their father, Frank Jr., founder of Las Vegas's Station Casinos. "My dad had started buying 19th century art," says Frank, the chairman and chief executive officer of Red Rock Resorts Inc. "And then Lorenzo and I became friends with people in New York, and became more exposed to contemporary artwork, and fell in love with it."
Their collection now includes works by Andy Warhol, Willem de Kooning, and Jeff Koons. (The brothers famously underbid on a $110 million painting by Jean-Michel Basquiat, which ended up going to the Japanese e-tailer Yusaku Maezawa.) "We've learned over the years what we like," Frank says. "Our collection has continued to evolve."
Parts of that collection are displayed in their homes, and parts are on view in their corporate offices and casinos, ­including the Palms Casino Resort, purchased by the brothers in 2016. Recently they enlisted artist Damien Hirst to design a whole suite there, which they filled with his artwork.
"Some of the art—Warhols, Basquiats, Richard Princes—are from our collection, and all of the newer artists are owned by the Palms," Frank says. "It's a combination. As we collect, we may rotate something in and rotate some out. It's not static."
The art is part of a strategy that Lorenzo, vice chairman and director of Red Rock, says is aimed at attracting younger consumers. In previous eras, to draw people "you had pirate ships and volcanoes and jousting events," he says. "Vegas has grown up, and I think millennials have grown up. There's a higher level of knowledge and sophistication."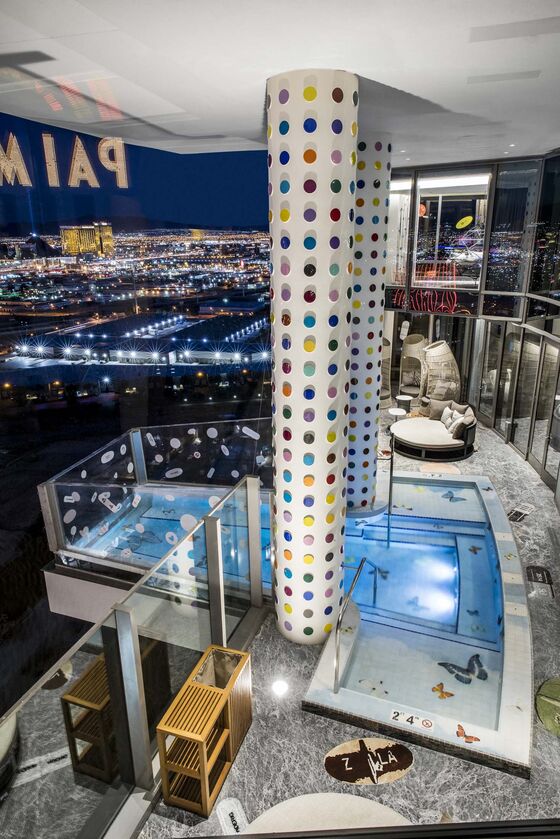 The Fertittas have gone to great lengths to cater to this new sophistication throughout the Palms. One of the primary beneficiaries of their efforts has been Hirst. "They've bought a lot of work from me in the past," he says. "They've bought some 18-foot spin paintings and a 40-foot dot painting and a dove in formaldehyde. I was like, 'Where are you actually going to put it?' And they said, 'Our offices.' " That, Hirst says, came as something of a surprise, given that many of his collectors buy art as an investment and immediately put it into storage. The Fertittas "would buy and couldn't wait to put it on the walls."
When they told him they'd purchased Hirst's 1999 work The Unknown (Explored, Explained, Exploded), a ­shark in formaldehyde, and asked his permission to make it the centerpiece of a new bar at the Palms Casino, he immediately agreed. "They designed the whole bar around it." They added 16 of his spot canvases to the room and commissioned him to design the coasters and cocktail napkins.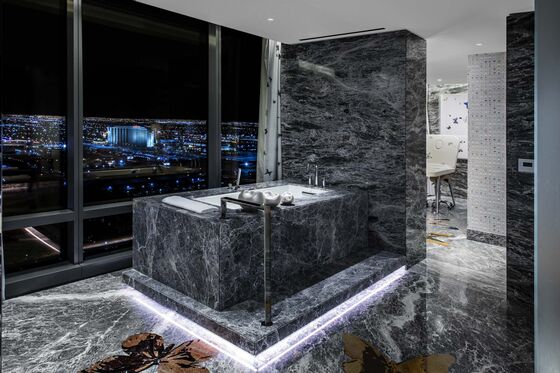 Then, in 2017, when the brothers visited Hirst's exhibition in Venice, Italy, and came across his 60-foot-high colossus Demon With Bowl, the relationship went a step further. "We walked into the Palazzo Grassi, where it was being shown, and that was right around the time we were doing the pool and club area [of the Palms]," Lorenzo says. "I think we looked at each other at the same time and said, 'It has to go into the Palms pool.' " (The reported price of the work was $14 million; a representative for the resort declined to comment.)
Hirst's final contribution to the Palms was a 9,000-square-foot suite filled with his art and decorations, which was unveiled at the beginning of March.
The Empathy Suite will be provided gratis to gamblers at the casino with a $1 million-plus line of credit. It can be rented by risk-averse guests for $100,000 a night.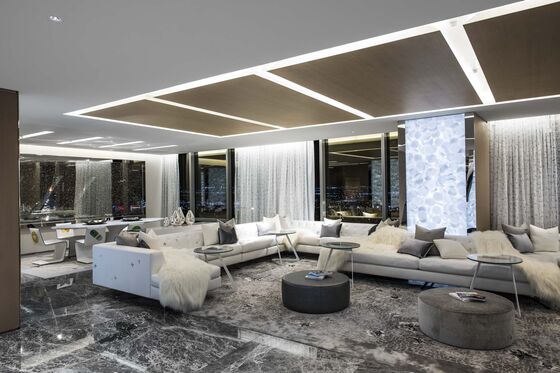 By the time Hirst was hired, the architecture firm Bentel & Bentel had begun to design the suite. "I was brought in quite late, and they were quite relieved when I started adding butterflies in similar colors" to the existing scheme, he says.
When he was done, Hirst had designed the curtains, wall­paper, bathroom stools, living-room pillows, embroidery on the furniture, and embossing on the leather upholstery. He also decorated the suite's support columns, bathroom tiles, headboards, carpets, and windows, and he gave the billiard table its "spin" design. A jacuzzi that juts perilously out of the side of the building is cheerily emblazoned with yet more butterflies.
In addition, the Palms purchased six of the artist's works and installed them in the suite. The overall effect isn't subtle, and it's without a doubt a Hirst-designed interior.
"When you go into this suite, there is Damien's touch in every corner, and it's done in a very tasteful way," Lorenzo says. "I think he's balanced [his work with] the opulence that we want to provide at the property." The suite, he continues, does not have an "I can't touch that" feel.
"I don't want [guests] to think so much about the art," Hirst says. "I want it to be a place where you can hang out and have a good time—the opposite of a museum."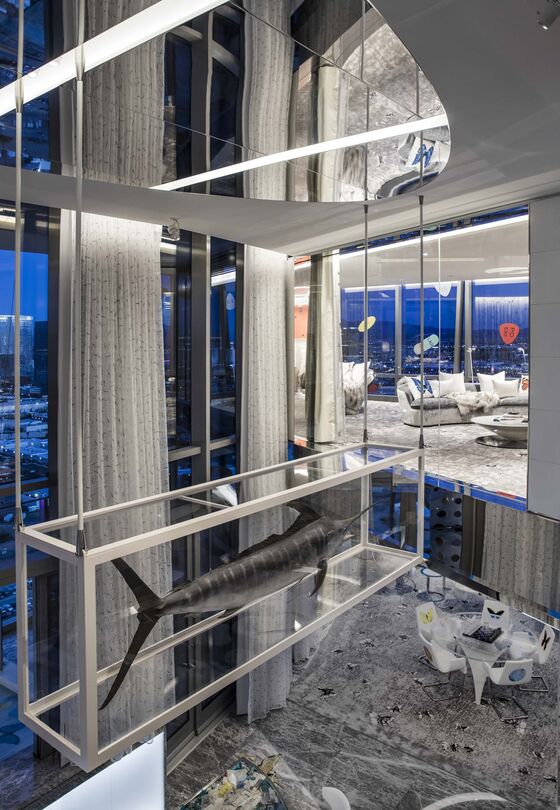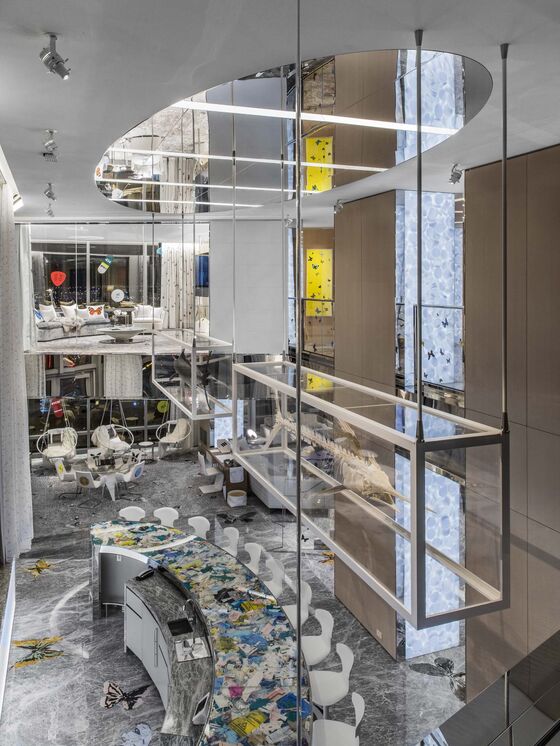 To contact the editor responsible for this story: Chris Rovzar at crovzar@bloomberg.net, James Gaddy