These Out-of-Work Americans Tell Us Job Market Turmoil Is Anything But Transitory
(Bloomberg Businessweek) -- It's a riddle dogging employers, the White House, and Wall Street economists alike: Where are the 5 million workers still missing from the U.S. job market—and when will they return?
Nationwide there's more than one job opening for every American who wants to work. Yet September had the smallest monthly gain in payrolls this year, at 194,000, defying predictions by some politicians and economists that the expiration of emergency federal unemployment benefits would prod more people to find work. The contradictory data speak of a labor market that has been profoundly disrupted by the Covid-19 crisis—and may remain so for some time.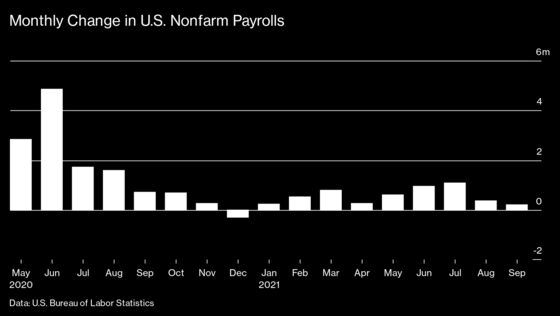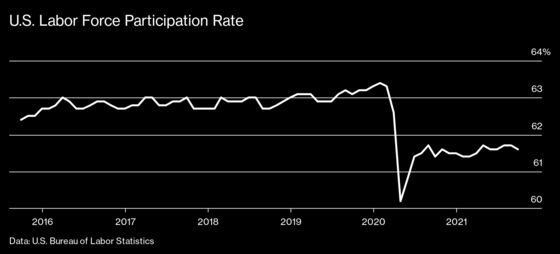 To find out why so many working-age people remain on the sidelines, Bloomberg News spoke at length with 10 of them. Several said they were reluctant to accept a part-time position when what they needed was a full-time one. Others are caring for kids or elderly family members, which limits their ability to work. Still others are in the middle of changing careers and need to skill up. Many are scared of contracting the coronavirus.
About 2.6 million people remain on state jobless benefit rolls. Others are tapping federal and local safety net programs, such as rental assistance. Some are relying on the kindness of relatives.
In the U.S. the pandemic abruptly severed the relationship between employers and employees. That's in contrast with European countries, where millions of workers were furloughed rather than fired and therefore had a job to come back to. Rebuilding those connections will take time. "Having the same number of job openings and unemployed or underemployed workers does not imply that there will be a very simple direct match," says Julia Pollak, chief economist at ZipRecruiter Inc., an online jobs marketplace.
Precious Briggs was laid off from her job as a server at a casino in Las Vegas in April of last year, at the start of the lockdowns. When restrictions lifted, she expected her former employer to summon her back, but the call never came.
While surveys show that many workers have abandoned the hospitality industry, Briggs, 32, says she loved her old job. "It was a dream of mine to leave my little Louisiana town and come here and cocktail," she says. Other casinos have offered her part-time work at the state minimum wage of $9.75, well below the $14 an hour she used to make before tips. Her old job also came with health insurance and other benefits. "They're hiring for positions that's only one day a week, two days a week, and people cannot make it off of that," she says.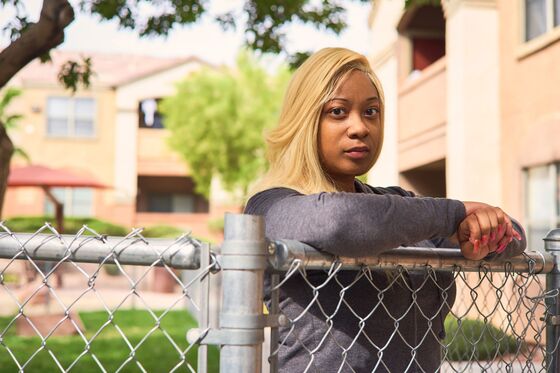 Briggs, who exhausted all her unemployment and pandemic benefits, is getting by on rental assistance, Medicaid, and support from her family. As Vegas continues to reopen, she says she's confident she will land a job.
There were 10.4 million open positions in the U.S. in August, according to the Department of Labor. And there's no shortage of news stories quoting employers who say it's impossible to find workers. Melisa Gillett's experience shows the reality is more complicated.
For about three decades, Gillett worked from home transcribing medical documents from hospital visits until Covid restrictions sent demand for her services plummeting. The 57-year-old says she can't find similar work that pays more than $9 an hour, which is about a third of what she used to make.
Gillett's small town in Ionia County, Mich., doesn't have much in the way of well-paying jobs. Also, she has lupus, an autoimmune disease, which puts her at higher risk of contracting Covid. That made her reluctant to check for openings at the local grocery store, the Walmart, and a poultry plant nearby. "They cut you off and then they go, 'OK! We have these 11 million jobs available!' Well, I'm in rural America. The jobs are not here," she says, speaking on the phone from the one-bedroom apartment she shares with two dogs and a cat. "I had good training. I know my stuff. I just never dreamed that I wouldn't make it to retirement."
Gillett says she has no money left in her checking account after using up the government's emergency Covid payments. Her landlord served an eviction notice, and she figures the food in her refrigerator and kitchen cabinets will only last her three weeks.
Earlier this month, Gillett accepted an offer from an employer. Not long after, she learned she'd been infected with Covid and reached out to the company to ask if they'd hold the job until she was well enough to work. She hasn't heard back. (More than three-quarters of job seekers surveyed by Indeed, a jobs website, report being ghosted by prospective employers since the start of the pandemic.)
Zach McGrath, the single father of an 11-year-old son with special needs, worked in TV and film production before the pandemic. He's looking outside the industry now, because 16-hour days won't allow him the flexibility to look after Maxwell if classrooms shut down suddenly as a result of Covid cases. "The school closings, the random four-day quarantines are like the sword of Damocles," says McGrath, 36, speaking from his home in Richmond, Va. "There are a few jobs around, but for the amount I would have to pay for child care, it doesn't make sense for me to do it," he says. Maxwell's mother lives more than 300 miles away in New Jersey.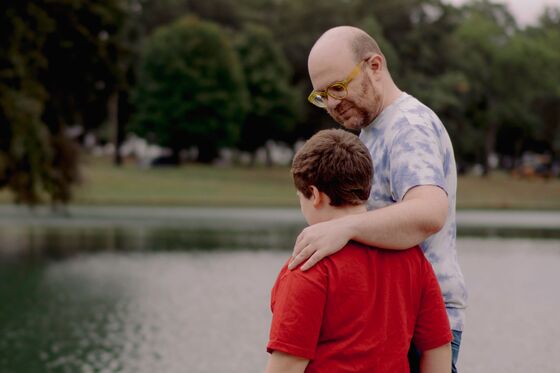 McGrath doled out much of the government assistance he received in the past year to needier family members. He was receiving about $575 a week from expanded emergency unemployment benefits that he no longer qualifies for. He now relies on his son's Social Security payments, child support, and gig work to help with the $800-a-month rent and other bills. The basics are covered but not the extras—like car repairs.
"It's a labor market that hasn't fully healed," says Bruce Kasman, chief economist at JPMorgan Chase & Co. He and other economists forecast the unemployment rate will revert to the pre-pandemic level of 3.8% sometime in 2023. Experts also anticipate further gains in wages. Many mid-tier earners, though, say that's not what they're seeing.
Veronica Correa, a 43-year-old in Philadelphia, worked in administration for a decade, with her last job at an educational nonprofit paying about $55,000 a year. Despite that experience and an associate degree, she's being offered similar roles for as little as half that. "I do get interviews, and I get job offers. The problem is the pay," she says. "They want you to do a job with major responsibilities, and they're offering you a salary that when you turn around, you're like: Well, how am I supposed to live?"
Correa and her husband, a parking enforcement officer, are having to make do on the workers' compensation he collects after sustaining an injury while on duty, plus about $700 a week in unemployment benefits. At the moment, she's applying for every job she can, hoping one a little closer to her former salary will come along.
She's not the only one who thinks she can afford to be choosy for a while longer. About 65% of respondents in a September survey by ZipRecruiter said they don't feel the financial pressure to accept the first job offer they receive—roughly unchanged since April.
In Chicago, construction worker Abel Peralta is among the 4.5 million workers in the U.S. who are underemployed, according to government statistics. Building projects in the city are stalled because of shortages of materials and labor. Where he once reliably got 40 hours of work a week at $16 to $20 an hour in cash, Peralta says, now it's a day or two a week—three if he's lucky.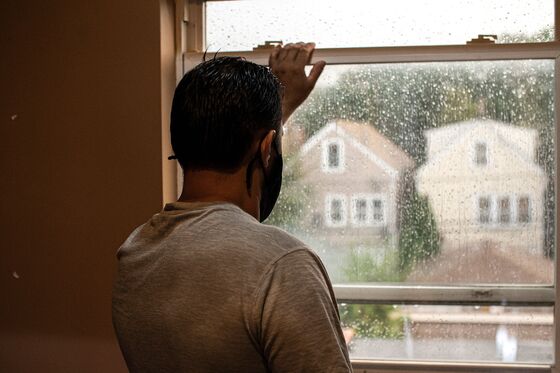 The 44-year-old wasn't eligible for government stimulus checks or unemployment benefits because he's undocumented. He tapped his savings until they ran out last year. He's now getting by on sporadic jobs and rental assistance from a local nonprofit, hoping demand for construction labor will pick up. "I'm in limbo right now," he says, speaking in Spanish. "I wouldn't want to leave construction. It's what I like doing best."
Economists have struggled to evaluate how much of the labor shortage is the result of people switching industries, which requires retraining.
Artist Wendy Bantam, 52, of Lincoln, Neb., has painted canvases and murals for three decades. She went back to school this year for a certificate in electrocardiography. Many of the residencies, projects, and part-time teaching work she lost in 2020 haven't come back, she says. Income from the sale of her paintings isn't enough to pay a mortgage and other bills, even though she now grows a lot of her own food.
"Ultimately it would be great to get a full-time job as an electrocardiographer, but I don't know yet," Bantam says. "I have a master's degree, you know? I taught university-level in the arts."
Among those who left traditional employment with no plans to return is Josh Dorgan. He worked as a pediatric nurse and hospital unit manager in Omaha and in 2018 began trading cryptocurrency. During the pandemic, the 31-year-old Dorgan began to feel increasingly frustrated. "It was really hard sitting in my office making a few hundred dollars a day or whatever it was and then taking a trade on my lunch break and making my whole day's wage in five minutes."
After hiring a financial adviser—his wife insisted—he quit in August of last year. Since then, Dorgan says, he's made more than seven figures and the family has been able to purchase a vacation home. He relishes the flexibility of choosing his own hours and being able to care for his newborn. He also has more time for exercise and meditation, which he says he ignored for the better part of the last decade.
The number of Covid-19 infections may be ebbing in the U.S., but its threat is still present. More than 3 million respondents in a U.S. Census Bureau survey from September cited concerns about contracting or spreading the coronavirus as a reason for not working.
Sandra Bolinger, 48, and her wife, Donna, 47, are both social workers who were in regular contact with elderly people. They're also immunocompromised. In Adams County, Pa., where they live with Sandra's mother, less than half the 100,000 residents are fully vaccinated.
Sandra says managers at her workplace didn't heed the state's safety recommendations, even in the second Covid wave in January, so she quit that month. Donna hasn't worked since June.
They have savings to cover about four months' worth of expenses, money they socked away from the sale of their previous house in 2018. Donna is debating whether to accept a job offer, because there's a trade-off—work remotely, part time without benefits, or go in person and be paid in line with her prior job, including benefits. "We are left back with that decision of: Is it worth the risk?" she says. "Today we can still ask it. But I don't know how much longer we are going to be able to ask that question."
 
Read next: Biden Agenda Risks Crumbling If Centrists, Progressives Can't Pass Safety Net