Big Business Backs Away From Trump's Party But Longs for Old GOP
(Bloomberg Businessweek) -- Big Business is in a tight spot. Rebellious Trump loyalists have amped up their influence over the Republican Party, which business has traditionally leaned on for support. Meanwhile, although President-elect Joe Biden is a moderate, the Democratic Party's platform is the most left-leaning it's been in decades. "From a business standpoint we're concerned about the growing ranks of populist viewpoints in the Republican Party and the growing ranks of progressive and socialist viewpoints in the Democratic Party," says Neil Bradley, executive vice president and chief policy officer of the U.S. Chamber of Commerce.
So big companies and business groups such as the Chamber are playing a delicate game. They're distancing themselves from Trump as fast as they can and hoping that his grip on the party will loosen once he leaves office. They're also searching for ways to work with Democrats, who for the first time since the 2009-10 congressional term will control the White House and both houses of Congress.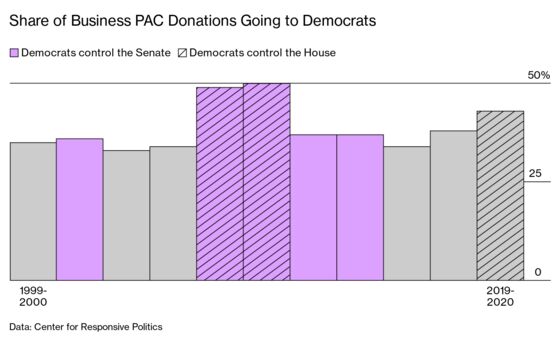 The bridge between Big Business and Trump, never solid, is in flaming ruins after the Jan. 6 invasion of the Capitol by his supporters. Jay Timmons, president of the National Association of Manufacturers, said in a written statement that day that the storming of Congress to stop certification of the presidential election was "seditious," adding that Vice President Pence "should seriously consider" working with the Cabinet to invoke the 25th Amendment, which provides for removal of the president in case of incapacitation.
Individual companies also broke decisively with Trump. Twitter Inc. permanently suspended his account—his favorite channel of communication—and Facebook Inc. blocked him at least until his term ends. Marriott International, Verizon Communications, Dow, Blue Cross Blue Shield Association, Morgan Stanley, and Comcast, among others, announced they'll pause donations to lawmakers who voted against certifying Biden. "Even John F. Kennedy had a better relationship with the business community even though he called them 'a bunch of SOBs,' " says Jeffrey Sonnenfeld, a professor at Yale School of Management, referring to a fight between JFK and U.S. Steel.
The cynical take is that Big Business gathered courage to oppose Trump only when he was heading out the door, but that's not the case. Chief executive officers had challenged Trump before on multiple issues ranging from auto emissions to immigration and race. The first big rupture came when White nationalists and other extremists rallied in Charlottesville, Va., in August 2017. A White supremacist crashed his car into a crowd of counterprotesters, killing a woman and injuring more than a dozen people. Trump was silent for two days before saying, "you had some very bad people in that group, but you also had people that were very fine people, on both sides." The president was forced to dissolve a pair of high-level advisory councils in the following days after big-name CEOs including General Electric's Jeffrey Immelt and JPMorgan Chase's Jamie Dimon dropped out in protest.
That was just the start. Ford Motor Co. was one of five carmakers that infuriated Trump by siding with California in its attempt to go beyond federal standards for reducing auto tailpipe emissions of greenhouse gases. Exxon Mobil, BP, and Shell tried to stop the Trump administration from rolling back Obama administration rules on methane releases from oil and gas projects. General Electric, Microsoft, Verizon and other companies filed court briefs opposing Trump's attempt to end affirmative action in admissions at Harvard.
Big Business fought the Trump administration's restrictions on the issuance of H-1B visas for skilled workers. When the president resisted strengthening controls on gun sales in 2018 after a massacre at a high school in Parkland, Fla., Walmart Inc. and Dick's Sporting Goods Inc. stopped selling guns to customers under 21 and restricted ammunition sales. And numerous business organizations opposed Trump's tariffs on aluminum, steel, and other products, which incited retaliatory duties from China and other trading partners. "Trade works. Tariffs don't," the U.S. Chamber of Commerce said.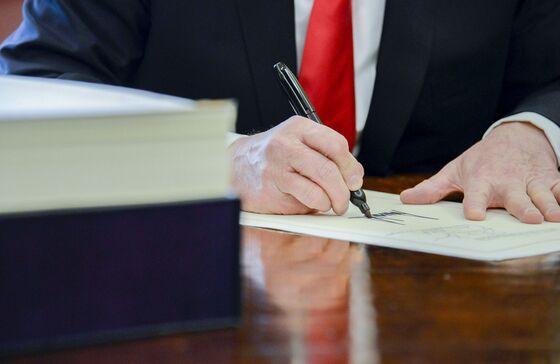 True, business wasn't always oppositional. The Tax Cuts and Jobs Act of 2017, which slashed the corporate income tax rate, was widely popular, as was some of the deregulation. And in 2019 Trump managed to bring some business bigwigs back into his tent, forming an advisory group on workforce policy co-chaired by Ivanka Trump and including CEOs Tim Cook of Apple, Julie Sweet of Accenture, Al Kelly of Visa, and Doug McMillon of Walmart. It remained intact until after the election, probably because Trump mostly left it in his daughter's hands.
On the whole, though, Trump steered the Republican Party in a populist direction, tapping into a disaffected part of America that dislikes business elites almost as much as political, academic, and media elites. And even after the rampage at the Capitol, which he incited, he remains his party's most powerful force. Two days after the violent takeover, the Republican National Committee reelected Trump allies Ronna McDaniel as chairwoman and Tommy Hicks as co-chairman.
Bradley says the Chamber of Commerce is worried that the fringes of both parties are pulling the centrists apart, so two years ago it changed its method for grading lawmakers to take cooperation across the aisle into account—honoring people such as Democratic Representative Josh Gottheimer of New Jersey and Republican Senator Susan Collins of Maine. In the latest election cycle the Chamber gave $152,000 to Democrats, more than it had over the previous 28 years, vs $483,500 to Republicans. It also endorsed 23 embattled House Democrats. Private equity, oil and gas, and real estate companies also tilted toward Democrats more than in past elections. As the chart above shows, business PACs tend to give more generously to Democrats when they control Congress, so the coming two years should be good for Dems.
The upside scenario for Big Business is that Biden will be more effective than Trump in getting the pandemic under control and won't want—or be politically able—to push through big tax increases or other measures inimical to business. Stocks, which are tied to expectations for economic growth and corporate profits, rose on Jan. 6 when it became clear that Democrats won control of the Senate in the Georgia runoff races.
Nevertheless, business is likely to pivot back to the GOP quickly if the party shakes off Trump's influence. Republican energy consultant and former Trump White House adviser Mike McKenna plays down the significance of companies' pledges to pause campaign contributions. "Very few contributions happen in the first few months of an election cycle" and company PACs "are not really that important" anyway, he says.
"If business is thirsty for less regulation and a lower corporate tax burden, I think they'll find ways to overcome any shock and awe they felt on Jan. 6," says Princeton University history professor Julian Zelizer, who's studied the Republican Party. Says Scott Reed, a GOP strategist who used to work for the Chamber: "Once Trump moves on, the Republican leaders have a chance to do a real reset—not to alienate the Trump supporters, but to recreate a new paradigm of the Republican Party being about growth and opportunity." That, anyway, is what Big Business leaders are hoping for. —With Mark Niquette, Jennifer A. Dlouhy, and Bill Allison
 
Read next: Capitol Rioters' Passion for Trump May Do Little to Help Other Republicans