When Lifesaving Vaccines Become Profit Machines for Drugmakers
(Bloomberg Businessweek) -- As Covid-19 spread last year, rich countries spent billions of dollars to speed development of vaccines and purchase early supplies. Now, 18 months into the crisis, vaccines are saving lives and helping to avert further economic losses, at least in the nations that can afford them. Yet, as drug companies ride a wave of support following years of criticism over high prices, they face a tricky question: How much should they charge governments desperate to protect their populations from a disease that has killed about 4 million people, crippled economies, and created turmoil across the globe?
The answer, in many cases, is plenty. Covid vaccines are emerging as a $100 billion-plus business in 2021. U.S. drugmakers Moderna Inc. and Pfizer Inc. are poised to benefit the most, along with China's Sinovac Biotech Ltd. and Sinopharm Group Co. All told, governments and nonprofits have invested at least $10 billion into vaccines from Moderna, Johnson & Johnson, AstraZeneca Plc, Pfizer's German partner BioNTech SE, and others, researchers at the London School of Economics and Political Science and other institutions estimated in a February report. Including advance purchase deals that ensure a market for companies' products, public investment in Covid vaccines climbs to more than $50 billion, the Global Health Centre at the Graduate Institute of International and Development Studies in Geneva found.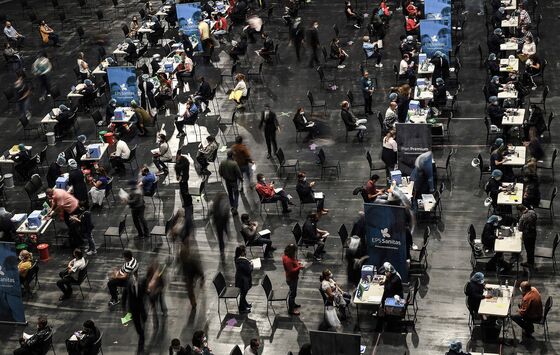 But countries lacking the money and manufacturing capacity of the U.S. and other wealthy nations have fallen far behind in the rush to secure those shots, leaving many parts of the globe vulnerable as the more infectious delta variant advances. "What does it mean for publicly funded vaccines to be generating such massive profits for these companies while, at the same time, vast swaths of the global population are going unvaccinated?" asks Anna Bezruki, a Global Health Centre researcher. "Do those profits make sense, given the access we're seeing as a result?"
Pfizer, which did not accept U.S. government development subsidies but secured a nearly $2 billion deal last year to supply doses to the country before its Covid vaccine was cleared, is likely to reap $26 billion in sales this year from the shot. Moderna, after benefiting from an estimated $4.1 billion in U.S. support, expects to record about $19 billion in vaccine sales in 2021. Next year, that sum could surge to at least $36 billion, according to Bloomberg Intelligence. AstraZeneca and its partner, the University of Oxford, said they wouldn't profit from their shot during the pandemic.
Many middle-income nations, not eligible for free doses under the global vaccine distribution effort called Covax but facing pressure on their health budgets, have been hit with bills ranging into the hundreds of millions of dollars to immunize their people. The prices they're paying vary widely; most remain secret, but numbers are surfacing.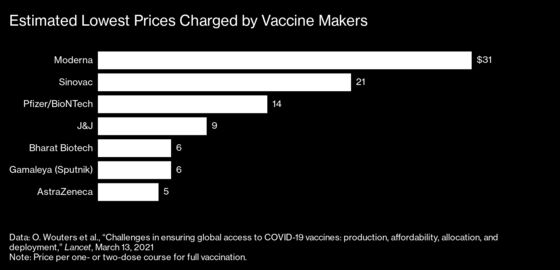 Colombia, which is spending an estimated $1 billion to immunize its population, agreed to pay almost $300 million for 10 million Moderna doses, the equivalent of $30 a dose, which may include logistics expenses, according to government Finance Ministry documents released earlier this year. That's almost double per dose what Moderna is charging the U.S. The $1.36 billion in U.S. sales the company recorded in the first quarter from supplying 88 million doses represents a price of about $15.50 each. Its pricing, on average, for the rest of the world comes to $27 a dose, based on 14 million shots sold to countries including Singapore, Qatar, Israel, and others, for a total of about $380 million in sales.
"Affordability is playing a major role in countries getting access," says Safura Abdool Karim, a health lawyer and researcher at the Wits School of Public Health in Johannesburg. "This problem is only going to get worse unless there's some sort of drastic action taken."
Higher prices could prevent nations that need Moderna's vaccine from accessing doses, according to U.S. public health professors who signed a letter along with advocacy group Public Citizen in March. They estimated that Moderna's product could cost less than $3 a dose to make. Moderna, which developed the vaccine with the U.S. National Institutes of Health, has said it won't enforce patents on the shot during the pandemic. Chief Executive Officer Stéphane Bancel said last year that the company would be "responsible on price well below value" throughout the crisis. Moderna says its tiered pricing model was based on a World Bank index and that Covax got its lowest price.
The Chinese vaccines from Sinovac and Sinopharm are, in some cases, even more expensive than Western shots, according to Yanzhong Huang, senior fellow for global health at the Council on Foreign Relations. "This is essentially a seller's market," Huang says.
Senegal, a lower-income nation, said it paid about $4 million for 200,000 doses of Sinopharm's vaccine. That equates to a price of about $20 a dose. Although Senegal, like dozens of other nations, is getting assistance from the World Bank in financing purchases, that price is considerable for a West African country with annual per capita health spending of less than $60. Paying to protect huge numbers of people against Covid-19 also raises the risk that countries will need to divert funds from other health threats.
Sinovac and Sinopharm this year could each rack up sales of more than $16 billion, research firm Airfinity Ltd. estimates. Both companies declined to comment on pricing.
Many countries struck pricey deals with the Chinese companies and other vaccine makers to supplement supplies from Covax, the global program that has encountered delays. The drugmakers have "what everybody wants, and they can charge quite a bit," says Nicole Hassoun, a professor at Binghamton University and visiting scholar at Cornell University. What level of profits is acceptable for makers of vaccines in the middle of the pandemic is a question that needs to be tackled, says Hassoun. "What's clear is that they are going to make way, way more than their costs," she says. —With Andrea Jaramillo
 
Read next: The Family Behind the Covid Bleach Cure Was Making a Fortune