What Trump Can Do to Juice the Economy Ahead of November
(Bloomberg Businessweek) -- Governments up for reelection typically do what they can to nudge the economy into high gear just as voters are starting to pay attention. On that front, things already look pretty good for Donald Trump. One problem for the president ahead of the vote in November is that his most powerful tool is now in the hands of his enemies.
Fiscal stimulus is the main reason for faster growth on Trump's watch. In 2018 tax cuts coupled with higher spending helped the U.S. economy match its best performance in the years since the financial crisis. But Republicans lost control of the budget machinery in Congress last year, when the House convened under its new Democratic majority.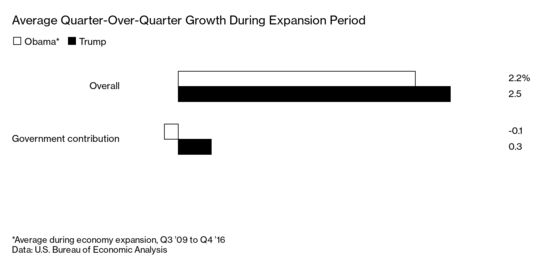 Ever since then, with his own options for juicing the economy having narrowed, Trump has been on a crusade to lower interest rates—a lever that's controlled by the Federal Reserve and its chairman, Jerome Powell. "The idea that a Democratic House is going to sign off on another Trump tax cut seems extremely far-fetched," says Jared Bernstein, a senior fellow at the Center on Budget and Policy Priorities. "I don't think there's much stimulus there in any recognizable sense that doesn't require legislation."
Bernstein is personally familiar with Trump's predicament: In 2011, as chief economist to Vice President Joe Biden, he was part of a team tasked with finding ways to boost the economy that could bypass the House. Republicans had just seized control there, led by members of the Tea Party movement who opposed new government spending. The list the group came up with was "uncomfortably short," he recalls.
Barack Obama won a second term in 2012 anyway, and if the economy is a guide (it often but not always is), then Trump is well placed to follow suit. He gets good ratings on the economy, and he's campaigning on unemployment being near all-time lows and stock prices at all-time highs. Still, economists reckon gross domestic product will expand at a 1.8% pace through the first three quarters of 2020. That would be slower than the same period in 2019—and not much different than 2016, when elections didn't go well for the incumbent party.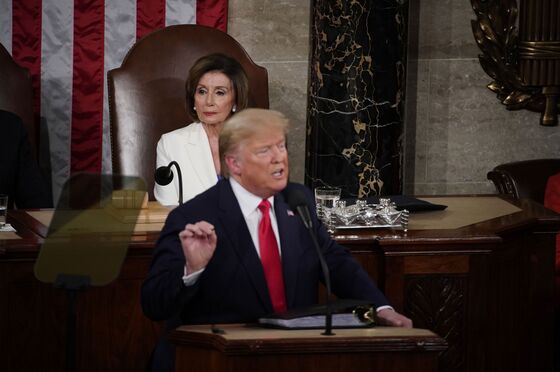 The Trump administration's use of deficit spending a decade into an expansion has been unorthodox. Some analysts have warned it could leave the government short of budget firepower in the event of a recession—and drive inflation and interest rates higher. Those threats haven't materialized yet, and economists are coming around to the idea that the U.S. has room to spend.
Trump has also added tariffs to the toolkit. He's shown that a president can run trade policy almost single-handedly, and since the escalation with China was largely of his doing, he can probably control timing when it comes to de-escalation.
U.S. business has put some investment on hold because of the trade war, so trade peace would likely boost the economy—but that may not happen before the election. Most analysts haven't upped their forecasts for U.S. growth this year as a result of the "phase one" deal signed with China last month.
Even so, a follow-up before November could help Trump's reelection campaign, says Brian Riedl, a senior fellow at the Manhattan Institute: "The more the president can show he's moving toward a resolution on trade, that will help him in the battleground states and make the case for a second term."
On fiscal policy, too, Trump may have reached the point where he can offer promises for a second term rather than action in his first. His administration has been dangling the prospect of more tax cuts—especially for the middle class—ever since pushing the last round, which favored the wealthy, through Congress late in 2017. Last month at Davos, Treasury Secretary Steven Mnuchin said a "Tax 2.0" proposal may be unveiled within months. Congressional Republicans hope to campaign on the plan to regain control of the legislature. The GOP would need to pick up about 20 seats in November to regain a majority. Most political analysts think it's unlikely the party can win that many races, especially with several long-standing Republican lawmakers retiring.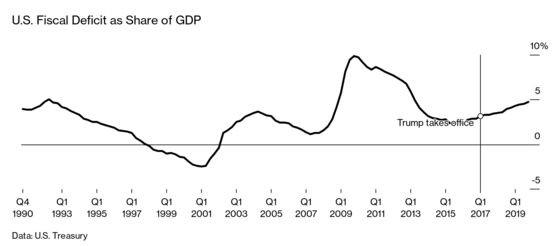 Even just the release of tax plans could lift the stock market, and that in turn could boost consumer confidence, according to Kyle Pomerleau, a resident fellow at the American Enterprise Institute. That's what happened after Trump's election, he says, and "you could imagine it happening again."
A $2 trillion overhaul of U.S. infrastructure is another fiscal stimulus that's been touted since Trump's first days in office. A cross-party deal in Congress proved elusive then and would be tougher in an election year—and even if it happened, only the most shovel-ready of projects could get under way before voting.
If there was a lever to move the dollar, Trump would surely pull it. The president often complains that the strong greenback is hurting manufacturers. He hasn't come up with a mechanism for weakening it, beyond tweeting his displeasure at the Fed, though the Commerce Department is weighing tariffs on countries seen as unfairly manipulating their currencies.
There is one wild-card idea that Trump could potentially execute on his own—one borrowed from Democratic rivals. Senators Bernie Sanders (I-Vt.) and Elizabeth Warren (D-Mass.) propose to write off most or all of the $1.6 trillion in student debt. Trump has privately expressed concerns that he doesn't have a plan to counter them and asked aides to come up with one that will lower costs for student loan borrowers, the Wall Street Journal reported.
Forgiving the debts would boost the economy like a tax cut, Moody's Investors Service says. A Roosevelt Institute study released in December explained how it could be done without Congress. The idea has a populist flavor that might appeal to Trump. But there are plenty of obstacles, including likely legal challenges and hostility from some Republican voters.
Trump has other tools under his direct control, including executive orders and policy at the federal agencies run by his appointees. The Federal Housing Authority could loosen credit requirements for homebuyers, for example, or the U.S. Department of Labor could make more workers eligible for overtime pay. It's just that those tools are small-bore compared with cuts in interest rates—or in taxes. "You hear Trump yelling at Jay Powell every waking hour because his ammunition is pretty much tapped," Bernstein says. "He can't go back to the fiscal well."
To contact the editor responsible for this story: Cristina Lindblad at mlindblad1@bloomberg.net