What Happens to All Those Beads After Mardi Gras?
(Bloomberg Businessweek) -- New Orleans celebrated Mardi Gras for decades before paraders rewarded their admiring throngs by hurling objects at them. By 1913, beaded necklaces had become the currency of the holiday and were named after what paraders did with them: "throws." Dozens of parades are conducted every year by groups of revelers called krewes, some units many decades old. All of them, every year, toss millions of pounds of beads and other items to observers, who wear them, take them home, cherish them forever—or just leave them on the streets of the French Quarter.
More than a century later, and five decades after cheaper imported plastic entered the scene, Mardi Gras beads are the celebration's ubiquitous symbol, particularly after the crowds disperse and costumes are put away.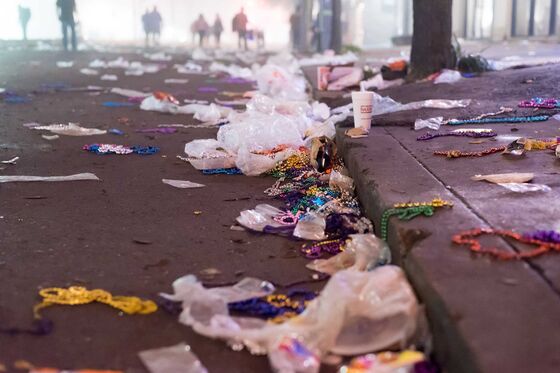 The population of New Orleans swells to three times its normal size this time every year, when more than a million tourists converge for Fat Tuesday. The festivities bring in an estimated $165 million to the city, and serious trash, which is why several dozen construction machines stand ready to clean up before the party even gets started.
Some 45 million pounds of plastics make their way to New Orleans every year for Mardi Gras, more than half of which is beaded necklaces. In January 2018, the city revealed it had pulled 93,000 pounds of beads from just five blocks of storm drains and more than 7 million pounds of debris overall, the Times-Picayune reported.
It's not just an eyesore. The cheap plastic contains trace amounts of contaminants, including lead, a dangerous neurotoxin, that can leach into soil and water, according to research conducted by Howard Mielke, a research professor in Tulane University's Department of Pharmacology. "That's old soil that has had years and years of exposure to lead. Kids pick beads up off the ground and don't know they have been contaminated by the parade route itself," Mielke told the Times-Picayune.
The lead comes chemically locked into the beads, and becomes more likely to leach out through use, weathering, and age.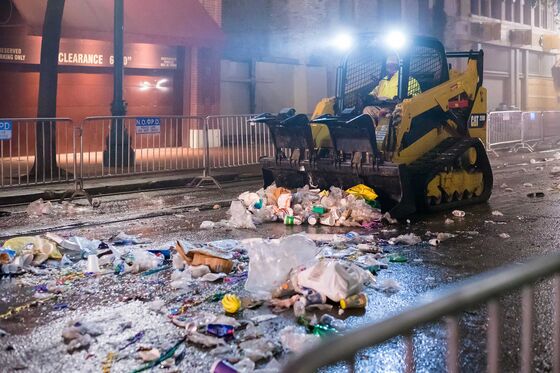 Recycling is limited, but drawing more attention, particularly after the city announced the volume of beads trapped in storm-water drains. The city itself now offers dozens of locations where people can drop off their beads for recycling and, if desired, buyback. An early adopter of recycling was ArcGNO, an organization that creates jobs for children with intellectual disabilities, in part by collecting, cleaning, re-packaging, and reselling throws.
Below, resourceful revelers put the still-shiny plastic detritus to good use, if only for a short time, as a temporary levee-bridge in a city known historically for flooding at every scale.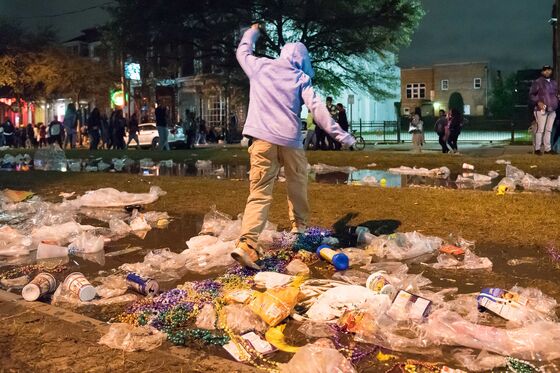 Much of the throws ends up in landfill. In 2013, Naohiro Kato, a Louisiana State University associate professor of biological sciences, learned about the scale of the problem at a Mardi Gras party, and began to wonder if naturally produced chemicals might allow production of biodegradable beads. Biodegradable plastics have been around for many years, but their expense would prohibit manufacturing them into what are literally throwaway baubles.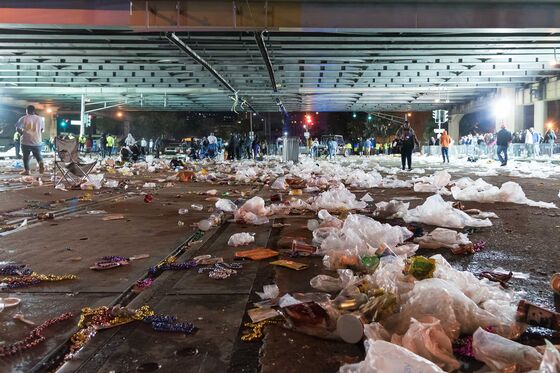 A graduate student made an unexpected discovery about a certain strain of algae can produce (relatively) enormous amounts of an oil that could be used as a feedstock for plastics. Most commercial plastics are made from natural gas or petroleum. Kato later realized he might be able to slash the cost of producing bio-beads by generating and selling an anti-oxidant chemical valuable to the pharmaceutical industry. By the middle of this year, he expects to have his first 3,000 biodegradable necklaces, he said.
Kato said his conversations with other New Orleanians led him into potential paradox. Many told him that the notion of biodegradable beads was so novel and charming, that they would want to keep them forever as unique keepsakes. But keeping them forever would defeat the purpose (and expense and time) of making them biodegradable in the first place. Given the scale of the problem, it's only a theoretical conundrum now. "I don't expect we can replace all the beads, and it's not necessary," he said. He just wants to make a dent in the problem.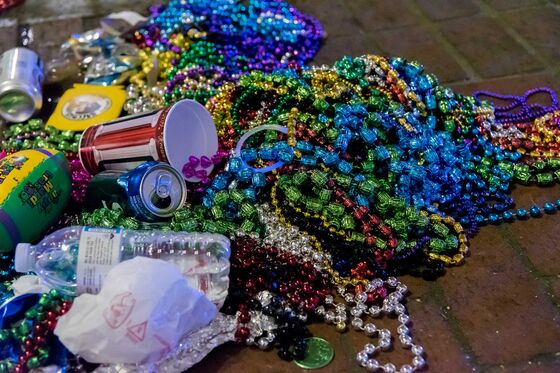 No trash is as glorious as Mardi Gras trash. Green, purple and gold became the holiday's signature colors in the Rex krewe's first parade, 1872, according to local historian Errol Laborde, when a newly installed "King of the Carnival" broadcast in advance that balconies should be draped thusly. "Less clear is why Rex chose that combination," he wrote, although his research suggests it may have something to do with the conventions of heraldry, which posit tricolor flag and emblems should consist of both colors and metals.
The colors show up as team colors at rival local universities, with LSU known for its purple and gold, and Tulane wearing green.
A new color showed up last year. Orange is the new block for New Orleans storm-water drains. After the city realized the scale of its throws problem in early 2018, it laid out $30,000 for 200 "gutter buddies," water-permeable sleeves of pebbles that keep necklaces and other debris from flowing in.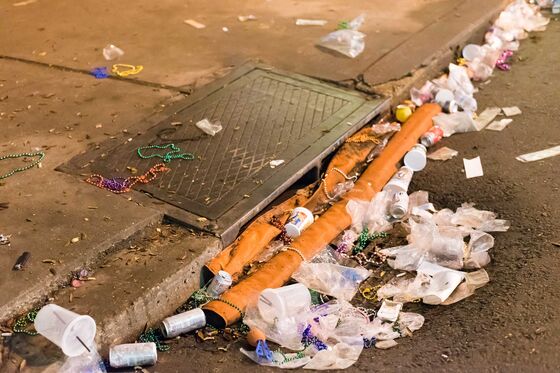 A 2014 analysis of how much income Mardi Gras brings to the city concluded that it generates more than 2 percent of New Orleans's $21 billion GDP. Clean-up related expenses tallied in the study included more than $230,000 for workers, about $825,000 for equipment, plus other expenses that brought the sanitation grand-total to almost $1.5 million.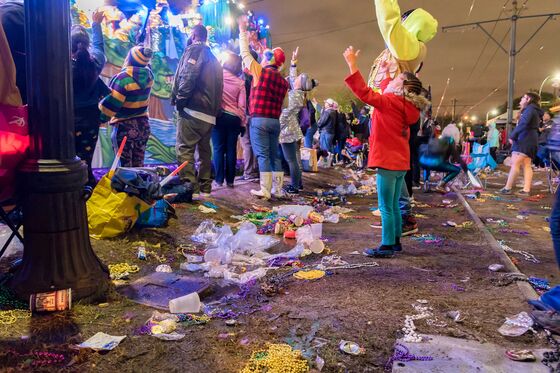 Mardi Gras ends when the city says it ends, and without delay. Bourbon Street's last parade of the season is led by Mayor LaToya Cantrell and populated by horse-mounted and marching police officers, and fire-department personnel.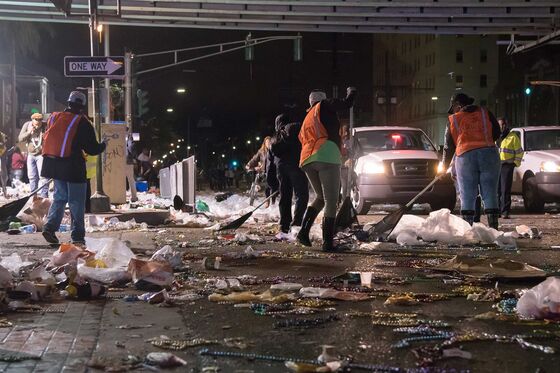 Biodegradable beads may not be available yet, and recycling efforts are still small, but several hundred Mardi Gras celebrations since the late 17th century have taught New Orleans a thing or two about cleaning up. As the festivities wind down, a small army of some 600 workers descends on the French Quarter, leaving the area so free of debris that it's difficult to tell the city had a million houseguests over a day before.
To contact the editor responsible for this story: Silvia Killingsworth at skillingswo2@bloomberg.net