The Pointless Parable of Elizabeth Holmes
(Bloomberg Businessweek) -- We like to think our frauds mark important moments and teach us deep lessons. WorldCom and Enron took the greed of the dot-com boom too far, and their falls signaled a return to more sober times. Bernie Madoff's demise capped a period of gross financial engineering and reminded everyone that returns that seem too good to be true usually are. And now we have the fraud conviction of Theranos founder Elizabeth Holmes, which highlights the end of … well, possibly nothing.
Silicon Valley investors won't be changing their ways because of Holmes. Members of the venture capital class have made it clear that they never bought into Holmes or the miraculous tale she told about her blood-testing startup in the first place. Just about every venture capital firm that had a chance to invest in Theranos passed. It was the rich suckers with old family money who fell for her charms and scientific boasting, allowing Theranos to raise more than $1 billion. Because venture capitalists see no connection between Holmes and other problematic companies they've backed, they intend to go right on being infallible geniuses and leave the rubes to continue being rubes.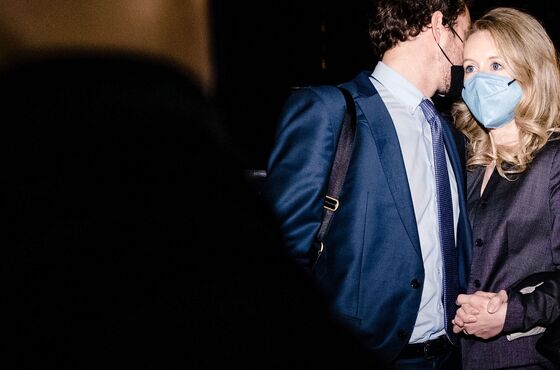 It wasn't just investors that Theranos hoodwinked. The company, founded in 2003, began receiving huge helpings of attention from the tech and business press around 2014. That was a simpler, more naive era in which reporters started in on each story with the assumption that technology was a force for good, rather than the source of all our modern ills. But we in the tech press don't plan to change our ways because of Theranos, either, because we've convinced ourselves we've already internalized the lessons of that era. More diligent and cynical now, we're no longer the types to be fooled by a good story and an unusual, charismatic leader.
As for Theranos's board of prominent names from the political and military spheres that gave the company credibility when it deserved none? I would dare suggest that the types of distinguished older White gentlemen who fell for Holmes may still be drawn to the charms of intelligent, attractive, younger women.
If Holmes's conviction does lead to something positive, it would be a curb on Silicon Valley's "fake it until you make it" culture. "The verdict signaled the end of an era," David Streitfeld wrote in the New York Times. "In Silicon Valley, where the line between talk and achievement is often vague, there is finally a limit to faking it." You can still fake it and fake it pretty big, but now there's a chance that you might get in real trouble, so maybe limit yourself to at least faking it a little less than Holmes did.
If you buy into this theory, then you have to ignore an awful lot about what's going on with technology and finance. The current incarnation of special purpose acquisition companies was engineered to get companies into the public markets in their earlier, riskier days, so they could take investment not just from wealthy old money families but from everyone with the Robinhood app on their phones. Startups still make wild promises about glorious futures. New flavors of finance like altcoins, meme stocks, nonfungible tokens, and all the rest take the whole situation to the next level. Some of what's going on in this world would classify as outright, Madoff-style Ponzi schemes, and there's a school of thought that it's now just fine to run a pump-and-dump scheme so long as you admit it out loud. One doesn't get the feeling that newfound limits of any sort have been discovered.
This situation is so frothy that, in fact, it almost makes you long for someone like Holmes. At least she put some artistry and effort into the fraud. If someone is selling you a cryptocurrency based on a dog meme, they should have the decency to don a nice costume, adopt an accent, and vacuum you into their unblinking gaze instead of simply spending a few minutes writing a Reddit post explaining how you can be rich, too.
The sad reality of the Theranos debacle is that its major, lasting consequence may be that it makes life harder on some of the very people a successful Holmes could have helped the most: female entrepreneurs and chief executive officers, particularly those in the biotech industry. Take the case of Celine Halioua, who's founder and CEO of Cellular Longevity Inc., a company looking to extend the lives of dogs and one day possibly humans under the brand Loyal. "Every female founder working on something technically challenging or strange gets compared to" Holmes, Halioua says. "I've gotten it plenty of times. It's often phrased as a joke, but it's not actually a joke."
While raising funds recently, Halioua heard so many Holmes references from one potential investor that she turned down the money in the end. She saw his barbs as a sign of his sexism—and a reflection of his insecurity about whether he was really capable of understanding Loyal's technology.
Even though it's unfair, it's now up to people like Halioua to make it clear that Holmes was an anomaly in the biotech industry. "The only positive I have felt is that it's actually motivation to set a good example," Halioua says. "It highlights the importance of role models and how impactful it is to have a truly successful billionaire female founder CEO."
Ultimately, it may be hard to draw lessons from Holmes's fall because her story was rather exceptional. Even in an industry full of hucksters and greed, it's the rare person who's able to spin such a fantastic yarn for 15 years and lean into the lie with such unflinching gusto. The moral of Holmes's story is not some truth about the technology industry or where the world is heading. It's that every now and then someone who pulls off a ridiculous con gets caught.
 
Read next: A Quant Investor Uses A.I. to Track Down Corporate Greenwashing