President Biden Offers Workers Reason to Hope for a Better Deal
(Bloomberg Businessweek) -- Labor unions and advocacy groups are pressing Democrats to leverage their control of the White House and Congress to enact policies that benefit workers, including facilitating the formation of unions and adopting a more expansive definition of what it is to be an employee. The Democrats' tenuous control of the Senate may make it hard to pass some of the most progressive measures. President Biden may instead rewrite some rules, such as those that apply to federal contracting, by decree. And by continuing efforts to push the unemployment rate lower, the Federal Reserve may play an important supporting role in helping minorities and other less-advantaged groups reenter the job market.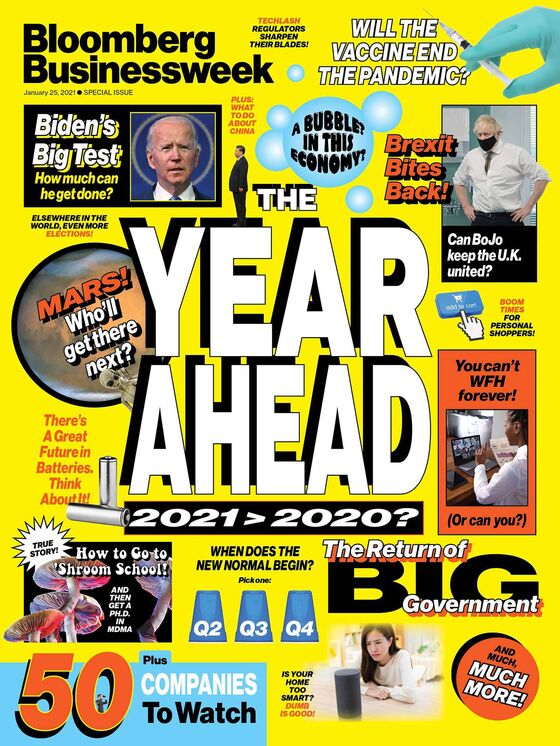 The $1.9 billion economic relief plan Biden unveiled on Jan. 14 calls for boosting the federal minimum wage to $15 an hour from the current $7.25. If successful, it would be the first increase enacted since 2007. More than half of U.S. states already have wage minimums above the federal floor. Still, Republicans and a few Democrats in Congress are sure to resist going to $15, arguing it will increase costs for businesses at a time when many are fighting to survive. Proponents say the increase would lower the poverty rate, which jumped by 2.4 percentage points from June to November as the effects of the first round of stimulus dissipated.
U.S. workers face persistent discrepancies in pay based on gender and race. Data gathered from employers by the Equal Employment Opportunity Commission could help the Biden administration craft policies to close some of the gaps—a stated goal. One wrinkle is that the EEOC is controlled by a Republican majority through mid-2022. The Trump White House tried to halt collection of the pay data in 2017, saying it was overly burdensome for businesses, but was overruled by a federal judge. A report, which could help guide the agency in any future data-gathering effort, is expected by yearend.
Contractors vs. employees
In industries from construction to health care to the rapidly expanding app-based gig economy, workers have been squaring off with bosses over a hot-button issue: Are they employees who are protected under laws covering areas such as minimum wage and unionization, or are they independent contractors who aren't? Under President Trump, the Department of Labor and the National Labor Relations Board worked to make it easier for companies to classify workers as contractors. Biden appointees could reverse that approach, but the administration will have to act quickly to prevent some of its predecessor's 11th-hour changes from taking effect.
In his campaign platform, Biden pledged to "ensure federal dollars do not flow to employers who engage in union-busting activities." His administration will be weighing a range of possible actions to fulfill that promise, including an executive order requiring federal contractors to remain neutral to a union organizing drive. Companies bidding on new contracts may also face increased scrutiny as part of an effort to weed out those with a history of labor violations.
By forcing many day-care centers to close, the pandemic helped wipe out five years of gains in labor force participation for U.S. women. Biden's stimulus plan calls for an additional $15 billion in funding for the state-administered Child Care and Development Block Grant program, which subsidizes child care for low-income families. In addition, it proposes a one-year expansion in child-care tax credits, with families eligible for as much as $4,000 for one child or $8,000 for two or more, depending on income. Also part of the Biden plan: paid family leave for those needing to care for a child or elderly parent.
Achieving full employment has long been one of the Federal Reserve's mandates, alongside battling inflation. Yet following a 20-month strategic review that wrapped up in August, the U.S. central bank will allow the economy to run hotter for longer in the interest of pulling more people—especially minorities—into the workforce faster.
 
Read more: The Leader of the Alphabet Workers Union Looks Beyond Wages