It Pops Like Caviar, Tastes Like Lime, and Is Taking Over Menus
(Bloomberg Businessweek) -- It's difficult to find an ingredient as ­delightful as a finger lime. Inside the tube-shaped fruit are pearl-like citrus bubbles in pastel hues of pale green, yellow, coral, and dusky red. In an age that embraces "ugly" produce, the finger lime is unfailingly exquisite, as if created by a horticultural Dr. Seuss.
The citrus hails from Australia, where it's also known as a caviar lime. Almost everything about the fruit is compact. In 1915 scientist Walter Swingle labeled it a "microcitrus" because of its small leaves. It grows on short, thorny trees in the rainforests along the coasts of Queensland and New South Wales.
While the finger lime has been ­making appearances in the U.S. over the past ­several years, it's only recently gone mainstream—­and not just because it's visually compelling. "The little bites of lime pop just like ­caviar, and your mind goes crazy the first time you try it," says Australian-born star chef Curtis Stone. "From a culinary perspective, they have spread like wildfire."
At Maude, his tasting-menu restaurant in Los Angeles, Stone uses the ingredient as a garnish for raw fish and, more unconventionally, pasta: It balances the richness of the beurre blanc that coats his duck ravioli. Stone notes that the hit of acid is delayed because the citrus is encased in a membrane; you don't get it until you bite. The membrane also stops the juice from "curing" the fish. "Finger limes are just an ingenious way to add acid," he says.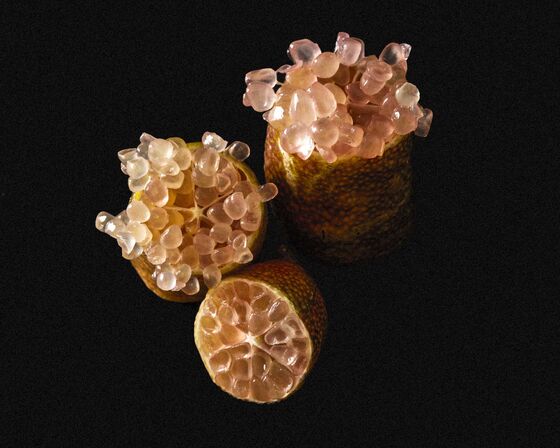 At the intimate Gem on Manhattan's Lower East Side, Flynn McGarry finishes a raw fluke appetizer with the citrus pearls. "They look really cool and can easily change the flavor profile of a dish," says the 20-year-old chef. Although citrus is rarely seen in Korean cooking, at New York's Atomix, Junghyun Park has found a place for finger limes. The chef adds them to a steamed halibut dish enriched with a foie gras and fermented bean-paste sauce.
If there's a drawback to the finger lime, it's the price: They mail-order for as much as $150 a pound. Stone, at least, has found a solution for this conundrum: He planted two of the trees in his backyard.
In the U.S., finger limes are being cultivated in Central and Southern California. Here are a few places that supply them:
Good Land Organics Goleta, Calif.
Primarily known for coffee, Good Land now sells the citrus. But like true Aussies, the company calls them caviar limes. $25 for .5 lb.; goodlandorganics.com
Melissa's Produce Los Angeles
Finger limes are one of more than 1,000 kinds of specialty produce sold by this purveyor of exotic fruit and vegetables. $27 for 3 oz.; melissas.com
… Or Just Grow Your Own Follow Stone's example and get a tree.
Fast Growing Trees sells 1-gallon-size shrubs. $39; fast-growing-trees.com
To contact the editor responsible for this story: James Gaddy at jgaddy@bloomberg.net, Chris Rovzar