Britain's Most-Loved, Most-Hated Pub Chain Is Fighting for Its Life
(Bloomberg Businessweek) -- Late one evening last March, Tim Martin, founder and chairman of JD Wetherspoon Plc, Britain's highest-profile pub chain, descended to his basement to record a video message for his staff of 43,000. It had been a bad week. Cases of the novel coronavirus were surging across the U.K., racing far ahead of the National Health Service's ability to cope. Desperate to stop the spread, Prime Minister Boris Johnson's government had ordered all bars to close. The decision was without precedent; Britain's pubs stayed open even during the Blitz.
In the grainy video, recorded on a phone camera, Martin did his best to sound reassuring. "I'm very sorry about the situation that has occurred with our pubs," he said, clutching a mug of tea decorated with what looked like woodland sprites. "It puts everyone in a very difficult position, and I know you're all sitting there wondering what the hell is happening." What he said next wouldn't exactly put Wetherspoons employees at ease. There was "no money coming through the tills," and government checks that would temporarily cover as much as 80% of wages for furloughed workers weren't yet in the mail: "They'll probably be pretty slow paying it, so there may be some delays, for which I apologize." For those who "didn't want to wait around," he continued, "we'll give you first preference if you want to come back." There were jobs available at supermarkets, he noted. "Deeply appreciate your work," he signed off. "Best of luck!"
The national reaction was furious. "Tim Martin tells his 40,000 staff to go to work at Tesco," read a typical headline. Ninety members of Parliament signed an open letter denouncing the company, which had revenue of £1.8 billion ($2.5 billion) in 2019, and demanding that Martin guarantee wages. In responding to the uproar, he and Wetherspoons were adamant that they'd never said workers wouldn't be paid, and they rapidly announced that 80% of all salaries would be covered, in line with the government's furlough scheme. But whatever their original intentions, the damage was done. Once-loyal customers declared on radio call-in shows that they'd never return. When pubs reopened in early July, some drinkers relied on an app called Neverspoons to direct them to independent establishments instead. It was downloaded 18,000 times the first week it was available.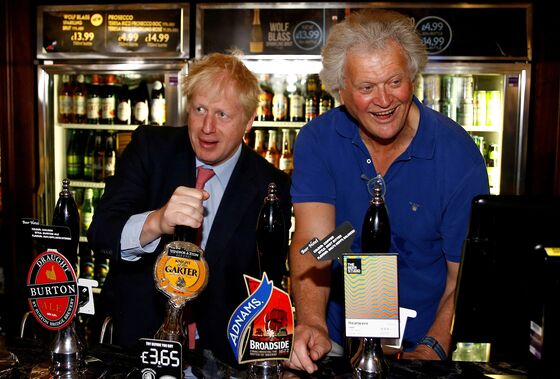 In many towns, avoiding Wetherspoons is no easy feat. Since it was established in 1979, its core competence has been expansion, even as the overall number of pubs in the U.K. has declined sharply. Virtually no town center or city neighborhood is without at least one Wetherspoons, with more than 900 spread across the U.K. and the Republic of Ireland. They often occupy some of the finest buildings around—fin de siècle opera houses, art deco cinemas, old winter gardens, and towering Georgian corn exchanges, all repurposed to sell beer for as little as £1.29 a pint. They also manage to accommodate everyone, playing host to drunken students while remaining places you might take your grandmother for tea. They're loved and loathed, sometimes by the same people, at once a national treasure and an embarrassment. Wetherspoons is so ubiquitous that, after pro-European Union campaigners vowed to stay away in protest of Martin's advocacy for Brexit, the humor site the Daily Mash called it "impossible to boycott."
Things have been dire for Wetherspoons since the uproar over the video, though. In October the company reported a £105 million pretax loss, its first time in the red since 1984. Even after the reopening, it said, sales were 15% lower than a year earlier. Then came another burst of Covid-19 cases and a second national lockdown, which gave way to a dense thicket of new regulations. By November, most of Northern England was at Tier 3, the highest level of Covid precautions, requiring pubs to close. By mid-December, London and large swaths of the southeast were there, too. On Jan. 5 came a third national lockdown.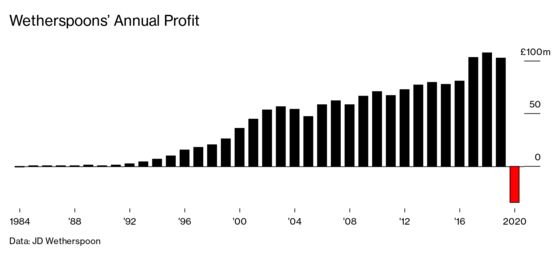 The latest wave of closures represents an existential threat to the entire British pub trade, which is thought to contribute more than £23 billion to the economy each year and more than £12 billion in tax revenue. And while vaccines, which the U.K. has been distributing more rapidly than almost any other country, promise to end the acute phase of the pandemic, Covid's potential long-term effects—fewer office workers to fill pubs at day's end, for example—could create a world considerably less hospitable to a business that can't move its relationship with customers online.
Over its 40-year history, Wetherspoons has become an avatar for a low-wage, low-cost economy, sacrificing worker pay for affordable prices and leveraging its scale to beat out smaller competitors. Now the chain finds itself standing alongside its rivals in a new position: unsure about what political leaders will do next to control a virus that's changing form and still spreading rapidly; about what the exit from the common market will mean in practice; and, above all, about who will bear the cost.
 
For much of the postwar era, Britain's pub industry was dominated by a group of brewers known as the Big Six. Their network of company-owned pubs stretched across the country, selling predictable beer churned out at vast factories. Their executives spoke with plummy, upper-class accents and dressed in neat, prim suits. Their enterprises were little loved, despite periodic attempts at quirky, themed redesigns, but their grip on the industry seemed unbreakable.
Martin bought his first pub in 1979. He'd spent his childhood at a series of boarding schools in New Zealand and Northern Ireland while his father worked as a marketing director in Malaysia for Guinness. After qualifying as a barrister, he never practiced; instead he bought the pub, in the north London suburb of Muswell Hill. Martin renamed it Wetherspoons, after a former teacher, the following year. He'd soon add more north London locations.
Margaret Thatcher's first election victory was also in 1979, and Martin's rise partly mirrored the prime minister's. A recession followed her win, and Martin took advantage of a beer supply surplus to secure cheap contracts and offer lower prices at the bar. His pubs sold "real ale," a traditional beer—marked by the presence of live yeast and dispensed without added carbon dioxide—that's brewed regionally, in contrast to the increasingly standardized offerings of the Big Six. And where the pubs of the megabrewers would get ever more generic makeovers, Wetherspoons worked to seem sui generis.
The chain expanded quickly, aided by Thatcher's economic reforms. Her government liberalized urban planning rules, allowing Wetherspoons to set up shop in unorthodox buildings. A former town hall, for example, could be converted to a pub far larger than a traditional venue, allowing Martin to create economies of scale that pushed prices lower still. By the late 1980s, Wetherspoons had established itself as a respectable competitor to the giants, with more than 30 pubs to its name.
In 1989, Thatcher's government passed legislation known as the Beer Orders. It barred brewers from owning more than 2,000 pubs, sparking a selloff that transformed the industry and gutted the power of the Big Six, most of which were eventually absorbed into foreign-owned brewing groups. With the stranglehold broken, and with fresh capital coming in from an initial public offering in 1992, Wetherspoons grew and grew. It had 50 pubs at the time it went public. Within two years it had 100; within five, 200. By 1998 the company was opening 100 pubs a year.
Wetherspoons imitated the ambitions of the Big Six but learned from their mistakes, avoiding identikit branding and departures from traditional pub décor. No two of its pubs were quite the same, even in their choice of floor covering, with each location getting a unique carpet design. These have since become famous, inspiring their own popular book, Spoon's Carpets: An Appreciation, by the writer Kit Caless, appealing to those who hold that the aroma of beer-stained fiber is a sure indicator of a proper British pub.
Such touches belied a more corporate reality. Unlike traditional pubs, Wetherspoons divided its venues into gridlike seating plans, with relatively private booths and ample table seating that kept patrons with their own groups and reduced the frequency of chance interactions. Staff were as likely to be from Warsaw or Sofia as Wiltshire or Suffolk; Martin was among the first British executives to hire workers from new EU member states, bringing in young people willing to work for just above minimum wage.
As he became more successful, he got involved in national life. A lifelong skeptic of the EU despite his reliance on European workers, he began in the 1990s to push for Britain to prune its ties with Brussels, then to sever them entirely. In 2012, after Prime Minister David Cameron blocked the U.K. from signing on to a new EU treaty intended to deepen integration among member states, Martin distributed a celebratory "Veto Ale" in every Wetherspoons. In the runup to the Brexit referendum four years later, he had almost 2 million paper beer mats printed with anti-EU messages, further backed by articles in Wetherspoon magazine (now called Wetherspoon News), which is distributed free across the chain. And after the first withdrawal agreement failed to win support in Parliament, Martin upped the ante, touring pubs to promote the benefits of a no-deal exit. The company even created stunt menus, promising that its drinks would be cheaper if the U.K. crashed out of the bloc without a trade agreement. (The truth is almost certainly the opposite.)
This tireless advocacy—combined with labor practices that included low wages and, until 2016, so-called zero-hours contracts that kept many staff uncertain of their schedules, and therefore their income—made Martin the bane of many progressives. He said he was simply channeling the interests of the broad middle of society, positioning himself as a tribune of ordinary people. Political leaders from a "narrow and privileged background," he wrote in Wetherspoon magazine, "think they know better than the man, or woman, in the pub." The EU, he added, was their way of taking control from "the great unwashed British public, with its interfering courts, aggressive and intruding press, and cantankerous population."
He's adopted a similar posture—the voice of reason countering the whims of meddling bureaucrats—when it comes to coronavirus measures. "The rules have constantly changed, without consultation, on an arbitrary basis, causing mayhem, unemployment, and economic dislocation," Martin said in a recent article. "No one in government seems to have any experience of running a business."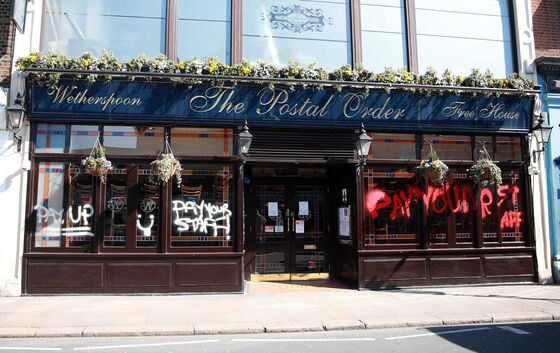 I met Martin in October along London's Baker Street, at an ornate Wetherspoons situated in a former railway ticket hall and decorated with Roman-style columns. It was between lockdowns, but the pandemic had left its mark on the pub: A bouncer guarded the hand sanitizer, and the clientele were spaced apart or kept separate by plexiglass screens. Five days earlier, the company had announced its £105 million loss. Martin, who's usually ebullient and feisty, was noticeably downbeat. "Losing a hundred million, the novelty of that will wear off quite fast," he said in his distinctive, loping voice. "Since last Thursday we've had lockdown announced in Wales, we've had Tier 2 in London and Manchester and South Yorkshire."
The March video incident still weighed on him, too. "I made slightly loose language, and it was a very strange example of, if there's a certain mood, how things can get," he said. Would he clarify, I asked, whether the company had always intended to bridge staff payments? "I'm not even going to go there," he replied. "The interpretation in the press was total bollocks. And all our staff got paid, and they always have been. And there are hundreds of thousands out of work who haven't been." (Wetherspoons remains sensitive about the issue. Well before this story was published, Bloomberg Businessweek received a letter from the company's legal department saying it would be "untrue and defamatory" to repeat claims it didn't intend to pay staff until government support kicked in.)
Despite the ongoing blows to his business, Martin was trying to maintain Wetherspoons' usual standards. His approach to management owes some inspiration to Walmart Inc. founder Sam Walton, who held that successful empires are built on small, incremental changes. Martin pulled out his phone to show me a series of captioned photos from his spot checks, noting peeling paint, untended flower baskets, and a front door that had been pinned back too far, letting in cold air.
Even the most assiduous management, however, may not be enough to surmount the challenges the industry faces. The pub might be among the most potent symbols of British, and particularly English, life, but that doesn't make it invulnerable to shifting consumer tastes. Already before the coronavirus, more than 1,000 pubs were closing annually in Britain, victims of high tax rates, extractive ownership models, competition from scale operators such as Wetherspoons and supermarkets, and a steady reduction in alcohol consumption.
The pandemic has compounded these factors, creating a storm for operators large and small. Wetherspoons estimates it will lose £14 million every month its pubs are closed. In November the British Beer & Pub Association warned that, without support, as many as 12,000 pubs could be forced to shut permanently. "I don't think we'll do as well if there aren't independents around," Martin said. "There has been quite a lot of clusters of restaurants and bars which have opened near us, and we always seem to do better when they're there. I don't think we're looking for a monoculture. … That would be a rather sad country."
He didn't intend to let the changing landscape compromise his focus, however. Keeping up the basics, he maintained, would help bring customers back. At one point during our interview, he unfolded his gangly frame from the table and went to the bar to complain that his tea had been served without the bag. "You always get tea with the tea bag left in and a spoon." A waitress arrived a few minutes later with a fresh cup, this time forgetting to bring a saucer. Martin sent her back again. It came across as rather precious, if not mildly tyrannical, until I remembered my own annoyance, 10 minutes earlier, at having nowhere to place my tea bag. The details do matter.
 
Whether Wetherspoons' business model abides in the post-Covid, post-Brexit age remains to be seen. Even before the virus struck, the company was being criticized for its role as a pioneer of precarious, minimally compensated work arrangements. Just a couple of years ago, in 2018, it saw its first strike, by a group from a Brighton Wetherspoons, who wrote that they were "forced to work as fast as we can for long shifts with barely any breaks, even when we're sick or injured. We've seen the people we work with struggling to make ends meet, sofa surfing and scraping by." Britain's Labour Party, which has been neck and neck in opinion polls with the ruling Conservatives, has pledged to take aim at "structural flaws" in the economy, such as low pay and insecurity, that are rife across the hospitality sector—changes that could chip away at Wetherspoons' model of cheap beer served by poorly compensated workers. Meanwhile, Britain's exit from the EU makes it less likely those workers will be found outside the U.K.'s borders. Martin may be in favor of immigration, but he's a lone voice among his fellow Brexiteers, for whom Brexit and tight border controls are synonymous.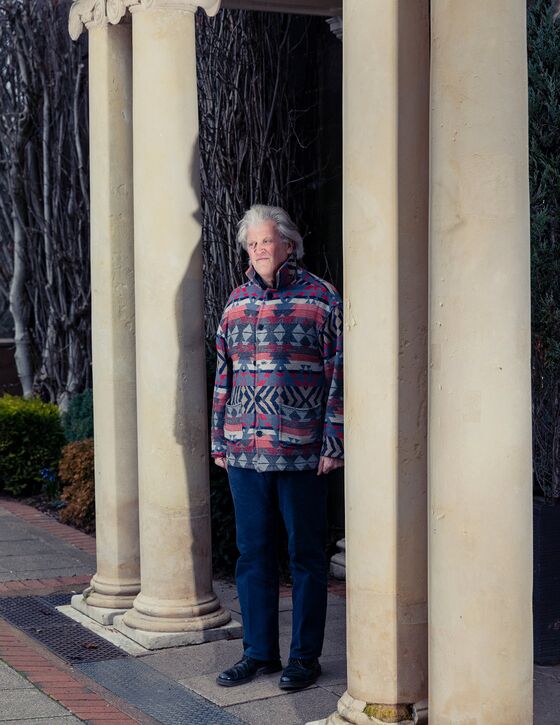 Even when business is good, life behind a Wetherspoons bar can be difficult. One day last fall, I met Michael Chessum, a former employee who'd become an anti-Brexit activist, in a Wetherspoons near Tower Bridge. Despite the grandeur of the setting, the pub wasn't one of the chain's finest, with a low ceiling, garish lighting, and an awkward layout combining to create an oppressive, claustrophobic feel. Yet even with the recent rise in Covid cases across the capital, the place was packed. Apart from the absence of a line at the bar—only table service was permitted, to prevent crowds forming—it felt strikingly similar to earlier times.
Chessum and I found the only spot left to sit, on high stools by the dead zone around the bar. He was skeptical of my order, a steak and ale pie. "I don't know what they've cooked your pie in," he said. (A Mealstream combi oven, according to the company.) Chessum had been hired as a kitchen hand in 2015. He recalled the pay being poor—just above minimum wage, with tiny increments between different job titles. (Wetherspoons says it supplements its wages with bonuses and share distributions.) Visits from Martin were a source of considerable anxiety for managers, who were "visibly scared of him." Chessum left after six months, unable to make a living.
Low wages were part of a kind of unvirtuous circle, helping to make Wetherspoons one of the only affordable places left for other poorly paid workers to go out for drinks. This dynamic spoke to why Chessum had fond memories of his time there, despite his experience as an employee. His pub had been small and uncharacteristically intimate, a last redoubt of working-class drinkers in Stroud Green, a fast-gentrifying part of London. He and his colleagues took pride in getting to know the regulars. There was Toothless Sue, a vulnerable pensioner whom staff would occasionally help look for when she went missing. Busta Crime, who was fond of skirting the law. A man known as Where There's Muck There's Money, his catchphrase—"because he'd made his fortune dealing with animal filth or something." A dissolute academic who'd sit with a bottle of beer, a double Glenmorangie, and an iPad—"usually nature documentaries." A clique of intellectuals who included a member of the Communist Party of Great Britain (Marxist-Leninist), "an absolutely insane organization who think North Korea is paradise." It was, in other words, a normal British pub, acting as an unofficial site for social services, a refuge for eccentrics, a place for anybody to belong.
Wetherspoons sold Chessum's location in 2016 to a company that converted it into an upmarket gastropub serving "nourishment bowls" with "delicio pumpkin," "panko halloumi," and craft beers. People in the neighborhood were left with a 2-mile walk to the nearest affordable pub. As far as he knew, the regulars, without somewhere to go every day, simply scattered. The local Wetherspoons may have been run by a pitiless corporation, but it was still their neighborhood pub. "It felt very much like a single community. We were part of each other's world," Chessum said. "I wonder where the f--- Toothless Sue is now."
 
Read next: Pro Darts Is Back, But Legions of Beer-Swilling Fans Must Wait