Want Safer Factory Robots? Make Them More Like Self-Driving Cars
(Bloomberg Businessweek) -- For robot cars to achieve peaceful coexistence with the humans inches away on roads and highways, they must be encased in an invisible halo of laser beams. This same lidar technology is now appearing inside the factories that build cars, letting humans get intimately close to dangerous assembly-line robots.
The shift is so powerful it could help automakers achieve what Detroit couldn't do in the 1980s and what Tesla Inc. failed to accomplish over the past few years: the complete reinvention of car factories around robots rather than human labor. Most automakers use robots to weld and paint the metal bodies of their cars. But the final assembly line—some 500 complex and ever-changing tasks such as the installation of engines and dashboards and wire harnesses—has defied almost all attempts to replace human workers with robots since General Motors Co. started experimenting with them in 1959.
There's a good reason for this resistance to increasing automation. Big industrial robots can move a one-ton load at the speed of three meters per second. Any assembly line that falls short of full automation requires humans and robots to cooperate side by side—and that can be very dangerous for the humans.
"Being with a robot in a tight space is like standing next to a horse," says Patrick Sobalvarro, co-founder of Veo Robotics Inc. of Waltham, Mass. "If the horse is calm and likes you and knows where you are, you're perfectly safe. But you have to know it's not going to surprise you or step on you or crush you against the wall."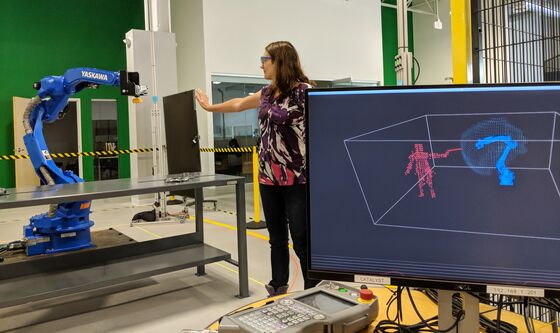 Veo has been a pioneer in using three-dimensional flash lidar to create real-time maps of robots, humans, and everything else inside a factory workstation. The startup's proprietary technology slows the robot down and then stops it completely when humans get too close. The system also shuts down anytime it can't fully recognize what's happening in every corner of the workstation.
This same blend of sensing and computer analysis, in real time and on a massive scale, makes self-driving cars a reality. The technology bounces lasers off objects to help determine what's nearby. The early front-runners in the race to launch businesses using autonomous vehicles, Alphabet Inc.'s Waymo and GM's Cruise unit, both rely on lidar sensors.
Almost $1 billion has been invested in automotive lidar companies over the past four years, according to a recent report by Bloomberg NEF. Uber, Cruise, Ford Motor-backed Argo AI, and Continental Automotive have all acquired lidar companies since 2016.
"Veo is the first to use lidar on the assembly line," says Joe Gemma, chief executive officer in the U.S. for Kuka Robotics Corp., which is helping the startup test its system. Kuka's customers include Tesla and GM. "We think of final assembly as the holy grail of automation," he says. "We've really been lacking in our ability to use automation in this area because of the additional cost of protecting people working in close proximity."
"These new lidar technologies could change this in virtually every application," Gemma says.
Veo is also working with the world's other big industrial robot manufacturers, Fanuc, Yaskawa Electric, and ABB, and running experiments for aircraft manufacturers, oil and gas drillers, appliance manufacturers, and consumer goods companies. Veo's potential annual revenue, Sobalvarro says, could top $1 billion in about five years.
That's a bold claim for a company that, so far, has raised $13 million in funding from Google Ventures, Lux Capital Management, and Next47, a venture firm started by Siemens AG. Chinese investors are clamoring to get in, Sobalvarro says, and Veo may raise more money this fall, just as the company starts shipping to customers.
One of Sobalvarro's first jobs, after graduating in 1997 with a doctorate in computer science from the Massachusetts Institute of Technology, involved tracking the movement of people inside big-box stores such as Walmart using intelligent video software. He later jumped to Rethink Robotics Inc. as president to develop so-called cobots, industrial robots with force sensors embedded in their limbs that cause them to stop when they run into humans or other objects. Most popular cobots can lift just 22 pounds.
Sobalvarro always dreamed of combining his retail and cobot experiences but couldn't until the cost of sensing fell. Velodyne Lidar Inc. sensors that cost $75,000 a decade ago can be had today for $99. This helps Sobalvarro charge $40,000 to set up his system in a robotic workstation—a relatively small expense since the rest of the equipment can typically cost $400,000 or more. The installation takes half a day, and the impact can be profound.
In a video demonstration, Sobalvarro uses an orange, 6-foot-tall Kuka robot to lift a 15-pound suspension component onto a table so workers can attach additional parts. As the robot whirls around to pick up the part, and then turns back and rotates it onto a metal fixture on the table, a worker stands just a few feet away using a hand-held electric screwdriver. In one case, this human-machine intimacy cuts the time needed to install rubber bushings, used to reduce noise and vibration, to 24 seconds from 43.
The safety constraints imposed by the danger of today's factory robots can make even maintenance tricky. The copper tips on robots that weld together metal car bodies wear out constantly because of high temperature and voltage. Changing one takes less than two minutes but often requires much more time because workers need to find a supervisor to authorize the padlocking of surrounding robots before anyone can climb inside the metal safety cage.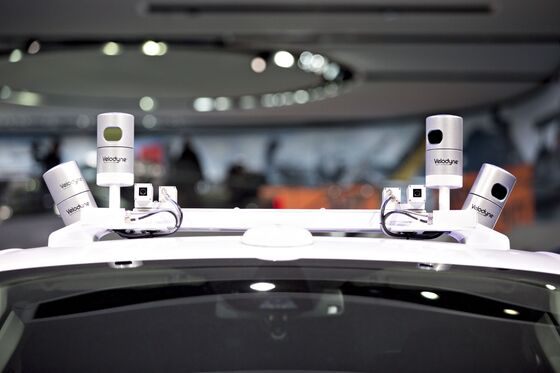 Veo's technology provides electronic assurance that the robots will stop when necessary. "Our dream is to walk into a factory and have any machine you approach go into a 'safe mode' until you leave," Sobalvarro says. "It's the end of fear."
Sobalvarro says he's not even trying to eliminate humans from routine assembly jobs, and that dream is receding even for staunch proponents such as Tesla CEO Elon Musk. The company struggled to meet production and safety goals after Musk promoted its car factory in Fremont, Calif., as a steppingstone toward "lights out" manufacturing, in which the job of humans is to monitor the robots. This past spring, however, Musk had to scrap a massive robotic conveyance system for bringing parts to the line.
"Just because we have something that works great in a simulation does not mean that it works great in reality," he acknowledged in a July interview with Bloomberg.
At Kuka, in contrast, Gemma envisions using the Veo system to install seats and windshields, with robots doing the heavy lifting while humans guide the last inch or two. The humans will still be around, using all their sensing capability and dexterity to adjust the system and solve problems.
Clara Vu, Veo's vice president for engineering, acknowledges that some jobs will be lost if car-building robots equipped with lidar become more nimble and safer around human colleagues. This may be a good thing at a time when Honda Motor Co. and other companies are warning of U.S. labor shortages. And the increased productivity could help companies discover new ways to make money, too, she says.
But Vu also wants those inclined to worst-case scenarios to remove "robots take over the world" from their list of near-future nightmares. Just last month, in an example of this anxiety, the World Economic Forum predicted that 75 million workers could lose their jobs to automation by 2022. Such predictions couldn't have come, Vu says, from people who've done what she has: spend two decades trying to get robots to perform simple industrial tasks.
At present, Vu says, no robot in the world has the sensing capability and judgment to do what millions of women do every day: hold a small, pointy brush for applying mascara just millimeters away from their eyelids. She believes robots are decades—maybe even centuries—away from replicating the dexterity and broad problem-solving abilities of humans.
Her advice to anyone fretting over how to survive a robot apocalypse has always been to climb the nearest staircase, since most robots can't follow. But changing technology is forcing her to reconsider. "Boston Dynamics has recently developed a stair-climbing robot," she says, "so I might have to block the bottom of the stairs with a laundry basket."
To contact the editor responsible for this story: Aaron Rutkoff at arutkoff@bloomberg.net, Dimitra Kessenides