The Age of the Everything Banker Is Here: Get Ready for Odd Jobs
(Bloomberg Businessweek) -- Wall Street bankers feasted on mergers and acquisitions over the past five years, ringing up fees by the billions for a fairly straightforward task: combine two companies to make something bigger. Now the job is getting more complicated.
Although deals and stock offerings are starting to come back, the pandemic and a volatile market made them tougher to execute. In the absence of continuous, big-ticket takeovers, investment bankers found themselves providing more informal advice for clients and would-be clients on everything from supply chain disruptions to how to handle a trade war, or the best way to position a company for the outcome of the U.S. election. All of this to stay on top of the call list when a company starts looking for help with its next deal. In short, bankers have to know more and do more—including the occasional odd job. "The renaissance banker is back in vogue," says Paul Taubman, chief executive officer of the investment bank PJT Partners Inc. "In a crisis, you need someone who can see the big picture."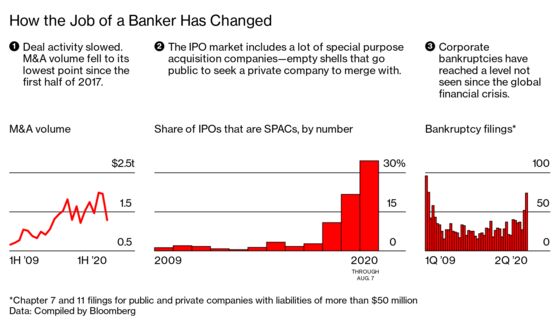 Dealmakers who were rustling up funding for WeWork just a year ago are now saddled with more mundane tasks. One Citigroup Inc. banker who works with governments trying to borrow money found herself trying to procure face masks for those clients. Others are helping troubled companies overhaul their finances. Restructuring specialists, often ex-lawyers who help companies navigate bankruptcy filings, haven't been this busy since the last financial crisis. And bankers are arranging alternative forms of funding for clients from private equity firms, institutions, and billionaire investors.
Merger advisers such as Moelis & Co. and Perella Weinberg Partners have hired capital markets bankers after a spate of private investment in public equity, or PIPE, deals. These let large investors buy shares from a public company directly, often at a discount. They tend to happen when times are tough and companies need cash. Evercore Inc., meanwhile, has hired someone to oversee convertible securities, a hybrid of debt and equity that has seen a resurgence during the pandemic as investors look for safer bets.
Bankers have also arranged billions of dollars this year for a once-unusual kind of initial public offering. Special purpose acquisition companies, or SPACs, are businesses that have no real business yet. A prominent executive or money manager simply goes to the stock market to raise money for an unspecified takeover in the future. Investment bankers get to advise on those acquisitions, too.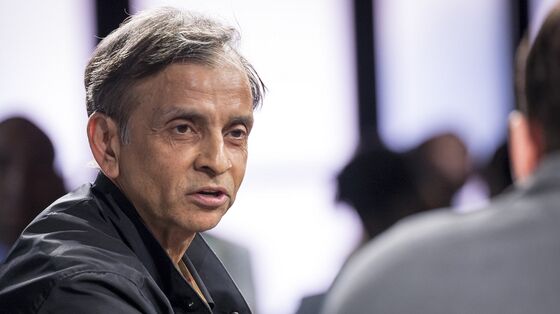 Firms that deployed armies of bankers to service energy and industrial companies, which have been struggling, are reassigning them to focus on the remaining growth areas such as health and tech. So even as deals pick up, "what we do and how we do it may very well change," says Elizabeth Crain, chief operating officer of Moelis.
Perella and Evercore in the past year have each committed to job cuts of more than 5%, while Lazard last year realigned its business, cutting some jobs while hiring elsewhere. That's a jarring change from the preceding half-decade, when dealmakers routinely left large firms to strike out on their own. Now bankers who kept their jobs are willing to fill any slot they can. "People are being repotted into different roles," says Noah Schwarz, a Korn Ferry recruiter who has worked with some of the biggest investment banks. "If you spent your career covering one industry, you should be prepared to cover another."