Waiters Reject Signing Bonuses, Hobbling an $860 Billion Industry
(Bloomberg Businessweek) -- Chef Dan Jacobs's restaurants have long been fixtures on best-of-Milwaukee lists. One of his latest, called EsterEv, offers an eclectic mix of gourmet and comfort food: The $65, five-course menu features caviar tater tots and schmaltz-and-poppy-seed focaccia with hot mustard butter. But while diners may be eager to return, Jacobs can't find enough workers to get his place back up and running.
He's offering $40,000-a-year salaries and $20 an hour for part-timers. He's begging on Craigslist. He's even scouting people who've served time in prison. No luck. "It's a coin flip," Jacobs says of the chances that EsterEv and his other two restaurants will survive. "I have to be realistic and realize there is a distinct chance this will not work."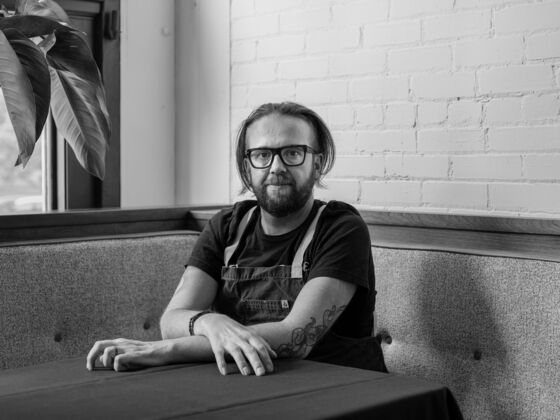 Across the U.S., restaurants desperately want to reopen to full capacity, and mayors and governors are urging them to do so. While some diners are still wary, owners say a bigger problem is finding enough bodies to cook, serve, and wash dishes. Adding to concerns about inflationary pressures, the labor crunch nudged up average hourly earnings to $16.28 an hour in March, the highest on record, according to the U.S. Bureau of Labor Statistics.
The Covid-19 crisis has transformed few areas of the U.S. economy more than food service. Marking the launch of a $28.6 billion federal Restaurant Revitalization Fund last week, President Joe Biden called restaurants a "key part of the American story," noting their importance as a driver of socioeconomic mobility for minorities and immigrants. It's hard to overstate the importance of what in 2019 was an $860 billion-a-year industry. More than 60% of Americans have worked in a restaurant at one time or another; for almost 1 in 2, it was their first regular job.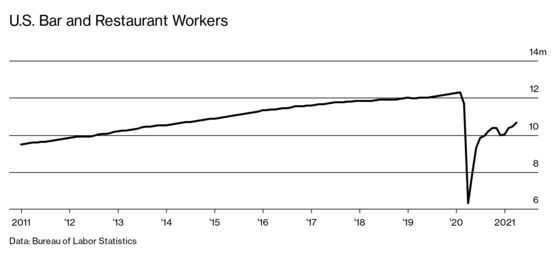 Perhaps no more. Restaurants and bars employ 1.6 million fewer people than at the start of 2020, federal data show. But it's unlikely the 10.6 million-person workforce will ever return to pre-pandemic strength. More than half of restaurant workers are considering quitting because of low wages and other opportunities, according to a survey published last month by nonprofit One Fair Wage and the University of California at Berkeley's Food Labor Research Center. Many are working mothers fearful of contracting Covid and are bringing in earnings that barely cover their family's grocery bills.
Extended unemployment benefits have allowed some restaurant workers to remain on the sidelines. In Milwaukee, Jacobs says candidates sometimes apply because they have to show they're actively seeking work to continue collecting unemployment but then don't return his phone calls.
Yet he and other employers in the industry face a more fundamental challenge. Low-skilled workers are fleeing food service for higher-paying jobs at fulfillment centers operated by Amazon .com Inc. and other retailers, according to Daniel Zhao, a senior economist at the employment site Glassdoor.
In St. Louis, Bettie Douglas recently quit her job at a sandwich shop to work at Rainbow USA Inc., an apparel store chain that also sells online. She's still making minimum wage, as she did in her previous job and before that, working at McDonald's. But unpacking boxes and tagging merchandise is a breeze compared with fast food, where she took orders, ran registers, washed dishes, and sometimes unclogged toilets, says Douglas: "It's more stress because you're moving more, you're doing more."
To lure new workers and keep existing ones from bolting, some fast-food and casual-dining chains are offering one-time bonuses and increasing pay. Olive Garden owner Darden Restaurants Inc. said it spent $17 million on a one-off retention payment of as much as $300. Chipotle Mexican Grill Inc. will raise average hourly wages for kitchen workers from $13 to $15 by the end of June, as it looks to add 20,000 employees to its payroll. Even before the planned hike, the chain's pay was up about 4% from the same time last year.
Todd Graves, chief executive officer and founder of Raising Cane's Chicken Fingers, a Baton Rouge, La.-based chain with about 530 locations, says it's the toughest hiring market he's seen in his 25 years in the business. "The demand for employees is just through the roof," says Graves, who's handing out retention bonuses of as much as $250. "Everybody is reopening at once."
Restaurants may become a smaller part of the economy. At least some of the shift in revenue to grocery and food delivery witnessed during the pandemic may become permanent if many office workers opt to continue working from home.
To adapt to these changes, restaurants may have to embrace automation and other technologies, something that much of the highly fragmented industry had been slow to do prior to the pandemic. Many now allow diners to submit their orders and settle their tab using their mobile phones. "This is sort of an 'aha!' moment, where we had these technologies and suddenly we see that we can use them even more," says Claudia Goldin, a Harvard economic historian.
Aaron Allen, a third-generation restaurateur, says that while the federal government's new rescue fund may help tide some establishments over, many will eventually succumb if they can't hire and retain workers. "This is the first time that they're actually saying, 'You know what? Screw you guys,' " says Allen, now an industry consultant. " 'The way that we're being treated, we're not coming back.' "
 
Read next: How to Quit Your Job in the Great Post-Pandemic Resignation Boom