The Internet Saved the Record Labels
(Bloomberg Businessweek) -- When Vivendi SA took over Universal Music Group in 2000, the industry was riding high on bumper sales of CDs, though the investment soon soured as illegal downloads surged. CD revenue plunged by two-thirds over the next decade, and by the early 2010s, unloading Universal would've been a tough sell; who would pay a premium for a company whose main product—pop songs—was widely available for free? But today, Vivendi is considering the sale of a stake in Universal that could value the label at more than $25 billion.
"The notion that recorded music has value was one that as recently as a decade ago was still in question," says Bryan Gildenberg, an analyst at researcher Kantar Consulting. A sale of Universal would be "a remarkable testimony to the resurgence and the importance of content."
The rebound can be traced to the same boogeyman that almost killed the business in the first place: the internet. These days, music fans have largely shifted from illegal downloads to paid streaming platforms such as Spotify, Apple Music, Amazon Prime, and Pandora, which generally charge $5 to $10 a month for unlimited access to millions of songs. Even though the labels only get about 0.3¢ each time a tune is streamed, according to the Trichordist, a musician advocacy blog, the pennies add up. Since 2014, record company sales have jumped an average 7 percent annually and streaming has become the top source of revenue, generating $6.6 billion in 2017, up from $1.9 billion in 2014, the International Federation of the Phonographic Industry estimates.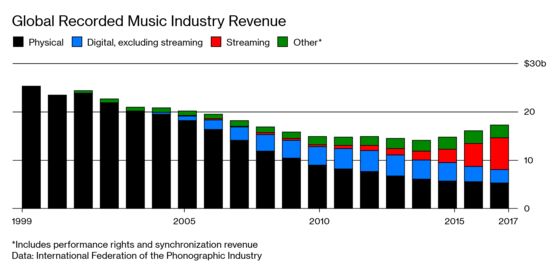 That return to growth has spurred Vivendi to mull a partial sale of Universal. While the idea has been floated for the past two years, the pace is picking up. In recent weeks the company has met with financial advisers and held informal talks with potential buyers, according to people familiar with the matter who declined to be identified discussing private conversations. Vivendi says it will update investors on its plans when it releases 2018 earnings on Feb. 14.
At least two private equity firms have met with Vivendi management, says one of the people. Other possible investors include Apple, billionaire John Malone's Liberty Media, Japan's SoftBank, and China's Tencent and Alibaba—potentially dovetailing with Vivendi's ambitions to expand in Asia. Lisbeth Barron, an adviser on music deals and chief executive officer of investment bank Barron International Group LLC, says Vivendi is seeking a valuation that's about twice as high per dollar of operating profit as recent industry sales, potentially boosting other companies in a market that's been heating up lately.
One big concern is streaming's durability. While the business is growing fast, expansion is slowing in Europe and North America, and in Asia streaming companies face continued piracy and regional rivals better attuned to local tastes. Apple Inc. and Amazon.com Inc. don't break out results for their services, but Pandora Media Inc. lost $310 million in the first nine months of 2018, and Spotify Technology SA reported a net loss of $520 million—even as it grew 40 percent, to 87 million paying customers.
Just as problematic for the labels, the services that have revived them are now trying to reduce their take, both by trimming the royalties they pay and by forging direct ties with musicians. Bands can upload music directly to Spotify and Tencent, which then release songs directly to listeners and split the proceeds. Cutting out record labels appeals to musicians, who grouse that only the biggest stars can count on streaming to cover much more than new guitar strings and burritos and beer for the tour bus.
"In working directly with artists, streaming companies will need to tread carefully," says Mark Mulligan, an analyst at MIDiA Research. "If they move too fast, they risk losing their label partners, leaving them as empty vessels."
Yet for investors seeking entree into the business, it may be hard to pass on a chance to buy into the No. 1 music company. Universal's roster of stars ranges from ABBA and Bob Marley to Taylor Swift, U2, Van Halen, and Zucchero. Its artists had the top five tracks on Spotify and Apple Music last year, and it accounted for 30 percent of global music sales in 2017, vs. 22 percent for Sony Music Entertainment and 16 percent for Warner Music Group, according to industry blog Music & Copyright.
And Deutsche Bank is predicting continued expansion of streaming revenue—to $21 billion by 2023, triple its level in 2017—even as other sources of sales such as CDs and MP3 downloads shrink by more than half, to $4.4 billion. "Streaming is due to accelerate, not moderate in growth," says Deutsche Bank analyst Laurie Davison. "The best years of the music business are ahead of us, not behind us."
 
QuickTake: The Streaming Revolution
To contact the editor responsible for this story: Eric Gelman at egelman3@bloomberg.net, David RocksThomas PfeifferRebecca Penty