A Vending Machine for Steaks and Sausage? This Butcher Says Yes
(Bloomberg Businessweek) -- After the pandemic hit last year, Svea Marx fretted business at her butcher shop would tumble as fearful customers avoided stores. To ease their concerns, she ordered a vending machine where shoppers can choose their steaks, sausages, or salami, pay with a card or cash, and retrieve their meat after it drops into the bin—without having to queue inside or interact with a salesperson. "People didn't want to shop in crowded places anymore," says Marx, whose family has run the outlet in Woltersdorf, a village of 300 an hour's drive east of Hamburg, for more than three decades.
Now, her coronavirus rescue is a growing part of her business. Most stores in Germany must close on Sundays and public holidays, but no such restrictions cover vending machines, leading to an upsurge of sales when the shop is shuttered. Thanks at least in part to a billboard Marx put on a nearby Autobahn, customers who haven't sufficiently prepared for their Sunday at the grill come from as far as Hamburg to pick up bratwurst or barbecue. Once, when Marx's husband saw a police car stopping by in the wee hours, he feared something was amiss, but the officers simply wanted breakfast supplies.
Marx got the idea when her kids bought snacks from a vending machine on a visit to a nearby swimming pool. A machine, she thought, might be a way to make it through the lockdown without losing sales. After buying one to test the idea, business was so brisk that a couple of months later she ordered two more. "We saw a huge increase in sales during the pandemic," Marx says. "But the neighbors have complained about the extra traffic."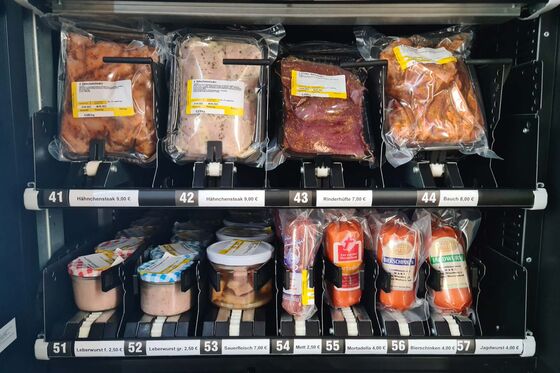 The machines, costing €8,500 to €15,500 ($10,000-$18,000), come from Stüwer, a company in southern Germany that developed the first version of what it calls the Regiomat in 2007. Sales bumped along slowly for about a decade, then took off with the pandemic, says Adrian Ott, Stüwer's marketing manager. This summer the company installed its 5,000th Regiomat in Germany, and it has sold about 1,000 in other European countries, the U.S., and Canada.
The refrigerated cabinets can also be configured to hold dairy products, vegetables, and cosmetics, but they're increasingly popular with butchers. Ott says that while most Regiomats are in rural areas like Woltersdorf, he's also starting to sell them in cities where farmers from nearby areas use them to sell produce to urban dwellers. "Our shopping behavior has changed: I need it now, I want it now," says Ott. "The Regiomat concept can provide people with local goods near them at any time."
The machines are similar to those that some American artisanal butchers have experimented with in recent years, and for German farmers they offer a new twist on an old rural tradition. Eggs, vegetables, milk, and fruit have long been sold on the honor system from fridges or stands. Neighbors grab what they need, then plop a few coins into a box or log their purchase in a notebook to be paid later. Vending machines simply give farmers greater protection from being ripped off while broadening their customer base.
For Marx, the machines have helped attract customers who never would have ventured to a far-flung locale such as Woltersdorf. While keeping the machines stocked has added to the workload, it's not a huge hassle since her house is adjacent to the shop. Marx has about 70 different offerings in the three machines, including snacks and soft drinks. "On Mother's Day, it was sunny and we had to refill three or four times," she says.
Marx plans to keep all three machines, though she's concerned about flagging sales as the weather turns cooler and fewer people head to the park for a picnic. So she's considering adding cakes and pies, or perhaps prepackaged gyros. "Customers love the machines," she says. "With autumn coming, we're planning to ask them what else they would like to buy."