Cheese Without Cows Via Precision Fermentation
(Bloomberg Businessweek) -- A decade ago, Jaap Korteweg founded a company called the Vegetarian Butcher, which made faux meat close enough to the real thing to be featured on Burger King's menu. But for anyone wanting a cheeseburger, Korteweg couldn't find an acceptable substitute for the other half of the recipe. So last year the Dutch entrepreneur plowed the proceeds from selling the company to Unilever Plc into another venture, Those Vegan Cowboys, aiming to concoct dairy products sans cows. On the way to a plant-based diet, "cheese was the last thing that disappeared from my plate," Korteweg says. "There are no good vegan cheeses."
Most of today's cheese substitutes are based on soy, cashew, or other foods, and they generally lack the real thing's rich aromatics, luxurious texture, and gooey quality when melted. Nut- and grain-based milk substitutes are getting better every year, but they don't have caseins, which account for 80% of the proteins in dairy milk and give cheese its texture. Those Vegan Cowboys is one of dozens of startups seeking to create caseins with precision fermentation, a technology long used to make synthetic insulin. That, these companies say, will soon enable them to produce cheeses that are virtually indistinguishable from the real thing, without the environmental and animal welfare problems.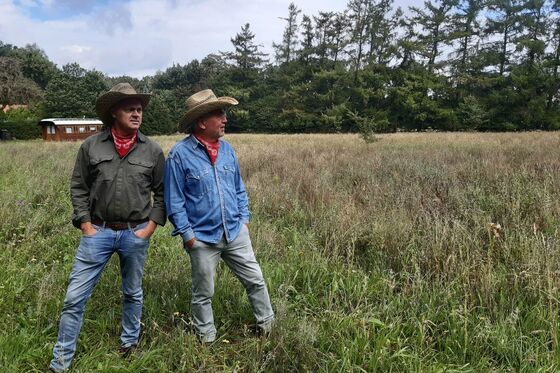 The process combines fermentation—which humans have been doing for thousands of years to make everything from beer and wine to kimchi and sauerkraut—with gene-splicing techniques developed in recent decades. Technicians modify fungus or yeast by inserting a digital copy of cow DNA. This substance is put into steel tanks, where it reacts with organic materials to produce caseins, which are mixed with fats to produce a milk-like liquid that's the starting material for cheese. "The cow is the processor between grass and cheese," Korteweg says. "So the fungi are the cow in our line."
Investors are betting alternative cheese will be the next big thing as growth in demand for milk substitutes starts to slow. Blue Horizon, a venture capital company in Zurich focused on making food more sustainable, predicts vegan cheese consumption will increase more than fivefold by 2025. About $1.4 billion has been invested globally in dairy substitute startups this year, up 70% from 2020, according to researcher Dealroom. And investment in companies using precision fermentation doubled last year from 2019, to almost $600 million, the Good Food Institute reports. "What you're trying to do is move from a product that may initially just appeal to vegetarians or vegans and bring it more mainstream," says Mark Lynch, a partner at Oghma Partners, a corporate finance advisory company in London.
Although it may be possible to create a substitute milk that's indistinguishable from the real thing using precision fermentation, the increasing quality of beverages made from oats, soy, almonds, or rice has spurred newcomers to focus on higher-margin dairy products. Formo, a startup in Berlin, has gotten $50 million in funding to develop its mozzarella and ricotta offerings and plans to add mature and ripened cheeses such as cheddar and Gruyère. Starbucks Corp. has tested ice cream from Perfect Day Inc. And Nobell, a startup in San Francisco backed by Bill Gates, genetically modifies soybean plants to make dairy proteins instead of soy proteins. "If we create products that compete on taste and on price and eventually are cheaper than buying it from an animal source, people are going to make more of these choices," says Nobell founder Magi Richani.
Nobell expects to introduce its first products in 2023, and Perfect Day plans to add cream cheese in the coming months, but it will likely be years before the technology is truly competitive with traditional cheeses. And in Europe, regulators may be slower to approve such foods over concerns about the genetically modified cells the method requires—though the modifications are needed only to get the process going, and there will be no such cells in the final products.
In the meantime, companies are working on less complicated alternatives. In California, Miyoko's Creamery recently introduced a cashew-based vegan mozzarella for pizza. Sweden's Stockeld Dreamery makes a feta substitute from fermented peas and fava beans. And Motif FoodWorks in Boston is developing a corn-based cheese while it works on precision fermentation. "You can actually get a plant-based cheese to melt and stretch and bubble and have the gooey texture consumers expect," says Mike Leonard, Motif's chief technology officer.
One question is what to call the stuff made using precision fermentation, with some suggesting "lab-grown cheese" and others leaning toward "cultured" or "cultivated." Dairy groups in various countries have objected to soy- and oat-milk producers labeling their products "milk," so they'd probably have a similar problem with cheeses made with precision fermentation. And because a copy of cows' milk DNA is used to get the ball rolling, some vegans may reject the products. "These companies are potentially using the cow DNA," says Chantelle Adkins of the U.K. Vegan Society. "We would have to consider where that came from."
Korteweg, too, is hedging his bets with a plant-based offering—a spread he makes together with the producer of Old Amsterdam cheese—to keep the company going until his precision fermentation work starts to pay off. He says he's in frequent talks with companies around the world and that, as a self-professed cheese lover, he's eager to sample vegan versions of varieties from asiago to zwitser. "If you have the identical casein, you can make all kinds of cheese," he says. "It's our goal to copy them all."