Online Used-Car Dealers Thrive in Market Upended by Pandemic
(Bloomberg Businessweek) -- In December, David Tvaltchrelidze bought a 2016 Mazda Miata for $16,450 from Shift Technologies Inc., one of a crop of startups selling used cars and trucks exclusively online. Seven months later, Shift offered to buy it back for $20,800, which would net Tvaltchrelidze a sporty 26% return. "I wish I had bought 10 of them," he says.
Despite the markup, Shift would be able to resell the car quickly and still pocket about $2,000 in profit. And Tvaltchrelidze hasn't yet agreed, given the price he'd have to pay for another used car.
The used-car market has gone crazy over the past year, as social distancing and a global computer chip shortage have upended the auto industry, and companies such as Shift are thriving. The 3-year-old startup sold 10,323 vehicles in the first half of this year, triple the level of the same period in 2020. Vroom Inc., a competitor, doubled its business, selling almost 34,000 cars and trucks over the same period, while Carvana Corp., the largest of the used-car web dealerships, sold 200,272 vehicles, a company record.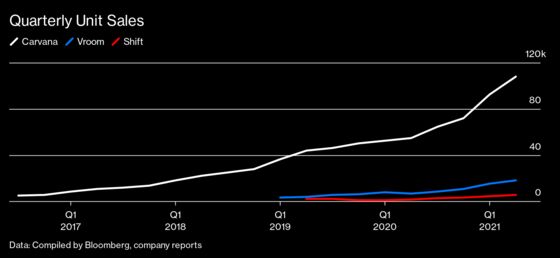 The online used-car trade isn't new, exactly—web marketplaces such as Craigslist account for about half of the 40 million used cars that trade hands every year in the U.S. But the upheaval of Covid has changed the digital market significantly. "It's not that there was a pandemic customer or a nonpandemic customer," says Vroom Chief Executive Officer Paul Hennessy. "It's just that there was an event that changed the way people thought about what they would have delivered to their home."
In part online used-car dealerships benefit by how much many people loathe everything about the traditional rigamarole of buying a car, from the watery coffee to the slick salesmen. Digital dealerships allow easy browsing, home delivery, and no-contact pickup—Carvana's gimmick is a nationwide network of automotive "vending machines" that spit out SUVs like 5,000-pound bags of chips.
Anyone selling a used car has an added advantage now, because factories are producing fewer new ones. In April, U.S. drivers were on an annual pace to buy 18.5 million new vehicles, but that rate slowed to 13 million as chip shortages shut down assembly lines. In early September, General Motors Co. said eight of its 14 North American plants would go temporarily dark because of the semiconductor shortage. As of the end of August, the number of cars on U.S. lots—both new and used—had fallen by one-third from the year-ago level, according to Bloomberg Intelligence.
Another strength of digital dealerships is their effectiveness at purchasing a large number of vehicles from individual car owners. Carvana and Vroom buy about 2 out of 3 of their vehicles directly from individual owners. At Shift, almost every car is "self-sourced" from customers like Tvaltchrelidze.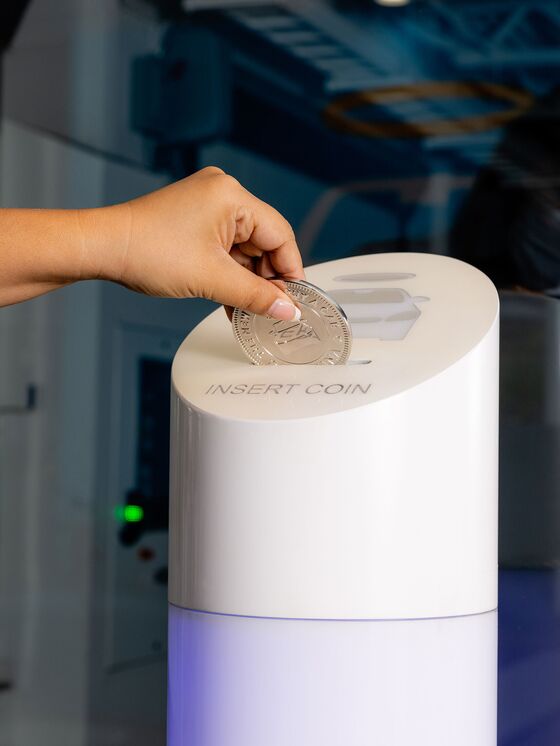 Traditional dealers, by contrast, usually buy cars from wholesale markets where rental fleets or dealerships that accept trade-ins sell their castoffs. Each layer between the original seller and the final buyer eats away at the profit margins for the retail dealers, driving up prices.
Bidding wars at auction markets are breaking out between the thousands of dealerships desperate for products to put on their lots. "They can't sell what they can't buy," says Sam Zales, chief operating officer of CarGurus Inc., a Boston-based platform where both individuals and dealers sell vehicles.
That's not to say there's a crisis at traditional used-car dealers. They're selling vehicles at sky-high prices—the average used car sold for a record $25,410 in the second quarter, a 21% increase over the year-earlier period, according to Edmunds.com Inc.—and plenty of customers are still showing up at their lots. Still, traditional dealers are rushing to refine their ways to allow consumers to unload a 2018 Honda Accord as easily as they would an outdated iPhone. CarMax Inc., the largest dealer group in the U.S., almost tripled the number of vehicles it bought directly from car owners in the quarter ended on May 31, and almost half of those deals were cut on the company's "instant appraisal" site. "We want to drive that target as high as possible," CEO Bill Nash told investors and analysts on a June 25 conference call.
AutoNation has stepped up marketing for a 3-year-old e-commerce portal dubbed We'll Buy Your Car. In the second quarter, 90% of all used cars that it sold were sourced directly from drivers. Lithia Motors Inc., which operates 209 brick-and-mortar dealerships, is making a similar push with Driveway. The platform sold 550 vehicles in June and hopes to move 15,000 a month by December, which would represent about one-third of its current retail business. Almost every digital customer is new to Lithia, according to Chief Financial Officer Tina Miller.
Lithia says its digital business will scale better than startups because it already has a network of dealerships in place that can be tuned to handle online orders. Still, it's not a model most old-fashioned car stores are used to. Of the used vehicles sold last year at U.S. franchise car stores, only 7% were bought directly from individuals, according to the National Association of Auto Dealers.
The additional competition may prove a challenge for startups such as Carvana while making things even more lucrative for car owners who've decided to sell. "We're in a pretty simple place right now," says Ernest Garcia III, CEO of Carvana. "What we want is more."
 
Read next: Why Free Parking Is Bad, According to One UCLA Professor