The Upside-Down World of Negative Bond Yields Is Getting Smaller
(Bloomberg Businessweek) -- Fewer bond investors are having to pay for the privilege of lending out their money.
For the first time in years, the global supply of debt with a negative yield is in meaningful decline. The trend is strongest in Europe, where subzero bonds have been an everyday reality for investors. Although the shift will be welcomed by those seeking safe income from new investments, it means current bondholders are losing money. (Bond prices fall when yields rise.) It also signals that higher borrowing costs are on the way for everyone from governments to corporations to homeowners. It could be an especially nasty jolt for junk-rated companies and emerging-market governments, which have been able to gorge themselves on debt at much lower rates than they're used to as investors took on more risk in search of better return.
If sustained, rising yields could mark the end of a phase in which a key assumption of investors—that you get paid for lending money—has been turned on its head. The worldwide amount of subzero bonds began seriously building up in 2014, then spiked in 2016. The yield on the 10-year German government bond, a benchmark for safe investments, has been below zero since May 2019. But it's climbed from a low of -0.9% to a recent -0.14%. The 30-year German bond, which was negative for most of last year, now pays 0.42%. The global total for negative-yielding debt has dropped to about $12 trillion, from a high of more than $18 trillion in December.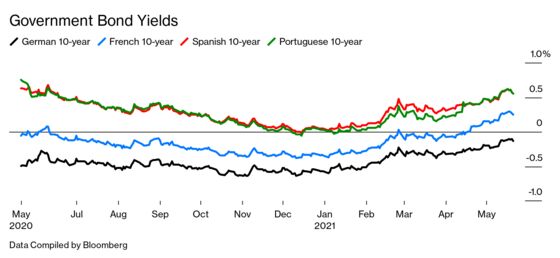 A bond produces a negative yield when the price investors pay for it is more than the interest and principal they'll get back over its life. Investors may be willing to accept this loss in exchange for the relative safety that a borrower such as a fiscally strong government or a major corporation provides. Europe accounts for about 60% of the world's negative-yielding debt.
Negative yields in Europe came about as a result of a weak economy and a half-decade of unprecedented monetary intervention. The European Central Bank cut interest rates to the bone and bought loads of bonds, helping to push up their prices and lower their yields. It now holds a third of the entire debt of some member states. The policy worked, slashing borrowing costs for nations struggling to emerge from the global financial crisis and, more recently, the fallout from Covid-19. 
Now, Europe's economy is stirring back to life. The ECB forecasts the economy of the 27-nation European Union will expand more than 4% in 2021, after shrinking 6% last year. Such a turnaround may represent the "biggest contribution to global growth" in the coming months, Goldman Sachs Group Inc. said in a recent note to investors. In general, improved growth means falling bond prices and higher yields. That's because investors expect central bankers to allow interest rates to rise again, and because growth over time brings inflation, the bond investor's nemesis. Bond buyers demand higher yields when they worry about rising consumer prices eroding their returns.
Recently investors have taken short positions on German 10-year bonds, betting their prices will fall and yields will rise. A sale of two-year German notes on May 18 also saw the weakest demand since July 2019, while appetite at an auction the next day for 10-year bonds fell to its lowest in more than a year. "I'm short European rates right now, because in the next few quarters we will see some pretty spectacular growth numbers," says Liam O'Donnell, head of nominal rates at Aberdeen Standard Investments, which is putting on bets against German, French, and Italian bonds. "With inflation rising globally, it's a pretty toxic mix for negative-yielding European government debt."
This bodes particularly ill for the weakest economies, such as those of Italy and Greece, where investors are more concerned about governments' debt burdens. That's why LongTail Alpha, a U.S. fund that made a huge return on the crash in equities last year, said in May that it's betting on an implosion in the region's so-called peripheral bond markets that will send borrowing costs spiraling. This could complicate the task of the ECB: While it may want to allow rates to rise gradually as the overall European economy improves, a sharper spike in yields in the most vulnerable economies could force it to delay or slow the unwinding of its stimulus.
Bob Michele, chief investment officer at J.P. Morgan Asset Management in New York, says he's "increasingly uneasy about holding longer-dated bonds," which are most sensitive to changes in the direction of the economy and inflation expectations. Austria's 100-year debt is a case in point. One of the standout performers during the Covid-triggered flight to safety in 2020, the century bonds have tumbled this year, sending yields up almost twofold. An investor who bought the securities when they were issued would now be nursing a loss of more than 30%.
Just how far yields could rise is unclear. Historically, lots of investors have gotten hurt betting against German bond yields in particular. ("Never short the bund" is at least one trader's motto.) There are still likely to be plenty of buyers eager to jump into German bonds if and when yields break above zero, most notably pension funds that need a safe positive yield to help hedge their future liabilities. The government's commitment to a balanced budget means those bonds are always in short supply. And investors such as Aberdeen still see Europe's low-growth challenges persisting after the current bounce. In the down-is-up world of bond investing, that could push bond prices back higher—and keep some yields underwater.
 
Read next: SPAC Crazes Comes to Europe After Investment in U.S. Tumbles