The Slightly Masochistic Trend That Is Taking Skiing by Storm
(Bloomberg Businessweek) -- "Uphilling," the slightly masochistic practice of waking up before dawn and trekking up a mountain in special boots and skis before swooshing back down, was already gaining popularity among intrepid adventurers before Covid-19 lockdowns forced chairlifts to stop turning in early 2020.
Fast-forward 18 months, and the heart-pumping strategy to scoring first tracks has become such a phenomenon that many mountain resorts are betting it won't go away. According to the National Ski Areas Association, 57% of the 462 ski areas in the U.S. now allow uphilling, up 27% from 10 years ago.
Although the pastime has been largely unregulated, Aspen Skiing Co., Winter Park Resort, Whitefish Mountain Resort in Montana, and a handful of others have started selling uphilling season tickets, charging guests a nominal fee to "earn their turns," as enthusiasts put it. The sport is just one version of alpine touring, a catchall for climbing disciplines that also includes backcountry skiing, which focuses on accessing ungroomed, avalanche-prone slopes. Uphilling, by contrast, sticks to maintained trails within ski areas.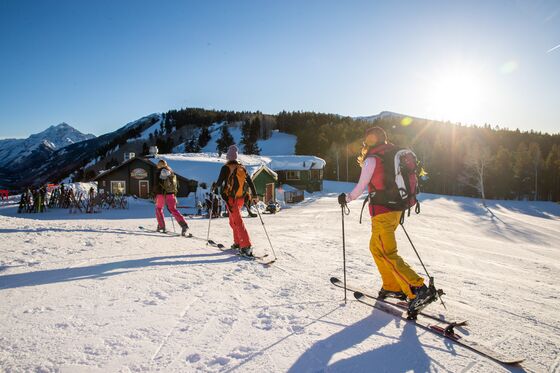 The proof that the sports are here to stay, however, is the market that's grown around the gear, which is used by both the daredevils and their more conservative counterparts. That's because it's impossible to go uphilling without a few additions to a ski kit. Specifically, you need special bindings that unlock the heels of the boots from the skis to walk uphill, as well as compatible boots and nylon skins that coat the skis' bottoms so they can glide forward (but not slip backward) when climbing. For snowboarders, brands such as Burton and Jones sell "splitboards," which divide into skilike halves for the way up.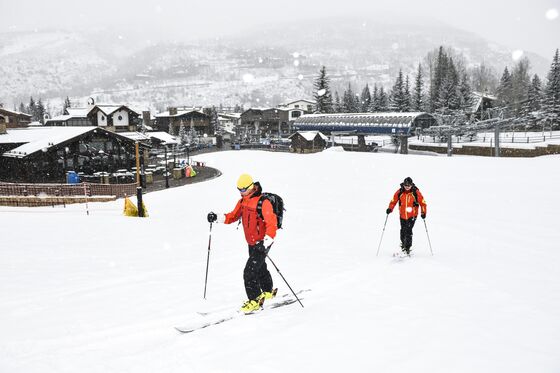 It may not be surprising that online sales of skins spiked in March 2020—a month when they were suddenly needed. But in November 2020, as winter sports enthusiasts were gearing up for a more normal season, U.S. sales of alpine-touring gear hit $10 million, up 132% from the year before. Over the course of the 2020-21 winter season, alpine touring equipment became a $91 million industry in the U.S.—a 122% jump from two years prior—according to market research company NPD Group.
Those numbers are largely driven by people who are staying in bounds. "Five years ago, most people were looking for gear to take into the backcountry," says Doug Stenclik, co-owner of Cripple Creek Backcountry, a sporting goods store with four locations in Colorado. "Now the vast majority of people coming into the shops are uphilling at a resort."
That's likely to continue as more ski areas greenlight uphilling and more people catch on to its many advantages: It's relatively inexpensive, gives a turbocharged cardio workout, and doesn't require waiting in long lines. Maybe best of all, the practice can yield exclusive run of the slopes—if you get started early enough.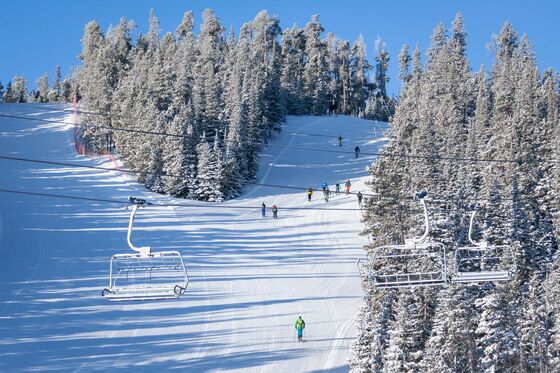 Resorts aren't planning on making significant money off uphill ski passes, at least not all of a sudden. Eldora Mountain, near Boulder, Colo., led the field by becoming one of the first resorts to sell uphill passes when it did so in 2016. At $199 for the season, it charges one of the highest prices for them. (They're valid for certain days of the week starting at 7 a.m., two hours before the lifts start spinning.)
For most resorts, though, this move to legitimize the activity is less of a revenue play and more of a way to deflect liability if uphillers get injured. "Signing the waiver used to be on the honor system," says Jen Miller, communication manager for Colorado's Winter Park, which charges just $15 for a season uphilling pass. "Now, when people buy a pass, they sign a waiver."
Aspen Skiing Co., likewise, added a season pass for uphilling this year for a still-modest fee of $69. "Uphillers use our bathrooms and parking lots and other facilities," says Jeff Hanle, vice president of communications. "It helps offset costs, but we're not profiting off it."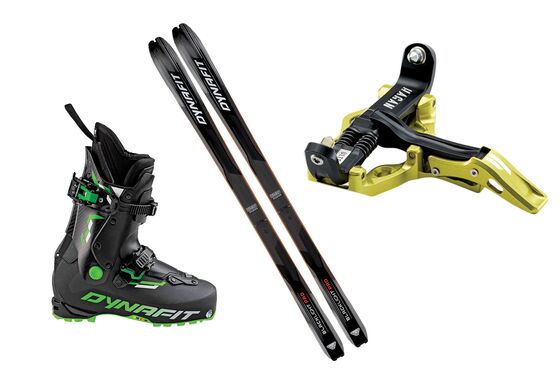 When it comes to uphilling equipment, one quality is the most important: It has to be lightweight. These products fit that bill
Dynafit Blacklight Pro Ski
These carbon and paulownia wood skis weigh in at just over 2 pounds each, making for easy climbing and quick pivots on the descent. Think of them as the all-mountain equivalent of uphill skis: rigid enough to carve turns on groomed trails and wide enough to float on light powder. $800
Dynafit TLT8 Carbonio Boot
The laminated carbon-fiber shell was developed in partnership with Formula One engineers—so you know it's aerodynamic. But the boot is also comfortable, with a 60-degree range of motion in walk mode and custom-molded liners. $850
Hagan Ultra World Cup Binding
This superstrong titanium and steel boot binding clicks easily in place with a small amount of pressure from your foot. Adjust the ramp angle midaction with a simple lever in the heel. $590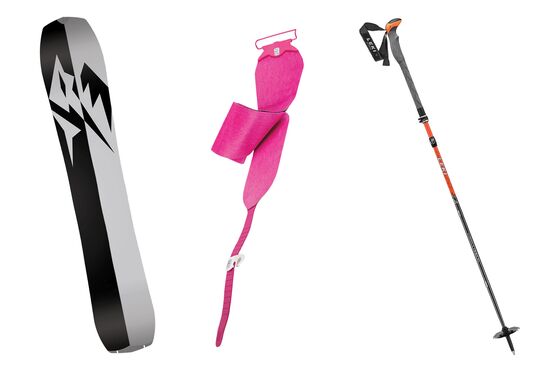 Pomoca Free Pro 2.0 Skin
Skins from this brand are preferred by competitive uphillers for their impressively smooth gliding motion, which helps you ascend faster amid frigid temperatures. $200
Jones Solution Splitboard
When split in half, its wavy edges are like serrated knives that cut into hard terrain, improving traction on the hike. And for the way down, the board's underfoot cambering produces powerful, snappy turns. $900
Leki Tour Stick Vario Carbon Pole
A flick of a lever adjusts the length of these durable carbon and aluminum poles, which also snap in thirds for easy backpack storage. $200