A Brooklyn-Born Lifestyle Brand Expands in Real Life
(Bloomberg Businessweek) -- Running a brick-and-mortar store during the pandemic has been a roller coaster ride for countless independent retailers across America, including Jill Lindsey. She had to close her eponymous storefront in Brooklyn, N.Y.—a combo fashion boutique, cafe, and wellness center—for more than three months. Relief from the Small Business Administration's Paycheck Protection Program totaled less than one month's rent. Most of her employees moved away.
In April, Lindsey sat on her store's cement floor trying to come to terms with the reality that her dream might fail—through no fault of her own. Since she opened in 2014, the business has been profitable every year. Meanwhile, New York City small business revenue dropped 36% and the number of small businesses open decreased 22%, from January to June, according to a recent report from advisory firm Next Street. "If I'm not meant to do this, universe, take it—but hopefully, give me something better," she recalls thinking.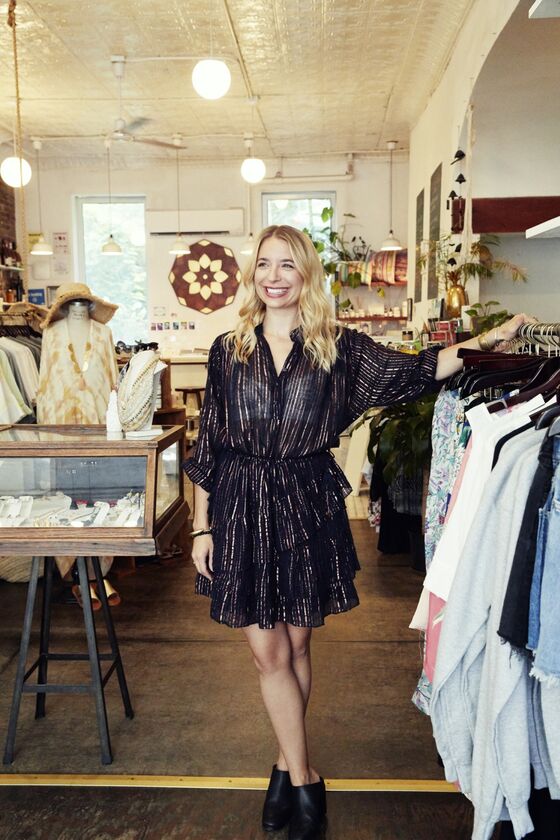 The universe responded the next day, when the SBA deposited into her bank account an economic injury disaster loan of about $98,000 she applied to in March. She reopened in July. Since then, sales have been better than before the pandemic, even though the store is operating on reduced hours, says Lindsey.
October revenue, for example, was about $10,000 more than the same month drew last year. "When the pandemic really hit, everyone was like" 'Pivot, pivot, pivot. Pivot this, pivot that.' The more I kept listening to that, the more I thought, I love what I do. I don't want to pivot." She attributes the increase to customers eager to keep her in business. To them, the shop is "more than a store: It's a healing space; a connecting space," Lindsey says.
With the pandemic worsening and many brick-and-mortar stores still in coronavirus limbo, but Lindsey is expanding in real life. In mid-November, she opened a second location in Manhattan's iconic Rockefeller Center. While it doesn't have a cafe or a wellness space as the Brooklyn location does, Lindsey became the first woman to open her own independent retail shop at the famous complex. "It was a weird thing to announce it, because I feel bad for all the small businesses in the city that had to close," she says.
The deal for the 1,500 square-foot street-level space is for six months. Instead of paying a fixed rent, Lindsey shares a portion of her sales with Tishman Speyer, the real estate company that owns and manages Rockefeller Center. The complex has about 100 retailers and restaurants and a vacancy rate of roughly 6%. "I negotiated hard on the percentage, and I got what I wanted," she says.
The recently launched initiative makes spaces available temporarily to independent New York businesses at an affordable cost, says EB Kelly, a managing director for Tishman Speyer who oversees the center. The program, which has been in the works for several years, is "a way to open new stores in the middle of Covid—something that almost no one is doing," Kelly says. It "reduces the upfront capital that can be so burdensome to the launch of a new business."

Lindsey's Rock Center expansion didn't happen overnight; she's been in discussions with Tishman Speyer about renting space there for several years. She had a separate location for roughly two years at a Malibu, Calif., hotel until the hotel was sold. She was about to open a 5,000-square-foot location in Manhattan's Tribeca neighborhood in 2017, but it didn't work out. Lindsey now is looking at leasing a large long-term space in Rock Center that will include a café and a wellness center—and an exclusive on providing wellness services in the complex.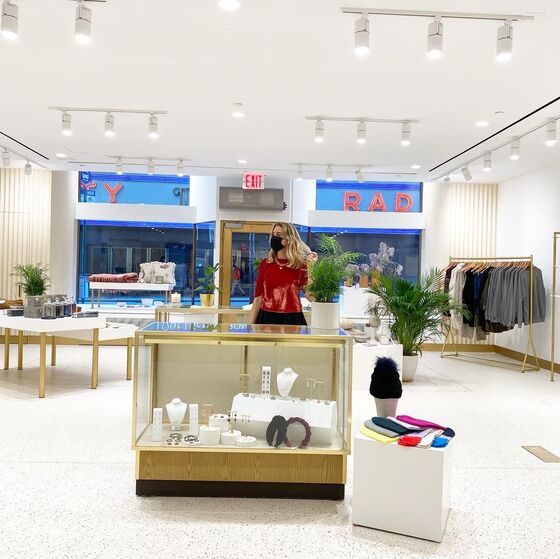 Getting investors to help her go national is her next step. If curated the "right way, it's a concept that can work in any place with a community of makers," she says. "It's proven by the fact the business has been profitable every year." 
She's mostly eschewing e-commerce. Online sales have increased a bit from doing deliveries while the store was temporarily closed but still account for a small fraction of her revenue. The whole point of the store is for people to come hang out, have a coffee or a glass of wine, take a class, get a tarot card reading, buy a piece of jewelry made by a neighbor, says Lindsey. "Online shopping isn't for every single person."
On a brisk morning a few days after opening her Manhattan location, Lindsey shares the origin stories of a few of the locally-made products she stocks.  She plans to interview the entrepreneurs behind them and others on a new weekly podcast Tishman Speyer wants her to host. Then she describes her next location: A popup space a local business group is giving her at an outdoor market that lasts through Christmas near her original Brooklyn location. To make it all happen, she now has three full-timers and four part-timers. 
"I am what people call a manifester," Lindsey says. "If I put my energy into something and it's positive, it generally happens."

Lindsey's advice to fellow business owners:

Don't pivot if it makes you miserable. "Do what you have to do to survive, but ground yourself in what makes you happy and why you're doing your business to begin with," she says. The pandemic prompted her to stop for the first time since launching to assess. The time spent reflecting strengthened her resolve to stick to her original vision, instead of trying to create an online version of her business. 

Be open to sharing your costs. Be candid with customers. A few years ago, she shared with New York magazine the "nitty-gritties" of her earnings and costs. "It was true numbers: This is what it costs to run my business in New York City," Lindsey says. She believes more people would shop more at local small businesses than they already do if businesses shared "what it really takes to do what you do."

Be wary of sales. "It is a rare occasion that I will allow anything to be put on sale because I feel like, just because it was a season late, doesn't mean that it isn't worth the actual price of what it cost to be made," she says. "Unfortunately, in the United States it's expensive to make stuff." Four years ago, instead of doing Black Friday, Lindsey started doing Rainbow Friday. She's still doing it. "The idea is to celebrate paying full price for people to actually make things with their heart and their soul."