Comparing the U.S. Workforce During the 1918 Flu vs. Covid-19
(Bloomberg Businessweek) -- In 1918, the last time a pandemic hit the U.S. with a sudden force comparable to that of Covid-19, a little more than a quarter of the country's workers labored in manufacturing. Another quarter worked in agriculture. Now factory employees and farm laborers account for only 10% and 1.5% of the workforce, respectively. Meanwhile, more than 80% of American workers are in services, double the share of a century ago.
A lot of today's service workers are professionals who've been able to continue their labors from home, thanks to technologies unimaginable in 1918. Many work in a health-care sector that, for all its struggles in recent weeks, is far bigger and better equipped to fight a pandemic than its precursor was in 1918. Still, tens of millions of other service workers get their paycheck from businesses the novel coronavirus has effectively shuttered. Leisure, hospitality, and retail matter more to the economy now than they did in 1918.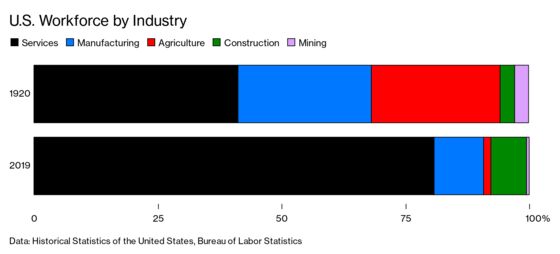 Hunkering down on the farm for the duration—an option for a large segment of the populace in 1918—is possible for only a few today. The U.S. is surely less vulnerable to contagious diseases than it was in 1918, but the economy may be much more vulnerable to their consequences.
Economic data from 1918 proper are sparse, so the comparisons on this page use numbers based mostly on the 1920 census. Two caveats about that data: There were a lot more bartenders in 1918 than in 1920, the first year of Prohibition. And more than 4 million American men served in uniform during World War I, which ended in November 1918. —Fox is a business columnist for Bloomberg Opinion.