Gaming Services Like Twitch, Discord Are Booming
(Bloomberg Businessweek) -- Sean Kelly was recently furloughed from a job at Formula One that had allowed him to travel frequently from San Diego to see his 12-year-old son who lives with his mother in South Carolina. With less money for plane tickets and more restrictions in place as a result of the spreading coronavirus pandemic, he was looking for a way to maintain the relationship. Video calls alone felt flat. "We just might be on another planet from each other," Kelly remembers saying to himself, as he wondered how to stay in touch with Ciarán.
If the two were just on a video call, "he'd tell me about the life he is having with other people," Kelly says, "whereas now I am an active participant in it." When they are not both online, he leaves messages for his son—"Miss you every day"—and virtual food such as chicken in their Minecraft house. "It eases the inner guilt of not being there," Kelly says.
The spread of the deadly Covid-19 has shifted life online for millions of people who are now trying to find new ways of staying in touch, getting an education, and working. The videoconferencing tool from Zoom Video Communications Inc. has become a favorite with many, and the company is seeing explosive growth—shares have more than doubled this year, to more than $150 as of Monday, and the company has added two more data centers to deal with demand.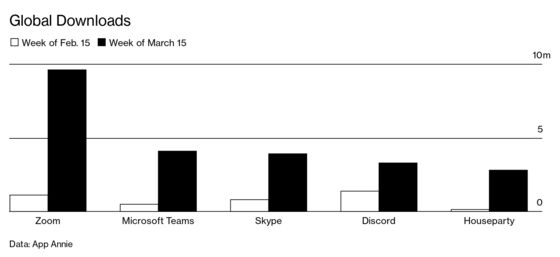 But while Zoom has been great for school and business meetings, people are seeking ways to continue other types of social functions online—and that's where the gaming community has an advantage. Apps and services such as Roblox, where people can build and play games together; Twitch, the livestreaming video service owned by Amazon.com Inc.; Microsoft Corp.-owned game platform Mixer; and online virtual-world Second Life, are seeing surges in use. Discord, once best known as a chat app for PC games, saw mobile downloads more than double the week of March 15 from a month earlier, to 3.3 million, according to App Annie, a mobile insights and analytics platform.
These sites are now the settings of proms, graduation ceremonies, dance and yoga classes, and conferences that have been canceled because of the epidemic. On the platforms, people can still interact and converse while playing a zombie game together or working on a crossword puzzle. A virtual world such as Second Life can also take people to places they can't get to right now in real life. The site is hosting social events for organizations in online spaces that look like the beach, for example.
With social distancing taking hold around the world, gaming-related services are offering a gathering place for community life, says Yoshio Osaki, president of IDG Consulting, which focuses on the gaming industry. "Even after this pandemic crisis ends, it is likely that there could be a longer-lasting boost as people's behaviors might be changed," he says.
Bunch Live Inc. describes its service as "playing games with your friends together at a house party!" Over a seven-day period in late March, uses of the app jumped to more than 1 million, from less than 100,000, according to Chief Executive Officer Selcuk Atli. The demographics of the app's users have shifted as well. In March, the average age of a user rose to 25, from 14 a month earlier, and the app has gotten a huge influx of users from Italy and Spain, places also hit hard by the coronavirus, Atli says. "We started feeling a very fundamental need and got adopted by a lot of users overnight," he says.
Nicola Casarin, a 22-year-old student who lives near Venice, celebrated a friend's birthday on Bunch with seven other friends, because none of them could leave their homes. "We all gathered to play games and to sing Happy Birthday to him," says Casarin, who downloaded the app in mid-March.
Social interaction had already begun to move to gaming platforms even before the coronavirus hit—Covid-19 may have simply sped it up. Houseparty, a social media app, was bought by Epic Games, the maker of wildly popular Fortnite, last summer. The service lets a group of people chat and play games simultaneously. The app has been around for years but has seen a bump in popularity recently: It was downloaded 2.8 million times the week of March 15, up from 130,000 during the same period the previous month, according to App Annie.
Fortnite itself has seen a surge in users, and it's not just teens seeking to pass the time at home. Rick Smith, the founder and CEO of Axon Enterprise Inc., a maker of tasers, says he's become a regular participant in Fortnite sessions organized among the staff. Axon is setting up its own Fortnite server so it can have private staff-only games. For Smith, the point is to replicate some of the spontaneity that's gone missing in the sudden shift to remote work. "If all you ever do is a meeting over videoconferencing, you lose the social element," he says. "I'm trying to come up with other things."
In Second Life, people are represented by avatars and can play games, listen to music, create 3D content, and meet real friends. The virtual world has been around since 2003 and has long hosted virtual conferences for gaming geeks. Now events that can't happen in real life are moving there. The company's parent, Linden Lab, says new user registrations jumped 60% in the U.S. from March 15 to March 26 compared with the previous 12 days.
The 24th annual MW20 conference—focused on best digital practices for cultural and historical sites such as museums—was supposed to take place in Los Angeles in early April. Now most business sessions are happening through Microsoft Teams—which has also gotten a boost from the crisis—and the socializing occurs in Second Life. The platform has made an island with an auditorium and smaller meeting spaces outdoors by the ocean. "We are using Second Life to create a space for social, casual, and serendipitous encounters, since we can no longer run into each other in the hallways and the bars," says Nancy Proctor, co-chair of MW conferences.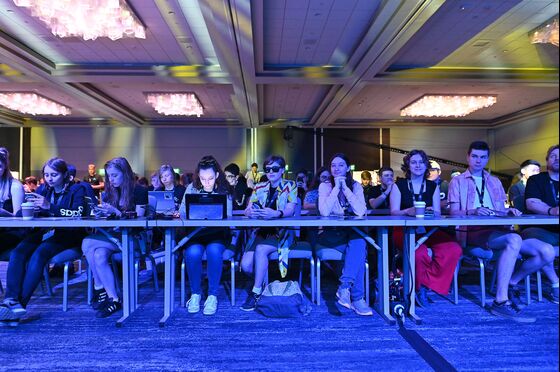 While many adults may be new to online gaming sites or virtual socializing, it's something kids have been exploring for a while now, and they are inherently more comfortable with using the platforms. Anna Belluz, who runs Minecraft educational camps and classes called MCKids Academy in Vancouver, was already teaching programming and game-making to kids at local schools by sometimes streaming sessions on Microsoft's Mixer. Now her entire business is moving there.