Pandemic Darling Twilio Has Many More Automated Text Messages for You
(Bloomberg Businessweek) -- One of the stranger consequences of the pandemic has been the emergence of a class of arcane tech companies facilitating some small part of the stay-at-home experience and that are now suddenly, improbably hot: Shopify (for online stores not named Amazon, market cap: $161 billion, as of late February), Atlassian (for virtual workplace collaboration, $60 billion), and Snowflake (for cloud-based databases, $76 billion). But none of those have seen their stock prices rise as quickly as Twilio, which is worth $63 billion, up from just $10 billion on March 16.
The technical services provided by Twilio Inc., like those offered by its peers, are difficult to explain to civilians. The company offers an "application programming interface"—cloud-based software, basically—that companies use to make calls or send automated text messages to their customers. The security alerts asking you to verify your account on the digital payments service Stripe come from Twilio, as do those from DoorDash informing you that your dinner is on its way. Each time a message is sent or received, Twilio charges three-quarters of a penny. The company also offers software that helps businesses manage email marketing campaigns and operate call centers, using the same pay-per-use model.
The money is adding up, especially as more communications happen online. In mid-February, Twilio announced $550 million in quarterly revenue, a 65% increase over a year earlier. The surprisingly high figure—almost $100 million more than analysts had expected—sent the company's stock up 8% the following day to close at an all-time high. "Every company is having to figure out how to use digital technology to engage their customers," Chief Executive Officer Jeff Lawson says. "Covid accelerated that, but it was already the trend."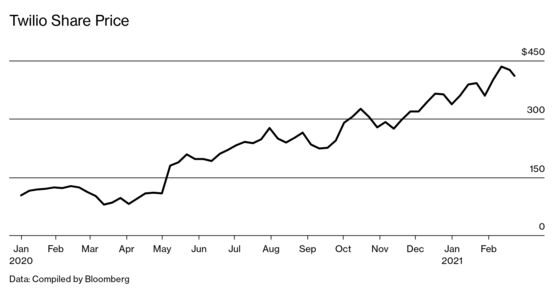 This has become something of a mantra for Lawson, 43, who co-founded the company in 2008 and who's the author of Ask Your Developer: How to Harness the Power of Software Developers and Win in the 21st Century. While nominally about motivating and attracting software engineers, the newly published book has doubled as a way for the previously little-known company to generate buzz—or at least what passes for buzz in the world of business-to-business software. The title mirrors a billboard Twilio rents in San Francisco that urges executives to "Ask your developer" about Twilio.
Techie-focused marketing served the company well even before the pandemic, but Covid-19, and the shutdowns that followed, caused usage of Twilio to climb and also brought new customers—including telemedicine providers and health departments who use it to run contact-tracing operations. The 2020 election didn't hurt either, as campaigns and outside groups using the service to call and text voters paid out $23 million in the fourth quarter alone.
Of course, that strength could wane as more people are vaccinated and life returns to pre-Covid norms, but Lawson says Twilio will benefit from the vaccine rollout since it operates vaccine hotlines in several states. Moreover, big companies including JPMorgan Chase & Co.—which Twilio announced it had signed up in February—seem to be betting that consumers will stick to their new digital habits. "Is everyone itching to go back to their bank branch?" Lawson asks. "No. This is a digital experience now."
 
Read next: Apple Is the $2.3 Trillion Fortress That Tim Cook Built