Trump's Tariffs Drive Up the Cost of Public Works
(Bloomberg Businessweek) -- If Congress approves a national public-works program next year that Democratic and Republican leaders are proposing, President Donald Trump's trade war could inflate the price tag, costing taxpayers and construction companies many millions of dollars.
A three-quarter-mile stretch of Detroit's Lower Rouge River illustrates the problem. Known as the Old Channel, it was contaminated from decades of industrial-waste discharges. To clean the waterway, workers are installing a 2,500-foot-long, sheet-pile bulkhead wall to support the riverbanks. Once that's built, polluted river sediment and debris will be removed starting early next year.
The $10 million cost of the steel for the wall, imported from China, has risen by about $1.3 million because of Trump's tariffs, potentially raising the project's overall price, according to the U.S. Environmental Protection Agency. Similar hikes are hitting public-works projects in California, Utah, Virginia, and other states.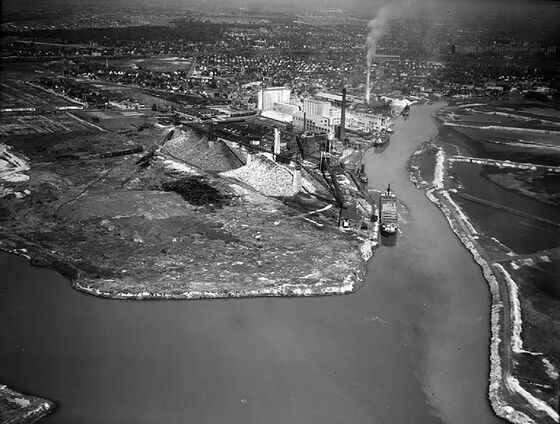 It's unclear how much Trump's tariffs will add to the U.S.'s total repair bill, but for every $1 spent on highway and bridge construction, 10¢ goes toward steel-related materials, according to the American Road & Transportation Builders Association. Contractors generally have to absorb price increases unless they're working in one of 13 states that allows price escalations in contracts, the association says.
U.S. Department of Labor data show double-digit price increases for steel-mill products and other construction materials in the past year. The price of U.S. hot-rolled coil, the benchmark for American steel, is up 20 percent in 2018, largely because of the tariffs. The U.S. Midwest aluminum premium, a shipping and handling charge, has more than doubled.
While the EPA is splitting the cost of the Lower Rouge work with Honeywell International Inc., the inflated price tag could mean higher costs for taxpayers as well as less money for cleaning up the river's main channel and other needed projects, says James Ridgway, executive director of the nonprofit Alliance of Rouge Communities. "It could throw a monkey wrench in this deal, and it will certainly delay other things that we had hoped we'd get done in the near future,'' he says.
Besides tariffs, labor shortages, fuel prices, and other factors are also driving up construction costs and creating uncertainty in the bidding process as states and localities aim to build roads, bridges, and other public works that the American Society of Civil Engineers estimates require an additional $2 trillion by 2025.
Some state officials aren't pleased. Washington has been loath to increase infrastructure spending, says Aubrey Layne, Virginia's secretary of finance and a former secretary of transportation. "And then here we are, making the cost of that much higher.''
Trump released a plan in February to generate at least $1.5 trillion in infrastructure investment over a decade, but it stalled in Congress. Democrats who are taking control of the U.S. House of Representatives in January are pledging to pursue an infrastructure measure with significant federal spending. Both sides say they think it's something they can do together in 2019.
The president announced duties of 25 percent on steel imports and 10 percent on aluminum in March on national security grounds. Any short-term pain from the duties will be outweighed by better trade deals, he says.
For the $63.6 million Old Channel project, the higher steel prices for now are being paid by Honeywell, which owns property there. But as the EPA is responsible for 46 percent of the project's cost, any increase in the company's share will also affect the government's final bill, the agency declared in a public filing. Any amount over budget will be paid after a negotiation with Honeywell, the agency said in written responses to questions.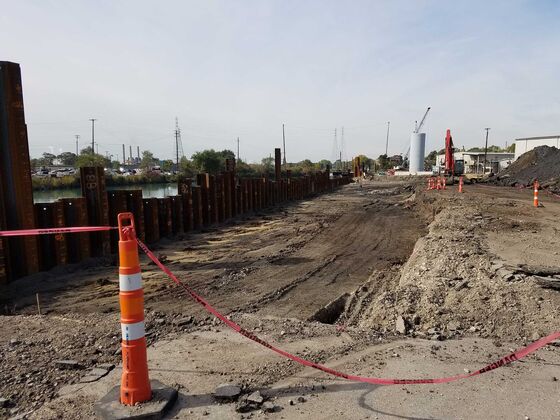 Honeywell has petitioned the U.S. Department of Commerce for an exclusion from tariffs on steel sheeting from China for the project. The company said in a filing the steel was ordered before the tariffs were imposed and that no U.S. producer indicated it was capable of producing the material.
Both Nucor Corp. and Gerdau SA, a Brazilian steelmaker with plants in the U.S., have objected, saying alternative products are available domestically. Honeywell's request is pending. Spokesmen for Honeywell, Nucor, and Gerdau all declined to comment beyond their public filings.
Other projects are being hit by price increases. In Logan, Utah, the estimated cost to build a new wastewater treatment plant increased by $29 million, to $135 million, in part because of higher steel costs, said Mark Nielsen, senior project engineer.
In Virginia, tariffs are boosting steel costs by as much as 50 percent for some smaller projects, says Layne, but the real concern is the impact duties could have in the next 12 to 18 months on larger ones, such as a $3.7 billion bridge and tunnel project in the Hampton Roads area.
Higher steel prices also played a role in bids to extend the Los Angeles County Metro Gold Line light rail coming in hundreds of millions of dollars above estimates and available funding, according to the Foothill Gold Line Construction Authority. While tariffs weren't the only factor, they've raised the cost of several hundred million dollars' worth of steel needed for the project, says Habib Balian, the authority's chief executive officer. —With Joe Deaux
To contact the editor responsible for this story: Sara Forden at sforden@bloomberg.net, Paula Dwyer