Trump's Planned China Tariff Hikes Could Slam U.S. Growth
(Bloomberg Businessweek) -- It's an almost universal view among economists, derived from history, that tariffs and trade wars are bad for economies. Protect an industry, say, steel, from foreign competition, and you raise costs for a far greater number of domestic companies that depend on steel as an input. You also invite retaliation that hurts other parts of your economy—say, farmers. In short: Narrow short-term benefits lead to bigger and broader long-term costs.
But what if the leader of the world's largest economy doesn't believe that to be true? As he dialed up pressure on China over the past year and again in recent days, President Trump has increasingly seized on the idea that his trade wars are boosting U.S. growth and therefore strengthening his hand, according to people familiar with the White House's internal deliberations, who asked not to be named because of the confidential nature of the talks.
That may be as ominous a development for the global economy as the 15 percentage point increase in import duties on Chinese goods that the administration has promised to unleash on May 10 to punish Beijing for rescinding concessions made earlier in trade negotiations. Trump's alternative theory of economics hinges on two pieces of recent data. A better-than-expected first reading of the U.S.'s gross domestic product in the first quarter of this year had the economy growing at an annual 3.2 percent, in part because of a full percentage point boost from net exports. And employment data showing the U.S. added a net 263,000 jobs in April has only added to the case made by the president's again-ascendant trade hawks.
In a May 5 tweet raising the ante, Trump declared his tariffs "are partially responsible for our great economic results." Treasury Secretary Steven Mnuchin echoed the view when speaking with reporters the next day, saying, "There's no question that some of the trade policies helped in the GDP number." There's a grain of truth in these statements. Imports slowed in the first two months of this year, which helped boost the growth rate thanks to the way GDP is calculated.
Trump's threat of a further hike in tariffs effective on Jan. 1 caused companies in the U.S. to advance purchases of goods from China on the target list in the final three months of 2018. This "supply chain padding" helped lead to both a buildup in inventory stockpiles and a narrowing of the trade gap, according to Carl Riccadonna, chief U.S. economist for Bloomberg Economics. The effect was to make "growth appear stronger than meets the eye," he says, noting that data on final sales, which excludes trade and inventories, had the economy growing at a rate of just 1.4 percent.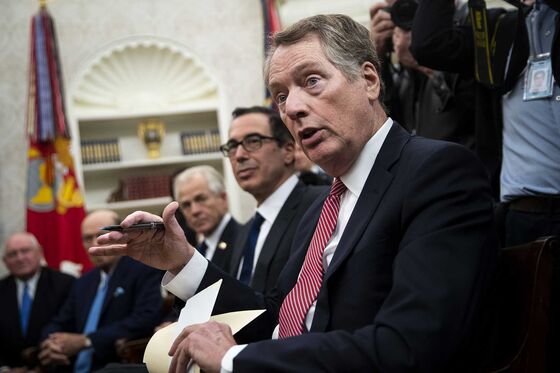 The headline jobs number for April, which put unemployment at a half-century low of 3.6 percent, also hid weaknesses. Manufacturing employment grew by just 4,000 jobs, with nonsupervisory production jobs—the factory line jobs Trump has promised to bring home—declining by 4,000. Meanwhile, there are signs that employment gains in industries protected by Trump's tariffs are petering out. The primary metals sector, which includes steel and aluminum producers, lost 2,000 jobs in April.
To be sure, the U.S. economy is looking healthier than many others. The reality is also that the sort of pain economists talk about when they discuss trade wars can be hard to quantify. It's often said that the political problem faced by proponents of free trade is that globalization's broader benefits, such as lower consumer prices, are diffuse, while the pain, in the form of closed factories, is more localized and easier to identify. With protectionism the opposite holds true: The pain is harder to identify than the benefits.
The direct impact of tariffs could be consequential. Economists at Moody's Analytics calculate the increase to a 25 percent tariff on $200 billion in Chinese imports would pare 0.8 percentage points off U.S. growth by the fourth quarter of 2020. A scenario in which the U.S. applied a 25 percent tariff to all imports from China and Beijing retaliated would slash U.S. real GDP by 2.6 percentage points and cost the economy 3 million jobs by the final quarter of 2020. Bloomberg's own economists calculate that a 25 percent tariff on all imports from China would shave 1.5 percentage points off Chinese growth. "If Trump's threat becomes reality, it will be a game changer for the global economy," wrote Steve Cochrane, chief Asia-Pacific economist at Moody's Analytics, in a May 7 report. 
Trump's backers argue the sacrifice is worth it in the context of what they see as an existential innovation war with an increasingly muscular China. Robert Lighthizer, the U.S. trade representative leading the negotiations with Beijing, argues that the Chinese industrial subsidies and intellectual property theft that the Trump administration is seeking to address have had a big negative impact on the U.S. economy for years and that ending them will be good for American workers and businesses. "These are not benign actions that we are objecting to," Lighthizer told reporters on May 6.
Adam Posen, who leads the pro-trade Peterson Institute for International Economics, says for too long investors, businesses, and even some of Trump's own advisers have believed that the president might be talked into a change of heart on trade by either wild swings in markets such as those triggered by his most recent tariff salvo or the pain in farm states, most of which he won in 2016. "The upshot of all this is he's not going to be deterred by the market in the end. He is not going to be deterred by whether this polls well in Iowa," Posen says. "This is what he genuinely believes—that a mercantilist protectionist trade policy is good for the U.S."
To contact the editor responsible for this story: Cristina Lindblad at mlindblad1@bloomberg.net