Trump's Tariffs Send Shock Waves Through Spain's Olive Groves
(Bloomberg Businessweek) -- The American fighter jets roaring above Joaquín García as he strolls among the 8,000 trees on his family farm in southern Spain are a reminder of the battle the U.S. administration is waging against his cash crop. García grows olives—one more product ensnared in the dragnet of President Donald Trump's trade wars—and his groves border the Morón Air Base, which hosts hundreds of U.S. military personnel and their families. He and others in the area say they've long seen it as a symbol of the close ties between Washington and Madrid.
That relationship is being put to the test after Trump slapped a 35% tariff on black Spanish table olives following complaints by American growers that Madrid unfairly subsidizes its industry. Spain is the world's largest producer of the olives—used mainly as a topping for pizzas and salads—exporting €370 million ($413 million) worth in 2017. "If we were allies, we would be allies for everything," says García, who's been forced to let some of his workers go to compensate for lost sales.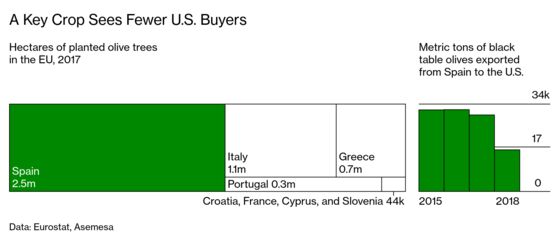 The U.S. and China have center stage in the trade drama right now, as portfolio managers and economists scramble to assess the effects of Trump's latest tariff hike and Beijing's retaliation. Amid such high stakes, the olive tussle has barely been a blip. But it has sent shock waves through southern Spain, where unemployment is already more than 20%. "The motto is 'America First,' and nothing else matters," says Antonio de Mora, secretary general of Spanish table olive association Asemesa.
Spanish farmers say the assistance they receive from Madrid and the European Union is legal. They've accused their American competitors of opportunistically seizing on the presence of a protectionist president to undermine Spain, which has about one-quarter of the global market for table olives. Some 20% of the country's exports of 154,000 metric tons went to the U.S. in 2017. The Trump administration hasn't targeted table olive shipments from other major producers in Southern Europe or North Africa.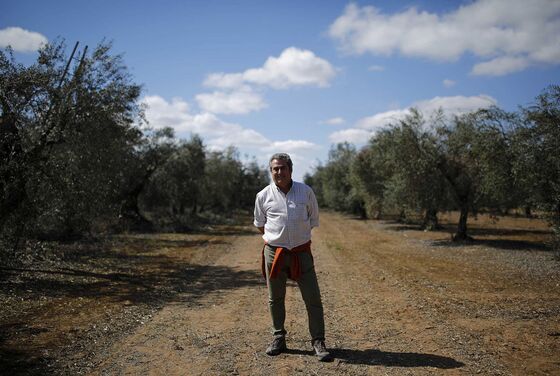 Timothy Carter, chief executive officer of Bell-Carter Foods, a California company that's one of the country's biggest olive suppliers, says the subsidies create "unfair pricing." Testifying before the U.S. International Trade Commission in July 2017, he said, "If we lower our prices to try to keep our customers from switching to cheap imports from Spain, we must also lower the prices we pay our growers for raw olives, and they will not be able to make ends meet."
The tariffs took effect in August, triggering a 45% drop in 2018 in U.S. imports of black table olives. The duties have cost hundreds of workers in southern Spain their jobs. At García's farm, about a 45-minute drive from Seville, there are now just four employees, down from 15 a year ago. "A lot of people live off the olive industry," says Manuel Sánchez, one of the workers who kept his job, as he prunes the decades-old trees.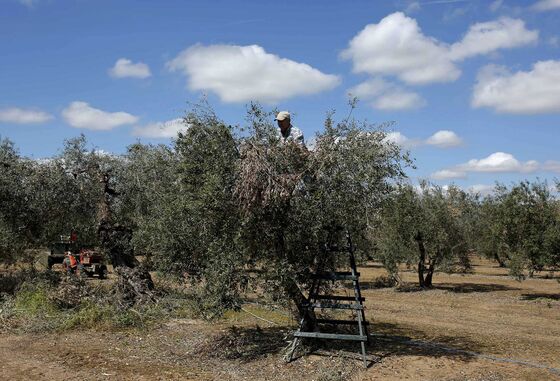 Sixty miles east, the town of La Roda de Andalucía is home to Agro Sevilla Group, a cooperative of 4,000 growers and the world's largest exporter of table olives. The town is surrounded by an endless horizon of trees, whose silvery sage-colored leaves against the red-brick earth are the palette of southern Spain. "Imagine what that sea of olive trees means for the economy, the culture," says Fidel Romero Ruíz, the mayor of the town of 4,200.
The tariffs are unlikely to be lifted anytime soon, and growers say the impact will worsen this year as contracts are repriced to take into account lower U.S. demand. Brussels is disputing the levies on behalf of Spain at the World Trade Organization, but that could drag on for several years. EU officials say they will ask the WTO to set up a panel of experts to analyze the case at the end of May, a sign the U.S. isn't backing down on the tariffs and that bilateral talks have broken down.
Washington's hardball tactics have made many realize they were too reliant on the U.S., and exporters are now targeting markets including China, India, and Pakistan, an example of how Trump's protectionist policies are remapping global trade flows. "We have to look for new markets," says Juan de Dios Segura, an olive grower in La Roda de Andalucía, who's wary of the U.S. as a reliable trading partner. "It's a political issue, it's not a trade issue." An official at the U.S. Embassy in Madrid said Spain remains "a strong economic partner."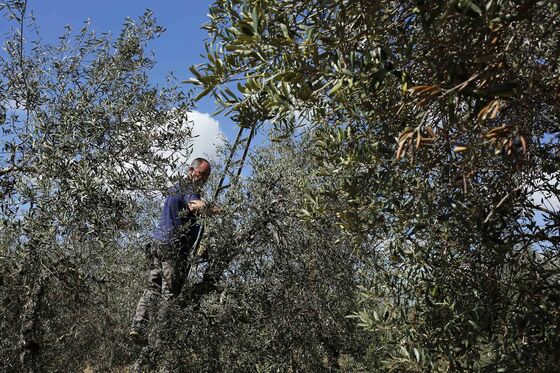 Spanish exporters are also working to circumvent the tariffs. Last summer, Spanish cooperative Dcoop and Moroccan associate Devico bought a 20% stake in Bell-Carter Foods, one of the two California companies whose initial complaints formed the basis for the tariffs. They aim to ship untreated green olives to the U.S. and turn them into black table olives there, a process that involves brining the fruit in vats.
That's frustrated some California growers, who have long campaigned for measures to deter lower-priced Spanish imports. "They just beat us to death on prices," says Adin Hester, former head of the Olive Growers Council of California. "We've worked on trying to get a tariff charge against Spanish olives for years. We'd like to see it happen to all countries."
If Spanish farmers can't find new export markets for their table olives, they may be forced to sell their crop to olive oil processors, which pays less. Growers can also try automating to lower costs, but the process isn't simple. For smaller growers, many of whom still pick by hand, mechanization would require tearing up existing trees and replacing them with younger ones planted closer together. "You're uprooting 100 years of history," says José Maria Bohorquez, an olive grower enjoying a glass of aguardiente at a bar in Arahal, a town that puts on a festival in September to celebrate the table olive harvest.
"I'm a romantic when it comes to olive trees," he says, adding that some of his peers have already started pulling up theirs. "It makes me want to cry. But we can't survive on emotions." —With Bryce Baschuk
To contact the editor responsible for this story: Fergal O'Brien at fobrien@bloomberg.net, Cristina Lindblad