Trump's Tariff Spree Comes With Big Electoral Risks
(Bloomberg Businessweek) -- President Trump's fondness for weaponizing tariffs is no secret. But as his list of targets expands beyond China to include allies such as Mexico and Australia, Trump not only jeopardizes the health of the U.S. economy, he risks undermining his own political standing, too. 
A new report from Goldman Sachs shows that, while Trump may not distinguish friend from foe, U.S. voters certainly do. Last week, ignoring the counsel of his own advisers, Trump vowed to slap an escalating series of tariffs on Mexican goods if its government doesn't cut off the flow of migrants from Central America heading to the U.S. border. On Sunday, the New York Times reported that Trump also considered putting levies on Australian aluminum, but was dissuaded. While Trump's tough line against China does draw some support, the Goldman report shows that significantly more voters disapprove of the tariffs the president has applied—or threatened to apply—on imports from friendly nations.
Furthermore, his protectionist trade policies haven't produced the kind of political boost in critical swing states that his backers are depending on. "Voter approval on trade policy appears to be no higher in key competitive states than in other states," Goldman finds, "and overall presidential approval in those states has declined by more than the national average."
One reason why Trump's trade policies haven't lifted his approval rating is that, aside from the original $50 billion of tariffs on Chinese imports announced last June, voters have on balance disfavored every one of his subsequent trade actions, including recent tariffs on China. As this chart from the report illustrates, voters' disapproval is particularly severe when it comes to tariffs targeting U.S. allies such as Canada and Mexico: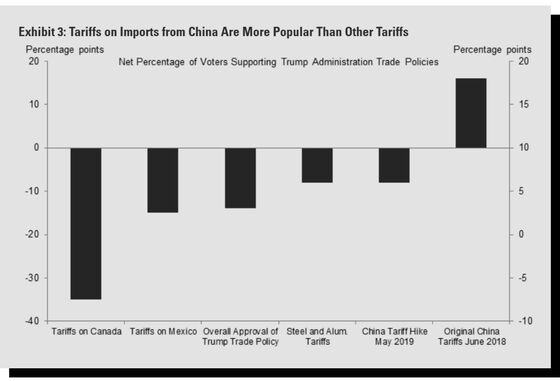 While the Goldman study doesn't take into account Trump's newest threat against Mexico or the possibility of penalties on Australian aluminum, there are several reasons to believe both acts would be highly unpopular. Both countries are U.S. allies, so voters are likely to respond negatively. Tariffs on Mexican imports would disrupt the U.S. auto industry's supply chains, further setting back Trump's unfulfilled promise to bring about what I've dubbed a "Rust Belt renaissance." 
Above all, with markets already wobbling in response to Trump's growing trade war, a new wave of tariffs would produce more volatility. The resulting market chaos would likely further diminish Trump's already tenuous political standing in the key states likely to decide the 2020 election. As the Goldman report notes, "Approval for the Trump Administration's trade policies appears to rise during periods of stability and sink during periods of increased trade tension, reinforcing the idea that the political benefit of reaching a deal would be greater than the benefit of imposing more tariffs."
Trump has always made it clear that his aggression on the trade front is purely transactional, an attempt to create leverage that he can use to extract concessions—even, as in the case of the latest demand toward Mexico, concessions that don't involve trade issues. But Trump won't be able to maintain that position if his threats to cause economic pain in targeted countries weaken his own standing here at home.
As Shawn Donnan reports in Bloomberg News, China appears well aware of the trends Goldman Sachs illuminates in its report on Trump's popularity. In a burn that Trump might even appreciate were it not directed at him, China's State Council, through its weekend paper, noted that tariffs were unpopular in the U.S., with both economists and voters believing that America, not China, bears the brunt of the cost. "The trade war has not 'made America great again,'" the outlet noted.
Of course, Trump has more than a year to reverse that impression before voters head to the polls. But widening the trade war to hit U.S. allies doesn't seem like a propitious way to do it.
To contact the editor responsible for this story: Jillian Goodman at jgoodman74@bloomberg.net