Big Business Loses a Political Home Amid Its Feud With the GOP
(Bloomberg Businessweek) -- Big business broke with President Donald Trump over tariffs and immigration and resented his Twitter attacks on various Fortune 500 companies. A wider rift opened in January, when supporters of the then-president invaded the U.S. Capitol and 147 Republicans in Congress refused to certify Joe Biden's Electoral College victory.
Still, it seemed as if corporations and the GOP might patch things up once Trump was out of the White House.
If anything, relations are worse now. And the reason is becoming apparent: The animus toward the business establishment emanates not only from Trump but also from the grassroots of the Republican Party. As long as the rank and file is at odds with big business, politicians will be as well.
Differences run deep. Although large corporations benefited from the tax cuts and deregulation of the Trump era, they also prioritize free trade and easy immigration—which some rank-and-file Republicans blame for taking their jobs. A bigger political flashpoint is that many corporations, in attempting to promote inclusiveness at work and with customers, have supported issues that cultural conservatives deride as "woke," such as Black Lives Matter, voting rights, and LGBTQ rights.
Georgia's new voting law, which critics say will disenfranchise minorities, has led to the worsening of an already troubled relationship. Major League Baseball pulled the All-Star Game out of Atlanta in response, and Ed Bastian, chief executive officer of hometown carrier Delta Air Lines Inc., called the law "wrong." Trump supporters seethed, and politicians channeled their anger. "You are, in fact, morally inferior to the working men and women of this great country," Senator Rick Scott of Florida wrote in an open letter to "woke corporate America." Another irritant among many is the suspension of Trump's social media accounts by Twitter and Facebook. Senate Minority Leader Mitch McConnell of Kentucky complained on April 5 that "parts of the private sector keep dabbling in behaving like a woke parallel government."
Several Republican senators, including Tom Cotton of Arkansas, Josh Hawley of Missouri, and Marco Rubio of Florida, are pitching their party as a friend of the working class—not an easy task given the party's traditional skepticism of things such as labor unions and generous unemployment benefits. "The days of conservatives being taken for granted by the business community are over," Rubio wrote in an op-ed in USA Today in March, expressing support for Amazon.com Inc. workers attempting to unionize.
Things are easier for small businesses, because Republicans remain with them on their two leading issues: low taxes and light regulation. Trade, immigration, voting rights, and inclusion are further down small business owners' list of priorities. "The annual cost per employee of complying with federal regulations is significantly higher for smaller firms than larger firms," the National Federation of Independent Business says on its website.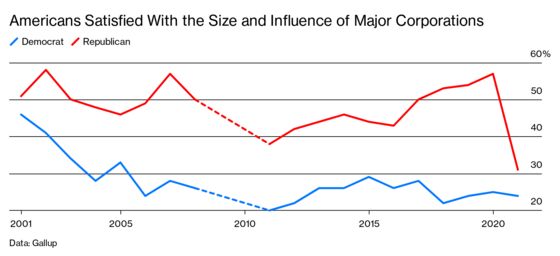 The charts in this article show the widening gap between the Republican Party's grassroots and big business. The one above, from Gallup, shows a sharp drop this January, to 31%, in the share of Republican and Republican-leaning voters who are satisfied with the size and influence of major corporations. The percentage was 57% in January 2020.
"Even though Trump was populist, I think he was equated in many people's minds with big business and capitalism," says Lydia Saad, Gallup's director of U.S. social research. When he left office, Saad says, that association faded.
Republican voters, who tend to be older and more rural than Democrats, have become increasingly concentrated in less economically productive parts of the country. Counties won by President Biden last year accounted for 71% of the nation's gross domestic product in 2018, according to a Brookings Institution analysis.
The average Republican candidate got less money from business political action committees in the first quarter of 2021 compared with the start of previous biennial election cycles but took in more money, on average, from donors giving $200 or less. (This is true of Democratic candidates as well, but not to the same extent.)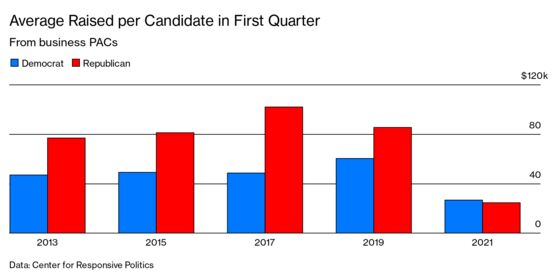 Because candidates tend to heed whoever gives them money, this means that the Republican Party is being steered more by the grassroots and less by corporations. "If big business cuts off financial support and no one notices, does it matter?" Dan Eberhart, an energy investor who donates to Republicans and conservative causes, wrote in an email.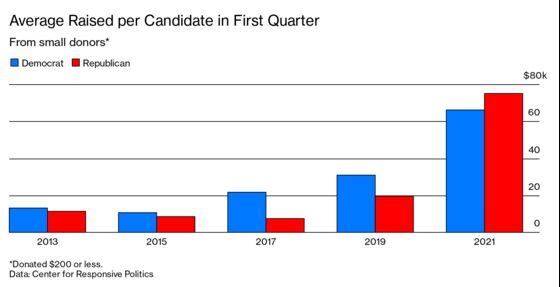 In some respects—such as on social and climate issues—a substantial segment of big business is more aligned with the Democratic Party than the Republicans. But only up to a point. President Biden has governed so far as a liberal, supporting labor unions, higher minimum wages, social spending, and higher taxes on corporations and wealthy individuals, none of which is popular in the C-suite. The Business Roundtable, which represents CEOs of some of America's biggest companies, has come out against Republican efforts to restrict voting but has also criticized the Biden administration's support for a global minimum tax on corporate income.
Republican George Walker, a second cousin of former President George W. Bush, who is CEO of investment management firm Neuberger Berman, says that "all of the energy has been hijacked by folks on the extremes of both parties." Speaking from a car on the way to his 4-year-old's birthday party, Walker says, "What's happening today? A shouting match between Ted Cruz and Brian Williams. I'm about as eager to engage in that discussion as I am to hit my hand with a hammer."
What's a political orphan to do? The U.S. Chamber of Commerce, traditionally a Republican bulwark, endorsed 23 freshman House Democrats for reelection in 2020 and got nothing but pain for its initiative. Arkansas' Cotton called the chamber "a front service for woke corporations." Meanwhile, all 14 of the Democrats it endorsed who won reelection voted in favor of the PRO Act, a measure opposed by the chamber that would make it easier for workers to form unions.
Neil Bradley, the chamber's executive vice president and chief policy officer, says it's a mistake to think that "everyone has to be sorted and you must put on either a red jersey or a blue jersey." Often, Bradley says, "our priorities are not exclusive to one party." The chamber has organized a series of discussions called Common Grounds, each involving a Republican and a Democrat from Congress who hash out tough issues such as immigration and climate change.
Big business has "lost support among the GOP but is not rewarded by Democrats, at least yet," says Gallup's Saad.
For many large corporations, the breaking point with Republicans was their vote against certification of the Electoral College results. Many suspended donations to those members of Congress through their PACs or said they were reviewing their contributions, but a few have given to election objectors since, including JetBlue Airways, Toyota Motor, and Cigna.
"Control of the House is so close" that corporations may resume support for Republicans soon, because they perceive it's in their economic interest, says Paul Herrnson, a political scientist at the University of Connecticut, who's a fellow at the Center for Responsive Politics. Even if big business does seek rapprochement with the GOP, it might not get much love back. "Business has always been the scapegoat," says Daniel Lufkin, a founder of the former investment bank Donaldson, Lufkin & Jenrette. With populists in the ascendant in both parties, large corporations will struggle to regain the influence to which they're accustomed. —With Max Abelson