Trump's Huawei Demands Risk Splintering NATO Support
(Bloomberg Businessweek) -- NATO is a slightly odd collection of countries. Some of its 29 members fought wars against each other. Some are sparring even now over territory and influence. One—Turkey—is busily stirring the pot over everything from Syria to Libya to control of energy sources in the eastern Mediterranean.
Even so, for 70 years the alliance has provided a security umbrella across Europe, held together in no small measure by the moral and financial imprimatur of the U.S. Differences have been papered over because states have kept their eyes on the prize of collective defense.
That's changing under the administration of Donald Trump. The U.S. president has spent his time in office needling NATO for taking advantage of American largesse (with some validity: the U.S. has borne the largest share of the cost of funding the alliance). And, increasingly, Trump and his aides are dragging the alliance into broader trans-Atlantic tensions.
At the recent Munich Security Conference in Berlin, U.S. Secretary of State Michael Pompeo had relatively polite words to say in public about ties with Europe. That was in contrast to his comments in November that NATO risked becoming irrelevant. But behind the scenes, the frictions were palpable. The U.S. is frustrated over Europe's refusal to accede to Trump's demands for a full ban on Huawei Technologies Co. in the member nations' 5G networks. The U.K., France, and Germany are all looking to keep the door open to the Chinese telecom giant in some way, snubbing the American view that Huawei is a security risk.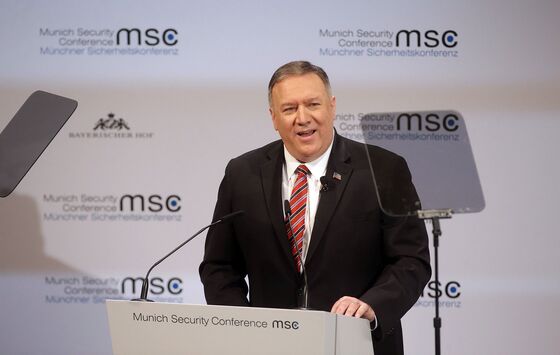 After the U.K. rejected a complete block of Huawei, Trump berated Prime Minister Boris Johnson over the phone. The U.S. ambassador to Germany, Richard Grenell, Trump's acting director of national intelligence, says the president instructed him to "make clear that any nation who chooses to use an untrustworthy 5G vendor" risks jeopardizing intelligence-sharing with the U.S. "at the highest level." The U.S. and U.K., along with Australia, Canada, and New Zealand, are part of what's known as the Five Eyes intelligence-sharing alliance.
U.S. Defense Secretary Mark Esper has thrown NATO into the mix, warning that unless Europe better appreciates the threat from China, "it could compromise what is the most successful military alliance in history."
NATO's mandate is security matters, including perceived threats. So it's appropriate perhaps that China, and a company like Huawei, be discussed within the group. But analysts say it's the manner in which it's being raised that's causing concern.
Senior officials in Europe sound perplexed: The U.S. tells them Huawei is a problem, but it offers no real solutions other than "don't do business with Huawei," they say. And then the White House threatens punitive actions for engaging with the Chinese company.
The Huawei/China issue is bleeding into broader questions about ties with some of America's most steadfast allies since the end of World War II. The Trump administration has gone so far as to suggest that cars imported from Europe are a threat to the country's national security. It's also threatened secondary tariffs against European carmakers unless countries back the president's hard line on Iran.
By linking foreign policy so directly to trade and economic matters, the U.S. is leading Europe to think about how to preserve its independence on policymaking, according to Adam Thomson, the U.K.'s envoy to NATO from 2014 to 2016 and now director of the European Leadership Network, a London-based think tank. "There is quite a feeling in Europe that Europe is being coerced on some fairly key foreign policy issues, whether it is Iran or China, more by the United States, ironically, than by either Russia or China," he says. "It's simply a natural fact of life that if you are coerced in this way with threats and trade sanctions by your closest ally, you start wondering how much of an ally they are."
The U.S. approach risks a boomerang effect. European nations have largely—but not absolutely—supported America on foreign policy for decades. But as the U.S. turns the screws on Europe on trade and Huawei, some officials say the backing could become less automatic in the future when the country comes calling for help.
French President Emmanuel Macron has stepped up his calls in recent months for Europe to adopt a more independent foreign policy that relies less on the U.S. That said, he's also been a critic of NATO, an alliance that he said in November was suffering a "brain death." Macron is pressing for a standalone European army with the European Union in command, though that prospect makes some EU members uncomfortable, according to senior European officials.
Europe doesn't want a full-blown trade war with the U.S.; it also sees the experience of China, Mexico, and Canada in their own trade disputes with Trump as a cautionary tale. Nor does Europe want NATO to fall apart. Still, there's a feeling among some officials that long-understood norms in the trans-Atlantic relationship are fracturing.
It wasn't always this way. Under the Obama administration, trade and political priorities also went hand in hand, but the correlation was mostly positive. Then-Pentagon chief Ash Carter said in 2015 that congressional approval for an Asia-Pacific trade deal, the Trans-Pacific Partnership, was as strategically important for the U.S. in Asia as "another aircraft carrier." Trump excised the U.S. from the pact in one of his first acts as president.
One key uncertainty for officials in Europe is the coming U.S. election and the prospects for a second Trump term. If "America First" drove White House policy in the first Trump presidency, what might drive it in the second with a more emboldened leader claiming voter validation of his actions so far?
Most European policymakers take comfort in the decades of NATO resilience. The Cold War might be over, but NATO's mandate of collective defense is valued by many, as Vladimir Putin's Russia becomes more active in North Africa and the Middle East and as Putin continues to make mischief in parts of Eastern Europe. Even with Turkey's provocations, NATO isn't at immediate risk of a full split.
Still, "NATO would be fundamentally altered if the United States was no longer prepared to give other allies its security guarantee," Thomson says. "Threats like that from Mark Esper at Munich do cause people to wonder what President Trump might do next."
To contact the editor responsible for this story: Howard Chua-Eoan at hchuaeoan@bloomberg.net