Wall Street Helps Ron DeSantis Amass a Hefty War Chest for 2022
(Bloomberg Businessweek) -- When it comes to the likely Republican presidential candidates in 2024, Wall Street's money is on Florida Governor Ron DeSantis—not former President Donald Trump, who's been teasing another run at the White House.
A fifth of the $55 million that DeSantis has raised this year came from hedge fund billionaires, private equity bankers, investment managers, and other finance industry donors. Trump, who got less than 2% of his 2020 reelection funds from Wall Street, has raised the bulk of his $100 million war chest from small-dollar donors.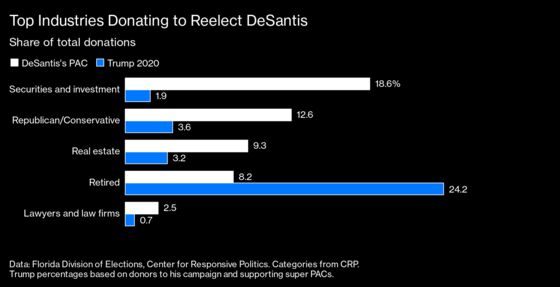 "Ron DeSantis is my favorite man," says Thomas Peterffy, 76, the billionaire chairman of Greenwich, Conn.-based Interactive Brokers, who gave $250,000 to DeSantis's political action committee in April. Although he donated hundreds of thousands to Trump in 2016 and 2017, he says he would rather the former president sit out 2024. Compared with the impulsive Trump, DeSantis "does much more substantial planning," Peterffy says. "He thinks about how he wants to implement things. He gives himself time to think it through."
DeSantis, 43, is a veritable money magnet for superrich donors in finance, according to records from the Florida Division of Elections. Citadel's billionaire owner Ken Griffin tops the list, with a $5 million gift to DeSantis's PAC made on April 30. Other hedge fund and private equity heavies who've made donations include Tudor Management's Paul Tudor Jones II ( $400,000) and buyout pioneer John Childs ($250,000). All three have homes in Florida, while other donors, such as Peterffy and former U.S. Secretary of Commerce Wilbur Ross, live in the state most of the year.
"I think the Wall Street guys love that Governor DeSantis has guts and was willing to keep Florida open, to keep the economy going in our state," says Nick Iarossi, a lobbyist in Tallahassee authorized by the governor to speak about fundraising. DeSantis has reached national prominence by pushing back on pandemic shutdowns and mask mandates.
DeSantis recently set a goal of raising $150 million for his 2022 gubernatorial reelection campaign, two-and-a-half times what he amassed to get elected in 2018. He's gone on the road, headlining fundraising events in such states as Nebraska and New Jersey and playing up an image as the governor who opened schools and businesses long before most states. A large share of his haul so far—42.5%—has come from out-of-state donors.
"He has the most impressive national fundraising network, except for President Trump," says Brian Ballard, a major GOP donation bundler. A recent poll by Republican polling firm Echelon Insights put DeSantis at the front of the pack of possible 2024 contenders, such as Mike Pence and former South Carolina Governor Nikki Haley, in a hypothetical contest without Trump.
Most of the hefty checks for DeSantis came from donors who steered clear of Trump in 2020, such as Griffin. But DeSantis did rake in about $1 million from dozens of former Trump backers in the financial industry, such as billionaire John Paulson.
He's aiming at grassroots givers, too. DeSantis hired the same vendor that makes Trump's "Make America Great Again" caps to fill his online store's inventory, which includes T-shirts, flags, and beverage coolers bearing his name and the slogan "Keep Florida free." But the merchandise hasn't caught on with too many small-dollar donors yet; they've given his PAC a total of $1.1 million so far.
Although DeSantis hasn't formally declared he's running for reelection as governor in 2022, much less for president, he's hoovering up unprecedented sums of cash. His current $55 million is far more than the $41 million his PAC raised in 2018, when he narrowly beat Democrat and former Tallahassee Mayor Andrew Gillum. This time, DeSantis wants enough money to ward off deep-pocketed opponents, says Iarossi. Among the Democrats running to try to unseat him are Representative Charlie Crist, a former governor of Florida, and Florida Agriculture Commissioner Nikki Fried.
The governor's approval rating stood at 48% in a Morning Consult Political Intelligence poll released Sept. 2., down 14 points from Morning Consult polls in early July, before Florida Covid deaths surged to record levels. "If you don't get reelected as governor, then presidential ambitions are not even on the table," says Iarossi. "So he wants to build a large war chest."
Endorsed by Trump, DeSantis won in 2018 by 32,463 votes, or four-tenths of a percentage point. He's spent much of his time in office as one of Trump's most loyal cheerleaders. 
Peterffy, the Interactive Brokers billionaire, says he would also support former Secretary of State Mike Pompeo for president. DeSantis still has plenty of time to reach the White House, he says, since he's only in his 40s: "Sooner or later, he'll be our president."
 
Read next: Trumpworld Gets a Red-Carpet Welcome in Bolsonaro's Brazil