Why Can't Japan and South Korea Be Friends?
(Bloomberg Businessweek) -- The animosity between Japan and South Korea that has persisted for so many generations can sometimes show signs of easing. At least among younger people, there can be a great deal of warmth. Korean readers are among the biggest fans of Japanese author Haruki Murakami, while a best-selling South Korean novel—Kim Ji-young, Born in 1982, about the discrimination a woman faces in her country's patriarchal society—became a recent hit in Japan. South Koreans vie with Chinese to make up the biggest proportion of foreign tourists visiting Japan, and the number of Japanese visiting South Korea soared by a third, to about 770,000, in the three months that ended on Jan. 31. South Korean K-pop bands such as BTS and Twice are popular among Japanese teens, and Japanese pop idols are winning recognition on a South Korean television show.
Yet the political status quo between the two U.S. allies—underlying distrust and wounds from old conflicts—continues in debilitating and potentially dangerous ways. Take what happened off Japan's Noto Peninsula at 3 p.m. on Dec. 20, or more important, how both sides interpreted the incident. On that day, a Japanese naval P-1 aircraft conducting surveillance in the waters between the two countries encountered the South Korean destroyer Gwanggaeto the Great, named for a 4th century monarch. The Japanese say the South Korean vessel "locked on" to their aircraft with its weapons-control radar. The South Koreans say the Japanese pilot flew recklessly low while their ship was trying to rescue a floundering North Korean fishing boat. The Japanese say the plane was doing nothing more than taking photographs.
The two countries escalated their dispute in public, exchanging a volley of angry statements and releasing videos that inflamed popular emotions. The right-wing website Japan Forward weighed in, asking, "Does the Korean Navy not even know the distinction between enemies and allies? Or has it decided to regard Japan as an enemy?" South Korea's left-wing daily Hankyoreh ran an op-ed calling on Japan to "immediately stop dangerous provocative actions." The back-and-forth, translated into English and displayed on the websites of both defense ministries, is a microcosm of how relations between the neighbors have played out for decades.
Fed by willing politicians, Japan and South Korea's low-level, simmering feud seems only to be getting worse. And the antipathy between the two mature and prosperous economies could further undermine U.S. efforts to defang North Korea. That's especially true now that U.S. President Donald Trump's negotiations with Kim Jong Un have collapsed. The North Korean leader has said he would meet his American counterpart for a third time, but only if Washington changes its terms. In August 2017 a North Korean ballistic missile flew over northern Japan. Tokyo, already feeling sidelined by Trump's dealings with Kim, doesn't feel any better about South Korean President Moon Jae-in's attempts at detente with North Korea. Japanese Prime Minister Shinzo Abe and his conservative Liberal Democratic Party are taking a hard line on sanctions enforcement.
The business ties of Asia's second- and fourth-largest economies are suffering. Separated by some 100 miles over the Korea Strait, they share a vital trade relationship—each is the other's third-largest trading partner. But among other things resulting from the radar lock-on incident, the Japan-Korea Economic Association postponed an annual conference planned for May. For conservative politicians in Tokyo, the concept of a united Korea raises the specter of imperial Japan's strategic rationale for invading and colonizing Korea a century ago: that the peninsula was "a dagger pointed at the heart of Japan." The two countries have yet to come to grips with that history, even though almost 74 years have passed since Japan's defeat in World War II and the end of its hold on Korea.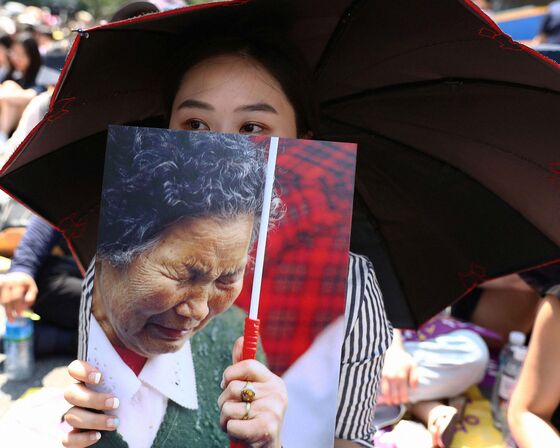 Most of the ill will stems from atrocities during Japan's occupation of the Korean Peninsula from 1910 to 1945. Korean women were trafficked to Imperial Army brothels across Asia, and Korean men were forced to work in steel factories or mines. Korean culture was suppressed, with its people forced to take Japanese names and speak Japanese in school. Koreans who remained in Japan after 1945—many to avoid the chaos as the peninsula split into communist and pro-Western halves—were denied citizenship rights and treated with contempt.
Scholars on both sides continue to dispute the past, perpetuating the mutual resentment. Historians disagree, for example, about the number of so-called comfort women trafficked to Japanese military brothels, citing figures from 50,000 to 200,000. Any description of the women as "sex slaves" by the media is liable to draw a letter of protest from Japan's Ministry of Foreign Affairs. That, Koreans say, is proof that Japan isn't repentant enough for its war crimes. Japan bristles at the charge and points to remuneration agreements over the decades. "Ignorance, prejudice, and misunderstanding have undermined mutual respect and trust," says Shin Kak Soo, who served as Seoul's top diplomat to Japan from 2011 to 2013.
History keeps opening fresh wounds. Japan is alarmed that its former colony is picking apart hard-won postwar agreements meant to repair their relationship. Citing a lack of consultation with the victims, President Moon decided late last year to dissolve a 1 billion yen ($9 million) fund that Japan set up as part of a 2015 agreement with his predecessor, President Park Geun-hye, to finally put the comfort women issue to rest. Moon, who took office after South Koreans impeached and ousted Park, campaigned on a promise to reopen the deal. Many Koreans say the agreement didn't have the survivors' full support. They point out that President Park's father, Park Chung-hee, was trained in Japanese military academies and served in the Imperial Army before going on to establish his own dictatorial regime in South Korea from 1963 to 1979, when he was assassinated.
Japan is extremely sensitive to the sex trafficking charge: It has frequently urged South Korea to remove a statue memorializing the victims from outside the Japanese embassy in Seoul, a focal point for demonstrations for decades. A dispute over a statue erected by the Korean community in San Francisco led the mayor of Osaka to break off a six-decades-long sister city relationship with San Francisco in October.
Japanese companies whose roots can be traced to the imperial era are facing South Korean court rulings related to forced labor from that period. There are more than a dozen such cases pending involving about 70 corporations, according to the Japanese Ministry of Foreign Affairs. In March a South Korean court approved a victim's request to seize local patents registered by Mitsubishi Heavy Industries Ltd. as compensation. The Japanese news agency Jiji Press said Tokyo is considering increasing tariffs on about 100 South Korean products if Seoul sells the assets of Japanese companies seized during the disputes.
During imperial Japanese rule, an estimated 725,000 Korean workers were sent to mainland Japan, its territories in Sakhalin, and the southern Pacific Islands to work in mining, construction, and shipbuilding, according to a Stanford research paper. Most of the former laborers have died, but some cases are being brought by family members. Japan says all claims were settled under the 1965 treaty that established diplomatic relations between Tokyo and Seoul. It provided a $300 million payment—equivalent to $2.4 billion today—and $200 million in low-interest loans to South Korea.
For the Japanese, who were just beginning their own economic miracle, that was a significant sum; the money enabled South Korea to invest in the industries and infrastructure that paved the way for its own rapid development. Adding to the furor, Japanese Minister for Foreign Affairs Taro Kono has repeatedly said—including in an Oct. 30 statement—that the lawsuits may undermine the 1965 normalization treaty itself, an interpretation rejected by South Korea's highest court.
For successive South Korean governments, attacking Japan has been a surefire way to boost political support. National Assembly Speaker Moon Hee-sang sparked outrage among Japanese conservatives in February when he called for Emperor Akihito to apologize in person to the comfort women, describing him as the "son of the main culprit of war crimes." Abe demanded that Moon Hee-sang retract his statement. The speaker refused. Still, the demand was cheered by South Korean nationalists, who saw it as a welcome rebuke to Japan. In 2012, when corruption scandals were hurting then-South Korean President Lee Myung-bak's popularity, he flew to a disputed islet between the two countries and spoke with South Korean police officers there to maintain the country's claims. President Moon Jae-in has seen his own poll numbers sag from their once-lofty highs, making a thaw unlikely anytime soon. In Japan, Kyodo News reported, Abe may choose not to hold one-on-one talks with the South Korean president when he visits Osaka for the Group of 20 summit in June.
Surveys suggest positions are hardening on both sides. In Japan, more than 60 percent of respondents to a Nikkei newspaper poll in January said they wanted the government to take a more robust line over the radar incident. Most also support the Japanese government in saying South Korea should be responsible for any compensation for forced laborers. In South Korea, almost half of respondents in opinion surveys say the government should be more assertive on both issues.
The breakdown of the second Trump-Kim summit should, in principle, compel Japan and South Korea to get along, at least on defense matters. Military cooperation used to be "driven less by politics and more by practical interests," says Mintaro Oba, a former U.S. diplomat who worked on Korean Peninsula issues. That strategic collaboration, however, may have been undermined by the radar lock controversy. Could that affect potential collaboration in the event of a North Korea crisis? Says Oba, "That this is the area where we've seen so much tension lately is undoubtedly very worrying to Washington."
The latest reports are that Japan will skip joint naval exercises with the U.S. and South Korea planned for later this month off Busan, although the defense ministry in Tokyo has refused to comment. Japan had been expected to send its biggest warship, the helicopter carrier Izumo.
It can only be hoped that greater cultural and economic exchanges will help cool these passions—and maybe overcome the bitterness lingering from World War II. It wasn't until 1998 that South Korea lifted a ban on Japanese cultural imports. From 2013 to 2018, South Koreans' negative impression of Japan fell from 75 percent to just about half. Japan has prosecuted right-wing activists for anti-Korean hate speech.
Japanese voters haven't taken to choosing representatives for anti-Korean views, but they're increasingly tired of being blamed by Seoul for what their great-grandfathers did. In South Korea, labeling an opponent a "Japanese collaborator" continues to be an effective way to win a political debate. "Fanning the flames of discord offers opportunities to look patriotic," says Andrew Horvat, a visiting professor at Josai International University in Tokyo who researches postwar reconciliation. "Working toward a compromise runs the risk of denunciation for failing to uphold national pride."
To contact the editor responsible for this story: Howard Chua-Eoan at hchuaeoan@bloomberg.net