Trump Made America More Divided, a Problem Biden Can't Undo
(Bloomberg Businessweek) -- Every election produces a gold mine of new data that gives insight into how the country is changing. One of the best sources for analyzing and understanding those changes is the Cook Political Report's Partisan Voter Index, which appears shortly after every election. The newest PVI was released yesterday. For my money, there are two big takeaways: Former President Donald Trump left America more polarized than ever at the national, state, and congressional level. And despite President Joe Biden's campaigning as a moderate unifier, that polarization could soon get worse.
It doesn't comes as a shock that Trump divided the country—Americans weren't exactly unified before he showed up on the scene. But the degree of polarization reached under Trump is nonetheless striking. Back in 1976, when voters routinely split their tickets, there were 124 "crossover" districts that elected a member of one party to the House of Representatives and the other party to the White House. That number shrunk to 16 in the last election: Nine Republicans were elected in districts Biden won, and seven Democrats won in districts that went for Trump. 
Trump was an accelerant, rather than a catalyst, of this polarization. Crossover districts have been disappearing for decades as Americans sorted themselves into partisan camps (the previous record low of 26 came in 2012). But these latest results put a stake in the old Tip O'Neill dictum that "all politics is local." Today, all politics is national. As the report's authors put it: "House elections have increasingly become censuses counting blue and red voters in a given area rather than contests between two candidates of differing qualifications and backgrounds."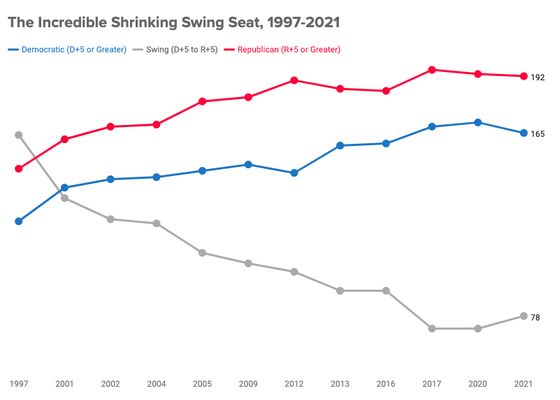 Americans hoping for a little civic healing might think to themselves, "Trump's gone now, so things can only get better from here, right?"
One of the PVI's benefits is that it measures the relative partisanship of individual congressional districts, which shift over time. Many of the least partisan districts today are college-educated suburban ones in Texas and Georgia, drawn 10 years ago, that once were solidly GOP but have drifted toward Democrats in the years since; or they're heavily Hispanic districts in South Florida and Texas that used to vote reliably Democratic but tilted toward Trump and Republicans last year.
These districts were drawn in 2011 by partisan mapmakers to be "safe" seats, and the fact that they're now close illustrates how U.S. politics has changed since then, as political coalitions shifted under President Obama and then Trump. But they're not likely to stay close. The 2020 Census means that states will soon redraw their congressional districts. Despite several measures to curb gerrymandering, most of those maps will be drawn by partisan actors incentivized to tilt close districts in the direction of their own party, reducing the number of swing districts and increasing the overall level of polarization.
In the face of these headwinds, Biden's efforts to reduce the level of partisanship in the country aren't likely to have much of a result, at least not if the measure of success is an increase in swing and crossover districts. Instead, he can console himself with polls showing that his policies are broadly popular and that voters—even many Republicans—think he's doing a better job of managing the economy than Trump.