Trump's One Big Advantage Going Into Trade Talks With Xi
(Bloomberg Businessweek) -- President Donald Trump and his party took a drubbing in the midterm elections. But the results held a bit of good news for Trump as he prepares to meet with Chinese President Xi Jinping at the Group of 20 meeting in Argentina: the $50 billion in retaliatory tariffs China targeted at Trump-friendly congressional districts failed utterly to cause the kind of political pain that would have weakened Trump's bargaining position.
Let's rewind to March, when Trump fired the first big volley in the trade war by imposing tariffs on imported steel and aluminum. China's foreign minister, Wang Yi, vowed a "justified and necessary response," and in April, China hit back with levies on U.S. exports, including soybeans, wheat, sorghum, and other crops selected precisely to exact a political price on Republicans in November. 
Take soybeans. At the time, China was the largest buyer of U.S. soybeans—it imported $14 billion of them in 2017—so the tariffs would be sure to hurt U.S. farmers. In April, I built a model to see which U.S. House districts were most vulnerable and discovered that 25 of the top 30 districts most reliant on soybeans for economic activity were represented in Congress by Republicans. All of them—even the five repped by Democrats—voted for Trump in 2016.
The tariffs did indeed hurt U.S. farmers. As Deutsche Bank's Torsten Slok has noted, U.S. soybean sales to China are down a staggering 98 percent this year. As markets wobble, the economic damage is becoming clearer. But the political fallout China was anticipating never materialized. When I went back to my model and plugged in the 2018 election results, I found that Republicans lost a net total of one House seat in soybean country. One! Of the 30 districts, just three switched parties. Democrats took Iowa's 1st and 3rd congressional districts, and Republicans won Minnesota's 1st district, vacated by Democrat Tim Walz, who was elected governor. 
These "before" and "after" maps give a visual sense of just how little Chinese tariffs influenced Midwest congressional races: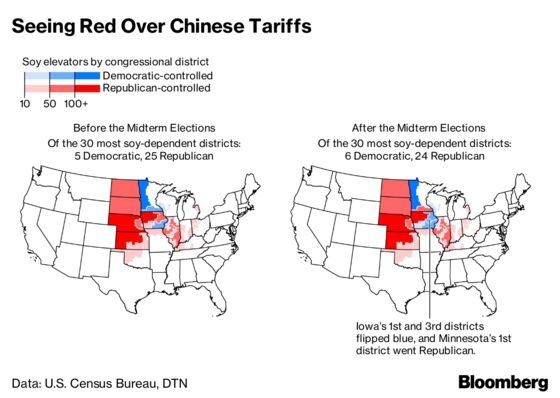 Plainly, the deep cultural and political affiliation these rural districts have with Trump and the GOP overrode whatever economic anxiety the tariffs produced. The same was true of other crops, such as sorghum. The pain from those tariffs landed overwhelmingly on Kansas. But Representative Roger Marshall, the Republican who represents Kansas's 1st district—the top sorghum district in the country—cruised to reelection by 37 points. (The only Kansas House seat Democrats flipped was in the Kansas City metro area.)
And it wasn't just China's punitive levies that failed to exact a political cost from Republicans. The European Union, also hit with U.S. tariffs, put duties on Harley-Davidson motorcycles to pressure House Speaker Paul Ryan of Wisconsin (home to Harley-Davidson Inc.) and on bourbon whiskey to pressure Senate Majority Leader Mitch McConnell of Kentucky. On Nov. 6, Democrat Randy Bryce failed to win Ryan's open House seat, and though McConnell wasn't running this cycle, Democrats took a heartbreaking loss in Kentucky's 6th District race.
Overall, the midterm elections were a crushing rebuke to Trump. Democrats took control of the House and may pick up 40 seats by the time all the votes are counted. But that makes Republicans' ability to withstand foreign retaliatory tariffs even more impressive. (The White House didn't respond to a request for comment.) 
As Trump considers ratcheting up existing tariffs and expanding them to $267 billion of additional Chinese goods, he'll hear plenty of dire warnings about the economic fallout from an escalating trade war. But the prospect of political damage, which would stop most politicians from plowing ahead, doesn't look nearly so imposing in light of the midterm election results. And regardless, Trump has never given any indication that he cares.
To contact the editor responsible for this story: Jillian Goodman at jgoodman74@bloomberg.net