The Secret Fundraising Magic of Trump Cards
(Bloomberg Businessweek) -- On Thursday, Twitter blew up with what looks, at first glance, to be another dopey Trump-centered story of the type disbelieving liberals love to share: Donald Trump's Save America leadership PAC is about to launch a line of "Official Trump Cards," red-and-gold embossed plastic cards that supporters can buy that will allow the bearer to do ... well, nothing in particular.
That's what the Twitter hordes find so amusing. Why would anyone pay $20 or $50 for a piece of plastic that's functionally no different than the dummy credit cards that banks mail out in their marketing materials?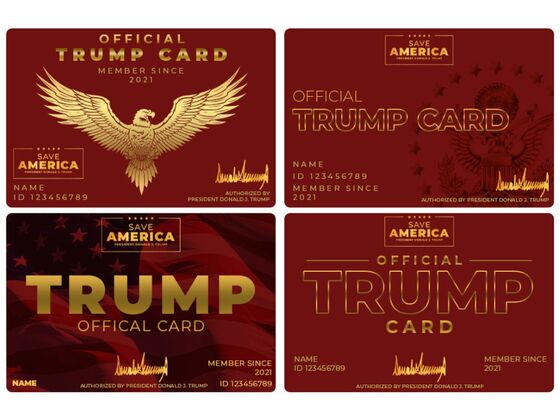 I wondered the same thing when I first heard campaign officials talk excitedly about Trump Cards back in 2016. It turns out that the cards aren't dumb at all—at least not from the campaign's standpoint. They're a clever bit of marketing. They're also a case study in how Trump's operation exploits donor psychology. In 2016 there was such ravenous small-donor support for Trump that his campaign decided to offer hardcore fans a token to differentiate themselves from other MAGA types. "The thinking was, if you want to be a Trump supporter among Trump supporters, this little card is how you separate yourself from your peers," says a former campaign adviser who spoke on the condition of anonymity to avoid raising Trump's ire. So the campaign started selling Trump Cards, and his fans flocked to buy them.
It was the future president himself, a consummate salesman, who imbued the plastic with value (at least to die-hards). Trump would go to rallies and instruct the crowd, "If you have your Trump Card, hold it up"—and then he'd give a big thumbs-up. Presumably, throngs of crestfallen Trump fans, embarrassed to discover they'd been left out of the fun and burning with envy at their card-waving neighbors, rushed to the campaign's website to rectify the indignity.
This produced a stampede of demand for Trump Cards and a fundraising windfall. The campaign branched out into different colored cards and different tiers of donors. It also started publishing the names of cardholders on Trump livestreams and on "Donor Walls" that staff erected at Trump events. "The ROI on those cards was through the roof," says the adviser. "I just remember we couldn't find companies that could produce them fast enough." He says that the campaign raised tens of millions of dollars by selling cards, calling them "one of the most effective fundraising methods for the campaign."
Five years later, as a New York Times story noted last week, Trump remains the unrivaled money-raising juggernaut for all sorts of Republican interests. Although he's out of the White House and isn't running for any office—yet—he's decided to go back to the well. His latest email solicitation is a MAGA Bat-Signal aimed squarely at the thirstiest Trump fans.
"The card you select will be carried by Patriots all around the Country. They will be a sign of your dedicated support to our movement to SAVE AMERICA, and I'm putting my full trust in you," he wrote in an email on Aug. 4.
A follow-up landed shortly after: "We're about to launch our Official Trump Cards, which will be reserved for President Trump's STRONGEST supporters."
As Trump's operation moves to rake in ever more cash, the question about Trump Cards isn't so much "Why?" but "Why didn't we see them sooner?"