Trump Bets Bashing China Will Sway Voters Before Costs Hit
(Bloomberg Businessweek) -- To turn his trade war with China into a vote-winner, President Donald Trump needs the backing of places like Oshkosh.
The ups and downs of globalization have left their mark on this town of 66,000 in northern Wisconsin, a battleground state in next month's midterm elections. The rise of a new manufacturing juggernaut in Asia hit hard: Clothing maker Oshkosh B'Gosh shuttered its hometown plant in 1997 after shifting production to places like China.
Oshkosh Corp., a maker of armored trucks that's the town's biggest local employer, has plants in eight countries besides the U.S., including Mexico, Romania, and China. Its costs will likely rise because of Trump's tariffs. So will the price of baseball gloves, televisions, and an assortment of other goods sold at the local Walmart—though maybe not before voters cast ballots on Nov. 6.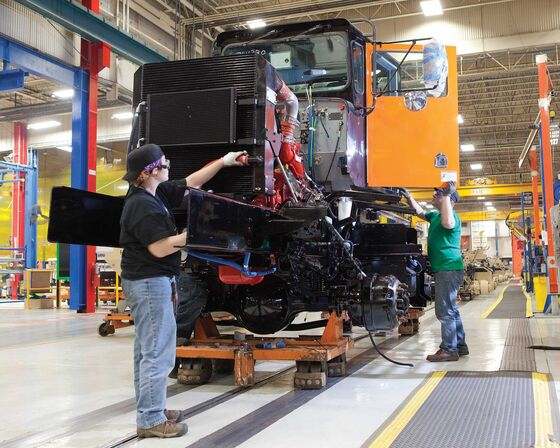 Shopping at the superstore on the outskirts of Oshkosh, Rudolph Zernzach says he's fine with paying a bit more to help Trump enforce fairer trade. "He's doing the right thing," says the retired dentist. "Whatever it takes for us to get China under control, I'm all for it."
Chad Schmelzer endorses Trump's objective, but he's less sure about his methods. "It's got to be done," says the prison guard, who described himself as an independent. "I just don't know if this is the way to do it. I think it needs a little more diplomacy."
Much is riding on the opinions of voters like them. Wisconsin was one of the Midwestern states that pushed Trump over the top in 2016—but only by the narrowest margin, 1 percentage point.
Two years later, Republican incumbents are locked in several tight races there. Governor Scott Walker is trailing Democratic challenger Tony Evers, a former high school principal, according to a poll by Marquette University. The same survey showed a narrow lead for Republican Representative Glenn Grothman in the district that includes Oshkosh. Meanwhile, Democratic Senator Tammy Baldwin is leading Republican challenger Leah Vukmir, a former nurse, according to the Marquette poll.
Nationwide, polls suggest Republicans may lose control of the House—undercutting the president's authority to carry out his aggressive trade agenda, which played well with blue-collar voters in 2016. After cutting deals with U.S. allies from Canada and Mexico to Korea, Trump is gearing up for the big fight, demanding China open its economy and stop stealing intellectual property. His leverage is America's shoppers: China needs to sell its goods in places like the Oshkosh Walmart.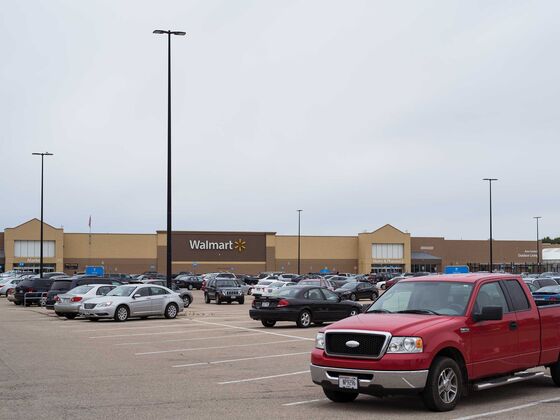 Chinese President Xi Jinping, who doesn't have to worry about the messy business of elections, may take the other end of that bet—questioning whether the U.S. has the political appetite for a long, bruising trade war, especially when it starts hitting consumers.
The tariffs Trump is threatening, plus the ones he's already imposed, would cover pretty much all of America's $530 billion in annual imports from China. At a 10 percent rate, they would cost the average U.S. household about $400 a year if retailers pass on the hike.
Stephen Moore, an economist who advised Trump during the 2016 campaign, acknowledges that there'll be "short-term pain." "You buy stuff at Walmart, it's going to cost more," says Moore, now a distinguished visiting fellow at the Heritage Foundation. "But if we can get China to make some real concessions, then the long-term gain can be good."
Economists say it could take months for the full costs of the tariffs to filter through. China, at least according to Trump, isn't waiting for that to happen. At the United Nations last week, the president accused Beijing of attempting to interfere in the midterms—to help his opponents.
Days earlier, China had placed a four-page advertising supplement in the Des Moines Register arguing that America "depends on China to provide low-cost imports that enable income-constrained consumers to make ends meet." The ad was partly aimed at Iowa farmers, who are getting caught in the trade crossfire as China retaliates with levies on soybeans and ginseng.
In neighboring Wisconsin, agriculture represents only about 1 percent of the $287 billion economy. Still, in a state that brands itself "America's dairyland" on car license plates, farmers have political clout. They were "already on edge because of the potential collapse of Nafta," says Jon Pevehouse, a political science professor at the University of Wisconsin at Madison. "When you put China tariffs on top of that, there's a lot of unease."
Manufacturers contribute up to 19 percent of Wisconsin's economic output, and some are already feeling the impact of Trump's trade policies. Harley-Davidson Inc., a state icon, said in June that it plans to shift production offshore to escape retaliatory tariffs in Europe. It hasn't reversed course even after the U.S. and European Union declared a truce.
With local jobs under threat, tariffs aren't especially popular in Wisconsin. An August poll in the state by Boston's Suffolk University found that only 31 percent supported levies on U.S. allies in Europe, Canada, or Mexico—though the figure rose to 39 percent for China.
The split is also strikingly partisan. Plenty of Democrats have railed against China over the years. But only 8 percent of Wisconsin respondents who voted for Hillary Clinton said they support the tariffs. Among Trump voters, the figure was 82 percent.
There are already signs that the trade war is becoming a drag on U.S. economic growth. As prices rise further, more Americans may start wondering what they're getting out of the conflict, says Dean Baker, senior economist at the Center for Economic Policy and Research, a think tank in Washington.
"In World War II, people understood there were shortages of sugar and other products. They understood we were at war," Baker says. "In this case, you look at higher prices and go, 'OK, what exactly is it we're trying to do here?' "
For now, Trump's hard-nosed approach to China has its admirers in Oshkosh. "They've been robbing us for years," says Rose Hanson, a retiree shopping at the Walmart. "He's the first president to have the guts to stand up to them."
To contact the editor responsible for this story: Ben Holland at bholland1@bloomberg.net, Cristina Lindblad