Trump Has a New Favorite Strongman in Khalifa Haftar
(Bloomberg Businessweek) -- On March 25, while Libya was preparing to receive the head of the United Nations, Prime Minister Fayez al-Sarraj placed a call to his rival, the military strongman Khalifa Haftar. In recent years the two had held most of their meetings abroad. Sarraj proposed that they meet again—this time at home—to put the final touches on an historic political deal that could unite the divided North African country.
A mild-mannered businessman with patrician features and a bushy gray mustache, the UN-backed prime minister hunches over his desk as he recalls his final conversation with Haftar. "There was no sense of anxiety. There was no sign," Sarraj says. The meeting was meant to take place the following week. Instead, on April 3, as UN Secretary General António Guterres landed in the country, Haftar launched an offensive on Tripoli. Riding machine-gun-equipped trucks, his troops blitzed through Ghariyan, south of the capital, before Sarraj could even muster his forces. Within two days, Haftar was on the city's doorstep, where he faced a hastily assembled coalition of militias from the capital and nearby Misrata.
While the timing may not have been deliberate, the attack nevertheless showed the futility of UN efforts to stabilize Libya since the 2011 fall of dictator Muammar al-Qaddafi. Since then, the oil-rich nation has been riven by rival administrations and militias, including an affiliate of the Islamic State that seized the city of Sirte before U.S.-backed Misratan militias drove them out.
A month after Haftar's attack, with hundreds killed and thousands displaced, talk of a political deal has been drowned out by the thuds of airstrikes and artillery barrages on the outskirts of Tripoli as Haftar's forces attempt to break through Sarraj's defensive lines. Mere mention of a cease-fire is seen as treasonous in the capital. "It was a stab in the back," Sarraj says.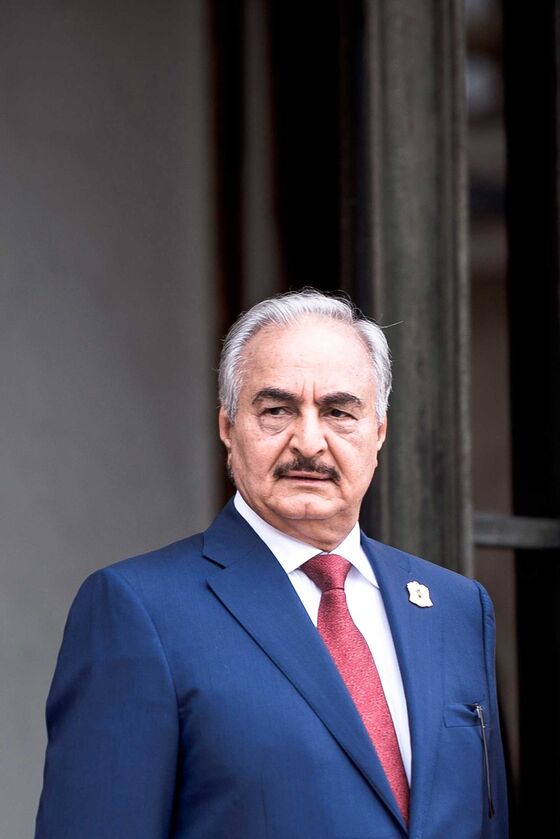 Haftar, 75, the leader of the self-styled Libyan National Army (LNA), shows no sign of retreating. Based in the east, he wants to bring his own harsh brand of law and order—which human-rights groups say includes battlefield brutality and suppression of free speech—to all of Libya. Giving up on that objective isn't an option for his backers in Egypt, the United Arab Emirates, and Saudi Arabia. They fear that a Haftar defeat, or even a show of vulnerability, would damage their standing in the strategic OPEC state and strengthen the hand of their rivals in Qatar and Turkey, who back Sarraj's government and the powerful militias in Misrata.
Egypt, Libya's eastern neighbor, had warned Haftar against the offensive, while the UAE had pushed for a political deal in a February meeting. After Haftar seized the south in a January offensive, his allies and the U.S. feared he would march on Tripoli next. At the UAE meeting, the U.S. told Haftar that the capital was off-limits.
But once Haftar ordered his troops to march on Tripoli, his allies had little choice but to back him and ensure he won, say two diplomats who requested anonymity because they're not authorized to speak to the media. "At this point, pro-Haftar countries are banking on the general's victory," says Claudia Gazzini, the International Crisis Group's senior Libya analyst. "It is difficult for them to stop short of a capture of the capital, and for this reason, despite the initial setbacks that Haftar's forces appeared to have received on the ground, this war is likely to continue." LNA spokesman Ahmed al-Mismari had said its troops would be welcomed there by grateful citizens and ululating women. They found stiff resistance instead.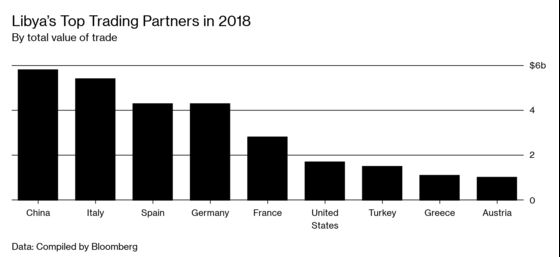 Egypt and the UAE appear to have scored their own victory by persuading U.S. President Donald Trump to come down on Haftar's side. After meeting Egyptian President Abdel Fattah al-Sisi and speaking to Mohammed bin Zayed, crown prince of Abu Dhabi in the UAE, at the end of April, Trump put in a call to Haftar in which he indicated his support, U.S. officials said. A statement released by the White House praised Haftar's role in fighting terrorism, referring to his victories against al-Qaeda-linked militants in the eastern cities of Benghazi and Derna.
At the UN Security Council, the U.S. went from supporting a British draft resolution calling for a cease-fire in Tripoli to threatening a veto if it went to a vote, said a diplomat who requested anonymity because of the matter's sensitivity. U.S. officials said Trump had been influenced by Sisi and bin Zayed. One suggested Trump didn't like to be on the losing side.
Attempts by European leaders to force a peaceful resolution have been toothless so far, since many have supported Haftar as the leader most likely to restore the rule of law. France balked at singling out the military leader for opprobrium, while Russia opposed language in the UN Security Council blaming Haftar for the violence.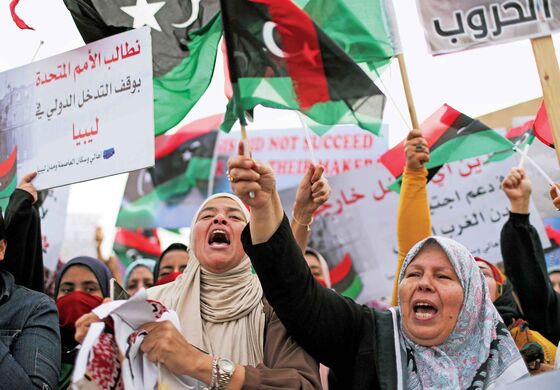 For now, the Libyan rivals largely have been left to fight it out among themselves. Opponents of Sarraj's government say he's weak and beholden to powerful militias—some with links to Islamist extremists Haftar fought in the east—and to the Muslim Brotherhood, which Egypt and the UAE have sought to extirpate and the Trump administration has moved to designate a foreign terrorist organization. Sarraj's supporters say he'd been slowly and carefully imposing civilian rule over the militias and integrating them into the state's security services. They argue that the offensive by the LNA—itself a coalition of militias under Haftar's command—has upended that effort.
Haftar had promised his foreign backers a quick breakthrough, says one Arab official who spoke on the condition of anonymity, but the offensive has stalled on the outskirts of the capital, with the battle lines shifting a few kilometers each day. "It's like a game of soccer," says Osama al-Juwaili, the Tripoli government's western district military commander. A former rebel leader who's become one of the most respected anti-Haftar commanders, Juwaili says he was fighting to forestall another Qaddafi. "We took part in the revolution to be rid of dictatorship," he says. "I'm fighting for a civilian state."
But he can't say when he thinks the war will be over and seems resigned that it will be resolved by fighting, not diplomacy. "We've completely lost trust in the international community," Juwaili says.
To contact the editor responsible for this story: Jillian Goodman at jgoodman74@bloomberg.net