Tom Barrack Wore Many Hats. Now an Indictment Hangs Over His Head
(Bloomberg Businessweek) -- Leading up to and during the presidency of Donald Trump, Tom Barrack, founder of investment firm Colony Capital Inc., sold Trump to skeptical Wall Street titans, lauded him at the Republican National Convention, helped lead his transition team, and raised $107 million as chairman of the inaugural committee that organized the celebrations marking Trump's ascendance. He was also, according to federal prosecutors, an unregistered agent for the United Arab Emirates.
His arrest on Tuesday is the latest blow in a long comedown for Barrack, who at 74 still radiates the tanned good health of a man who plays polo and makes wine. He lent decades of credibility built on Wall Street to Trump's campaign and presidency, a deal that has now gone bad. Much of the trouble stems from his proclivity for comity even when there's little room for it, as well as blindness to the failings of the royals and magnates with whom he fraternized.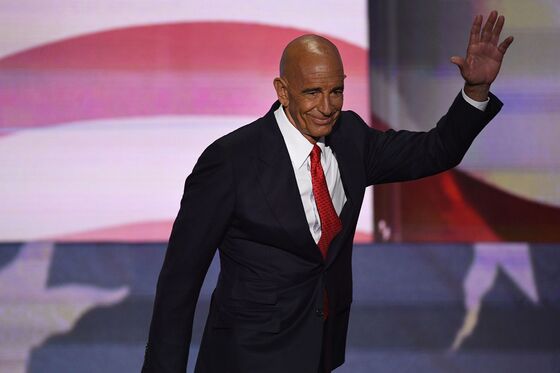 For most of his life, Barrack enjoyed playing the role of the CEO statesman, with geopolitics and cross-border investments intermingling freely. But that proposition became legally tenuous when he suddenly had direct access to America's commander-in-chief. It was difficult to determine what role Barrack was embodying at any given time—private businessman, de facto diplomat, trusted friend of the president—amid a swirl of deal talks across the globe. When Bloomberg Businessweek reported in 2018 on Barrack's involvement in Middle East affairs, Colony representatives did their best to thread the needle: "Barrack as chairman is responsible for creating a macro vision and expanding the global brand," an outside spokesman for the company said. "Politics around the world is an integral part of developing a vision."
The indictment filed in federal court in Brooklyn lays out allegations that Barrack was especially focused on developing the vision of high-level Emirati officials in Washington. Working with an assistant, Matthew Grimes, and Emirati businessman Rashid Al Malik, he talked up UAE views during TV appearances and pushed them to the Trump campaign and administration, the indictment says. Some of the dates mentioned in the indictment correspond with dates when Bloomberg TV aired interviews with Barrack.
In May 2016, Al Malik communicated that an Emirati official had confirmed that Barrack would be "the only channel" to Trump. Eleven months later, Barrack told Al Malik in a text message that Trump was weighing giving him yet another role, this time as an ambassador or envoy, which "would give Abu Dhabi more power!"—a reference to the capital of the Emirates. Al Malik replied, "This will be great for us. And make you deliver more. Very effective operation."
The role never materialized, despite Barrack having served as head of the inaugural committee, a job he likened to that of a wedding planner. (It had its perks: Al Malik got an invitation to the black-tie dinner hosted by Barrack that featured a red-wine blend from his California vineyard and performances by a Las Vegas dance troupe.)
The indictment charged Barrack with failing to register as an agent, as well as obstruction of justice and lying to federal officials during a 2019 interview. He was taken into federal custody in California pending a bail hearing on Monday. Matthew Herrington, Barrack's lawyer, said that his client is innocent and that he voluntarily made himself available to investigators.
The Foreign Agents Registration Act was designed to bolster transparency and help Americans better understand when foreign actors are pushing information or policy. The law has proved troublesome for other Trump associates, including former Trump campaign chairman Paul Manafort and former Trump fundraiser Elliott Broidy. Both were pardoned by the former president.
It's Broidy, the other Los Angeles-based investor turned Trump donor and UAE backer, who has always drawn the quickest contrasts from Barrack's friends. Broidy pleaded guilty to conspiring to violate FARA. Prosecutors said he was paid millions of dollars for work that included lobbying the government to drop the investigation into the 1Malaysia Development Bhd Fund. The Barrack indictment makes no mention of compensation for his advocacy of the Emiratis. He has always thrived in a more genteel world of kind deeds and thoughtful favors. Colony Capital continued to receive investments from Emirati investors during the Trump presidency, and in 2019 the company closed a fund that included its first investment from the Public Investment Fund, the sovereign wealth fund of Saudi Arabia, a close Emirati ally.
As Trump prepared to take office in 2017, Colony completed a disastrous merger that would send shares plummeting. And Barrack's relationship with the UAE was set to put the company in a deeper bind. In June 2017 the UAE and Saudi Arabia blockaded Qatar, one of Colony's biggest investors. Qatar's neighbors accused it of supporting terrorism, a claim it denied but that Trump backed.
Barrack, who has known Trump since the 1980s when he arranged to sell him the Plaza Hotel, makes a point of talking about how he's friends with everyone. He's conflict-averse and is especially accommodating to royal families that steer large sovereign wealth funds. Barrack had helped the Qataris gain control of Claridge's hotel in London, coordinated the construction of a sheikh-size Bel Air mansion, and bolstered their stateside political ties. But now the Emiratis and Saudis were using their influence in the Trump White House to isolate Barrack's old friends in Qatar.
Suddenly Barrack was less ecstatic about pushing the Emirati position. According to the indictment, he proposed to Al Malik that representatives from the UAE, Qatar, and other governments meet at Camp David, the presidential retreat in Maryland where Egypt and Israel hammered out a Nobel Prize-winning peace agreement. Al Malik "did not believe such a meeting was in the interests" of the UAE, the indictment says.
When that went nowhere, Barrack found himself in the awkward position of having to play both sides. He told the Washington Post that he was sometimes "shocked" by the president's rhetoric and that he had advised Trump not to get involved in the blockade. But that required its own damage control. According to prosecutors, Barrack then told Al Malik that the newspaper had failed to include positive statements he'd made about a person identified in the indictment as "Emirati Official 1," an apparent reference to Sheikh Mohammed bin Zayed, the Crown Prince of Abu Dhabi.
Things did not look up from there. In 2019, as the world condemned Saudi Arabia for the murder of journalist Jamal Khashoggi, Barrack told Milken Institute conference attendees it would be a mistake to judge the Saudis for that. (He later described the killing as "atrocious.") Then Jared Kushner unveiled, and received the plaudits for, a détente between the UAE, Israel, and Saudi Arabia that Barrack had pitched years earlier.
By early 2020, shares of Colony had fallen 80% from their peak, triggering an activist letter that described Barrack as a "remote, part-time CEO" and called for his ouster. Despite holding about 2% of the company's shares, the activist, a little-known company called Blackwells Capital LLC, won four board seats. Barrack stepped down, first as chief executive officer in 2020 and then as executive chairman earlier this year. The company has been renamed DigitalBridge Group Inc., more befitting of its new focus on infrastructure such as cell towers and data centers, a line of work that one Barrack friend says he found boring. Amid the strategy shift, shares have more than doubled since a replacement CEO was announced.
In an interview on July 13 with Bloomberg TV's Erik Schatzker, Barrack, dressed in dark jeans and a gray, long-sleeve top by Zegna, didn't give any indication that he knew an arrest was coming. In fact he was starting a new family office that would work with investors in the UAE, Saudi Arabia, and Qatar. It would be called Falcon Peak, an apparent reference to the national bird of the Emirates. "The region," he said, "is so complicated."
 
Read next: Trump's Mar-A-Lago and the Florida Coast Become a GOP Power Base