TikTok Looks Like a Dangerous Dance Move for Nadella's Microsoft
(Bloomberg Businessweek) -- For the better part of a decade, Microsoft Corp. has largely steered clear of the kinds of products and services that stir up controversy—it is, after all, a company whose boldest foray into social networking is the buttoned-down LinkedIn. A deal to buy the video streaming app TikTok, an idea President Trump is pushing, would change all that, landing Microsoft in the kind of political minefield it's managed to avoid in recent years. "Microsoft has happily stayed out of the techlash so far," says Ashkhen Kazaryan, director of civil liberties at TechFreedom, a libertarian think tank in Washington. "If they get TikTok, that's going to change."
Four days after the bosses of Amazon.com, Apple, Facebook, and Google were blasted as "cyberbarons" in congressional hearings—a grilling Microsoft was spared—the company said it was in talks to buy TikTok. Like other social media companies, TikTok faces criticism that it hasn't done enough to battle harassment and hate speech. A purchase would be a major shift for Microsoft, potentially exposing it to the kinds of concerns that landed its rivals in trouble with lawmakers: privacy, misinformation, political debate, and the protection of minors. "Any company that voluntarily enlists in the content moderation wars is a glutton for punishment," says Nu Wexler, an independent communications consultant who has worked at Twitter, Facebook, and Google coaching executives on how to deal with Congress.
TikTok initially became a hit among teenagers posting silly videos—typically just a few seconds long—of themselves singing, dancing, and goofing around, often challenging friends to respond with similar clips. As people across the globe looked for ways to ease the ennui of lockdown this spring and summer, TikTok swelled into a torrent of bite-size content. Today it's a profitable business with worldwide sales of about $2 billion a year, Wedbush Securities Inc. estimates. The app has been downloaded more than 2 billion times globally, including 165 million U.S. downloads, giving it the potential to challenge Facebook Inc. and Google for online advertising.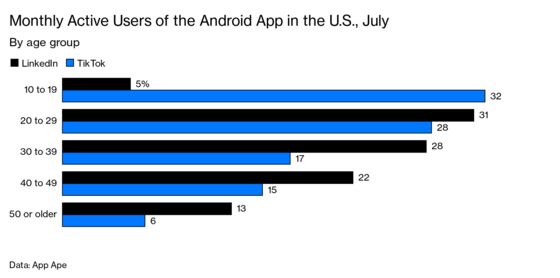 That growth has brought scrutiny from U.S. lawmakers, who say ByteDance Ltd., the owner of the service, might be harvesting Americans' data on behalf of the Chinese government. This spring, Trump got involved, saying he wanted to restrict TikTok for security reasons and to punish China for its handling of the coronavirus. On Aug. 6, Trump escalated his squabble with China, signing a pair of executive orders barring Americans from doing business with TikTok and the WeChat messaging service from mid-September. For TikTok, at least, there's a potential way out via a Microsoft deal. ByteDance has repeatedly denied allegations that it shares data with the Chinese government. But after it became clear Trump wasn't going to back down, the company indicated it might be open to selling part of its video service.
A purchase would steer Microsoft into treacherous territory, as many users are children, sometimes dressing or dancing provocatively or exchanging messages with adults without parental consent. And mixed in with all the goofy stuff are clips promoting dangerous Covid-19 conspiracy theories, nationalists raging about undocumented immigrants, or white supremacists calling for the murders of Jews and Black people. In the second half of 2019, TikTok took down almost 50 million videos it deemed inappropriate—more than triple the number YouTube deleted in the same period.
Last year the U.S. Federal Trade Commission fined TikTok $5.7 million after determining the personal information the app collected from children broke U.S. privacy laws. And it's now the subject of a further inquiry by the FTC and the U.S. Department of Justice over allegations it didn't clean up its act, according to privacy advocates who say they've been interviewed by the agencies. One of those people, Josh Golin, executive director of the Campaign for a Commercial-Free Childhood, notes that Microsoft has dealt with child safety before, particularly for services on its Xbox game consoles. And the company in 2009 developed PhotoDNA, a web scanner that hunts down photos and videos of sexual abuse of children. But the trust and safety problems at TikTok go far beyond what Microsoft has faced in the past, Golin says. "It's easier to crack down on those things from the beginning," he says. "When you inherit a site where those practices are already so ingrained, it's much more difficult."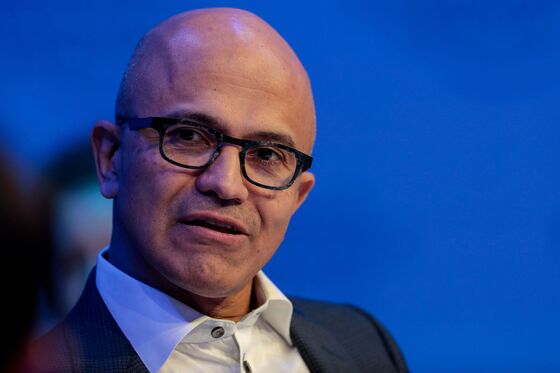 With $137 billion in the bank, Microsoft can easily afford a cash deal, according to Bloomberg Intelligence. But it's wary of overpaying, especially because the pressure from Trump makes TikTok look like a distressed asset. At the same time, Microsoft will want to avoid going so low that China feels ripped off, according to a person familiar with the matter who asked not to be named discussing internal deliberations. Microsoft has a delicate relationship with China: Although some of its products have been banned and the mainland makes up less than 2% of the company's revenue, the government has allowed joint ventures selling the Xbox console and cloud services. Microsoft operates censored versions of LinkedIn and the Bing search engine there, and since the 1990s it's had a research lab in Beijing, which now has more than 200 scientists. Critics— notably including White House trade adviser Peter Navarro—say that's all evidence Microsoft is soft on China.
Under discussion is a deal in which Microsoft would own TikTok in the U.S., Canada, Australia, and New Zealand and ByteDance would retain the rest, which would create a host of concerns over technology transfer and branding, according to the person familiar with the company's thinking. Bridging the gap between two owners would make content moderation a major headache, as the two sides might have very different views of what should be allowed or banned, the person says. There are already multiple versions of TikTok for various regions, often employing code from Musical.ly, an app ByteDance acquired in 2017. With ByteDance engineers in China still working on TikTok, it's unclear how Microsoft could split the code and the underlying technology to ensure it's free from Chinese interference.
Since Satya Nadella became Microsoft's chief executive officer in 2014, shares have risen almost fivefold and the company has returned to the ranks of leading tech powerhouses. But while Nadella's strategy has been profitable, he has focused on relatively boring stuff such as enterprise applications and cloud computing—and besides the Xbox, there's little in the way of consumer business. Some previous attempts to move beyond stodgy corporate applications—Nokia and Skype come to mind—have been unmitigated disasters, leaving the impression that the company lacks the chops to succeed with consumers. TikTok could change that narrative, which spurred executives to begin exploring a purchase about a month ago, according to a person familiar with the situation.
Nadella has overseen three big acquisitions—the Minecraft computer game, LinkedIn, and GitHub, a collaboration platform for software developers. Each of those brought in large groups that Microsoft understood: gamers, white-collar workers, and coders, says S. Somasegar, a venture capitalist who worked at Microsoft for 27 years. The teens and young adults who make up the bulk of TikTok users are a less obvious fit—though Somasegar says a deal might nonetheless work. "Is it a risk? Absolutely," he says. "But if you don't take risks, you turn into a mediocre company."
 
Read next: Bill Gates On Covid Vaccine Timing, Hydroxychloroquine, and That 5G Conspiracy Theory