Think Government Is Big? You Shoulda Seen It in 1984
(Bloomberg Businessweek) -- The federal government had 2.8 million civilian employees in January. That number includes the 800,000 or so people who weren't getting paid because of the partial government shutdown, plus 606,900 postal workers. It doesn't include 1.3 million active-duty military or those employed via government contracts and grants, estimated to be 5.2 million full-time-equivalent positions in 2017 by Paul Light of the NYU Robert F. Wagner Graduate School of Public Service.
That adds up to about 9.3 million people who get their paychecks—when they get them—directly or indirectly from the federal government. That sounds like a lot, but it represents a much smaller share of the U.S. workforce than it used to. The chart below shows only civilian federal workers, but Light's estimates, which go back to 1984, don't change the overall trajectory other than to show a big rise in contract employment during the 2000s that has since mostly reversed. In 1984 there were almost 9.8 million federal workers of all stripes.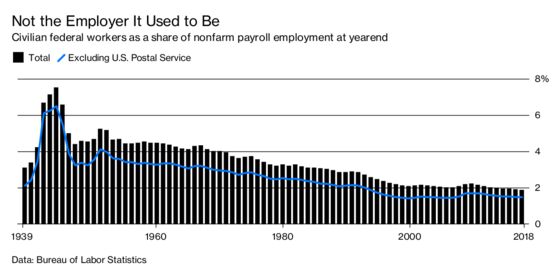 Meanwhile, even though federal spending has more than doubled since 1984, adjusted for inflation, it's declined slightly as a share of gross domestic product. And with most federal dollars now going to Social Security, Medicare, and other programs in which money is transferred from one set of Americans to another, spending on everything else—infrastructure investment, the military, government agencies—is down sharply as a percentage of GDP. It's something to keep in mind as Washington drags itself toward another potential shutdown, and maybe even a debt-ceiling showdown in the coming months: Big government has by most measures been getting smaller.
Federal government consumption expenditures and gross investment—a measure of federal spending that includes salaries but not benefit payments and the like—fell to 6.4 percent of GDP in the third quarter of 2018, down from an average of 10.1 percent in the 1980s and 14.8 percent in the 1950s.
For fiscal year 2018, 52 percent of federal spending went to Social Security and government health programs, says the Office of Management and Budget.
U.S. Postal Service employment peaked in April 1999 at a seasonally adjusted 909,000. It's fallen by 35 percent since then.
Almost 60 percent of federal workers were 45 or older as of September 2017, reports the U.S. Office of Personnel Management, compared with 44 percent of U.S. workers overall.
 
—Fox is a business columnist for Bloomberg Opinion.
To contact the editor responsible for this story: Jillian Goodman at jgoodman74@bloomberg.net, Eric Gelman