The Wing Gets $75 Million to Expand Its Working Women Collective
(Bloomberg Businessweek) -- On a recent Monday evening in New York's Flatiron district, dozens of women in pantsuits and pumps, beanies and bandannas, materialize as if conjured from the sidewalks. They gather upstairs in an airy 12th-floor penthouse to hear Rebecca Traister, a New York magazine staff writer Anne Lamott called "the most brilliant voice on feminism in this country," discuss the power—and limitations—of women's rage.
"Why is capitalism the only system feminism can exist within?" she asks the audience. The room is silent. There's a shifting of bodies.
Traister has posed the central paradox of the Wing, an exclusive co-working and community space that caters to the needs and desires of professional women. The interior has a distinct look—a kind of feminine "airspace" with oversize windows that let in natural light for succulents and highlight the blond wood floors. Communal tables are dotted with library lamps and centerpieces, and the walls are lined with books by female authors, carefully organized by color. At the margins of the open-concept spaces, members can retreat to lactation rooms, beauty stations with complimentary Glossier or Chanel products, and private nooks named for Christine Blasey Ford, Hermione Granger, and other heroines.
During business hours the workspace is frenetic. A black mother debates the politics of representation with a friend as she considers running for office, while a barefoot 20-something orders a "Fork the Patriarchy" grain bowl from a cafe called the Perch. Winglets, as members are called, fundraise, hire, consult, and collaborate. At night the velour-covered couches are moved aside, replaced with pink folding chairs and a temporary stage, transforming the space into a hyperstylized town hall. Women sip cocktails with pithy names like "Grab 'em by the Ballot" and listen to featured speakers and panelists such as Alexandria Ocasio-Cortez, Tina Fey, or the cast of The Handmaid's Tale. Some seek viewership or book sales, while others dispatch business wisdom, but anyone who steps onstage knows she'll find a diverse and influential audience.
This network comes at a high price. After two years the Wing boasts more than 6,000 members at its five locations in New York, San Francisco, and Washington, D.C. Once their applications are approved, members pay $2,350 a year for one space or $2,700 for access to every location in the U.S. The Wing's fees have produced a steady revenue stream that grew 500 percent this year through October, according to the company. And demand is not slowing—35,000 women remain on a waitlist hoping to be accepted into a group that could bolster their network and, potentially, multiply their net worth. The founders believe their company will level the playing field for business-savvy women, who remain underrepresented and undervalued in the workforce.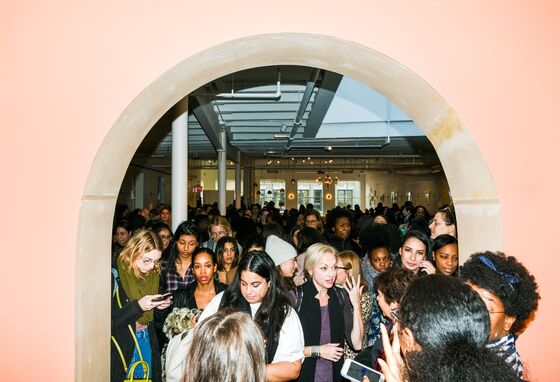 Men at the highest echelons of Wall Street and Silicon Valley have never been the best gauge of the needs and desires of working women, co-founder and Chief Executive Officer Audrey Gelman explains over brunch at Little Park in Tribeca. And with only 2.2 percent of venture capital going to companies founded by women, according to PitchBook Data Inc., they don't often invest in the businesses that do. "The investor community I first encountered when I set out to fundraise was very pale, male, and stale," she says.
But on Dec. 18, the Wing closed a $75 million funding series led by Sequoia Capital, including investments from Valerie Jarrett, Kerry Washington, the Time's Up Legal Defense Fund co-founders, Kara Nortman of Upfront Ventures, and four players on the U.S. Women's National Soccer Team. "It's really powerful when you see women on both sides of a major venture transaction," says Gelman, 31, who's raised a total of $117.5 million for her company.
The Wing also attracted money from other corporate giants that have sought to capitalize on physical communities in an increasingly digital world. The latest round saw new funding from Airbnb Inc. and renewed investment from WeWork Cos.—the latter of which owned a quarter of the startup as of December 2017, according to a bond document reviewed by Bloomberg Businessweek. The Wing will open as many as 12 locations by the end of next year, including outposts in London, Paris, and Toronto.
But given the inherently exclusive nature of the club, it hasn't been universally supported by or accessible to many women. One solution would be to expand beyond physical spaces into a digital platform with a wider potential reach. To turn the Wing into a billion-dollar business, Gelman and her co-founder, Lauren Kassan, who's also 31, will have to take what they've described as an "offline social network" online.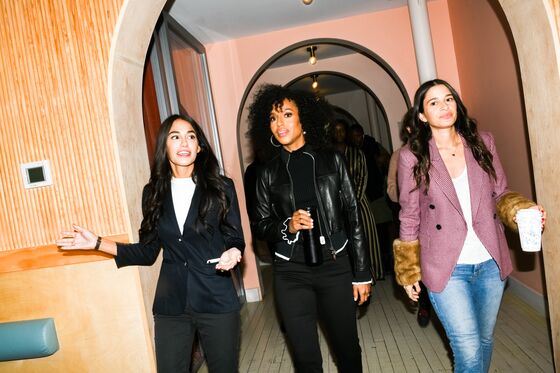 A former political consultant, self-described branding nerd, and recent honoree on Bloomberg Businessweek's annual list of the 50 most influential people, Gelman is confident and sarcastic. "I guess I'm a businesswoman," she says, shrugging. When she was only 26, the New York Times called her a "political ingénue," citing her fashion sensibility, celebrity connections, and "Let's Go Mets" inner-lip tattoo. Kassan, the level-headed operations chief who previously built up fitness-class-booking company ClassPass, balances her ambitious vision for expanding the Wing.
The Flatiron location opened a month before the 2016 presidential election with 200 founding members. As Election Day shifted to night, women held hands and shed tears when Hillary Clinton's campaign came up short. The feminist resistance to the Trump administration has since given the company its shape and voice. This is not entirely by chance—many of the Wing's current executives came from the political sphere, where they served as press aides and consultants. "They're finding a way to transform anger into energy," says member Joy Howard, Lyft Inc.'s chief marketing officer. "I signed up immediately."
Timing is everything, explains Susan Lyne, former CEO of Gilt Groupe Inc. and current president of BBG Ventures LLC, which invests in women-founded businesses. "Often the best founders hone in on a cultural moment and are able to read it before other people," she says. Lyne was one of the Wing's earliest investors.
The Wing is already many things: co-working space, media company, and startup accelerator. It wants to be many other things in the future, and that's the point—it's an amorphous and expanding manifestation of female professional desire. "It's not a company, it's an experience, phenomenon, culture," says Elizabeth Cutler, a co-founder of SoulCycle and an early investor. "The last thing that people can't measure is vibe," she says.
No venture is out of reach as long as it's oriented to the company's "feminist North Star," Kassan explains. "We're often fed products or ideas by companies run by men, but that's not always what women need them to be or want them to be." If they want it, the Wing will build it.
To date the company has rolled out a number of products and services to meet that demand, including an $18 biannual print magazine, No Man's Land, which has produced features on Chelsea Manning, Jessica Williams, Hari Nef, and Tavi Gevinson—all of whom are members. There's a podcast, hosted by in-house historian Alexis Coe, who describes it as a show "about women who were too bad for your textbooks." There's even Wing merch: Keychains proclaim "Girls doing whatever the f--- they want in 2018"; hats and tote bags identify their owners as members of a "League of unusual women."
In November the company introduced the Little Wing, an on-site day care service. "Everything we have done has come from a real need for each of us, not just from a business standpoint," Kassan says. "When I was around five months pregnant, I noticed I was already getting unsolicited, but appreciated, recommendations from members for child care." If members were struggling to find care, she reasoned, why not provide it for them?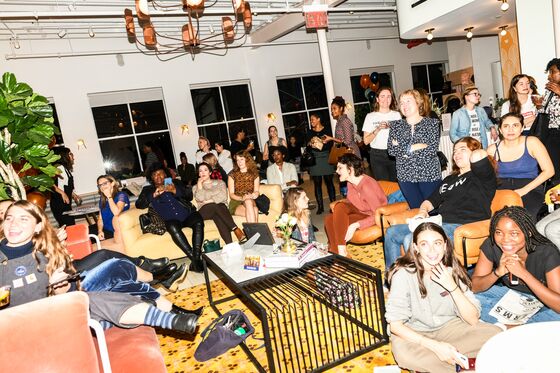 The company's newest product, a social and professional networking app, channels the space's in-person benefits into a digital experience. The current version matches members based on the services they can offer and those they need. A member might find a legal consultant, or an angel investor, or a last-minute babysitter. While the app will ultimately be offered to the general public, the founders wouldn't comment on how the company intends to monetize a tiered digital membership.
The Wing struck a chord with a highly engaged set of customers, says Tony Florence, a general partner at venture capital firm New Enterprise Associates, which led the company's first funding series and re-upped this round. It has more than 360,000 followers across social platforms—an unusual feat for a company with just 6,000 members that claims not to have spent a dime on marketing. "But now there's an opportunity to have tens of millions of women engaged digitally," Florence says.
Gelman says the brand's digital presence continues to grow by a "viral coefficient." Online, the Wing presents as a place for progressive millennial women hip to internet memes and prone to witchy witticisms, and its founders refer to the community they've created as the "coven." As it looks to expand, the company says it will allocate more money to marketing to introduce the brand to a wider audience.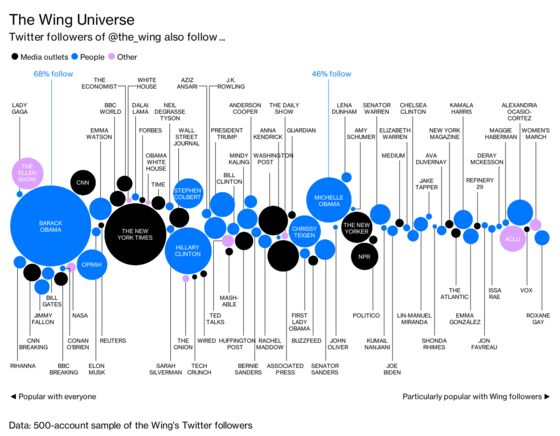 The company has alienated some people along the way, drawing lawsuits, think pieces, and social media protests. Critics have accused the company of discriminating against men and gender nonbinary people, constructing a progressive-politics echo chamber, and excluding those who can't afford the membership fee. "It's an example of capitalist excess," says Danielle Drori, a literature professor who discontinued her membership in the Wing in Brooklyn's Dumbo neighborhood. "They're deploying a feminist language to promote a business, not a social movement. It's just another product for wealthy women to buy."
The company is aware of its critics. "As women, I think we are constantly looking for ways to figure out how we're doing something wrong," says communications director Zara Rahim, noting that the expensive membership fee is used to sustain initiatives that bolster socioeconomic diversity. "Our feminism isn't good if it's not intersectional," she says. Next year the Wing will grant 300 free memberships to people who work at nonprofits and in other low-paying jobs. The company also recently introduced a $16.50 minimum wage, access to health insurance, stock options, and a 401(k) for all its employees.
Nicole Gibbons, a member who discovered the Wing by way of Instagram, notes that it offers the cheapest membership of all the co-working spaces she considered. A WeWork membership in New York can cost more than $7,000 a year, and it doesn't offer speaker events, networking panels, or beauty products and showers. The Wing "had the best value," she says. It paid off—Gibbons built an on-demand paint business through its network and named her palest pink "WingIt" in honor of the place that helped get her business off the ground.
Gibbons also notes that the Wing was the only co-working space where she didn't feel like an outsider. "Being a black woman, I don't often see women who look like me in private club environments. The industry is designed so that women, people like me, are super marginalized. But this felt like a place I belonged."
Rebecca Traister, who was incorrectly introduced as a member of the Wing at her event, professed a lingering ambivalence toward the club. "Do I have anxieties and complicated feelings about branded feminism? Yes. But I'm very mixed," she says. "Like most things in life, it can be many things at once."
Granting women a different means of accessing the professional network may address some of these criticisms while helping the Wing scale up. "It's important for people to engage with the brand and our mission even if they can't belong or join or be a part of our space," Kassan says.
Sequoia Capital partner Jess Lee, who spearheaded the most recent funding series, notes that the pace of growth—and the amount of capital raised—is historic for a female-founded business. "We look for the legendary companies that will span the test of time, whether that's Google, Cisco, Yahoo!, or Apple," Lee says. "The Wing has gathered a powerful network of women, and there's an opportunity to bring that online."
But while investors may be champing at the bit to throw capital behind an unclassifiable feminist dream, the truth is, they don't know what it looks like. The Wing's co-founders aren't ruling anything out, as long as every new product or service helps women in business surpass the hurdles that have long held them at bay, whether that's capital, child care, or a blow dryer.
Dressed in blazers and heels, Gelman and Kassan carefully creep down a tenement staircase in their SoHo office to a construction site. The fourth floor, still a mass of metal beams and sheets of drywall, will eventually become a 10,000-square-foot addition to their most in-demand location. The women pore over blueprints as male construction workers retreat to the edges of the room. Copper wires dangle from the ceiling like holiday tinsel. "I never envisioned a world where opportunities like this could exist for women," Gelman says. So she built one. "We've never felt constrained by the traditional parameters."
To contact the editor responsible for this story: Josh Petri at jpetri4@bloomberg.net