Video Game Boom Is Also Magnifying Industry's Ongoing Problems
(Bloomberg Businessweek) -- The pandemic has sent Hollywood into a tailspin, plunged travel into its deepest funk in memory, and left restaurant owners on the brink of starvation. And video game makers? They're thriving.
People stuck at home for months picked up controllers and consoles to ease the lockdown blues by stealing cars, hunting zombies, and planting trees in villages full of talking animals. The industry's second-quarter U.S. sales jumped 30% from the previous year, to $11.6 billion, according to researcher NPD Group Inc. Shares of Activision Blizzard Inc. are up 46% this year, Nintendo Co.'s profits quintupled from April through June, and Roblox—a game platform where kids hang out and teachers sneak lessons into the mix—climbed from 115 million users in February to 150 million in July. Electronic Arts Inc., maker of games such as Madden NFL and FIFA soccer, says it added "tens of millions" of new players during the outbreak. "This is an unprecedented time, and it was an unprecedented first quarter for our business," Andrew Wilson, EA's chief executive officer, told investors on July 30.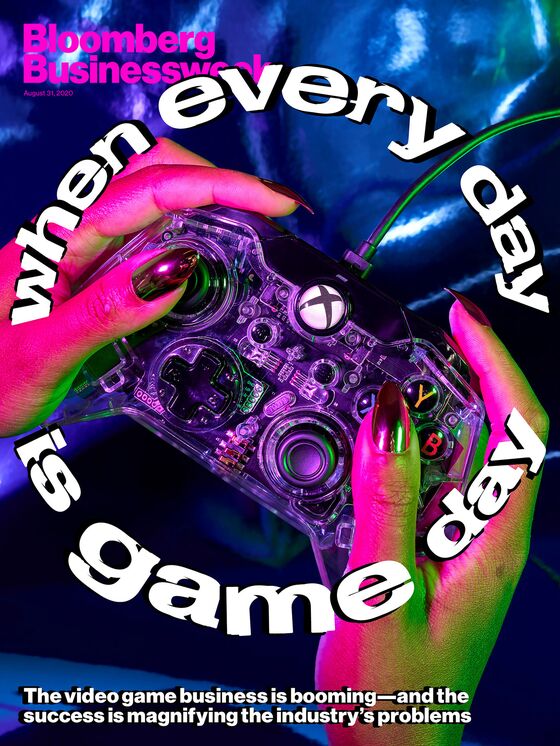 The boom has supercharged what was already an extremely lucrative business. Gaming companies are developing franchises along the lines of Hollywood's endless streams of sequels, but games can rake in far greater sales than even the biggest films—with no need to fret about bruising actors' tender egos. "The biggest video games are much more profitable over time than any movie that's ever been made," says Matthew Kanterman, an analyst with Bloomberg Intelligence.
In the lockdown, at least one player has been emboldened to take on the behemoths of tech. Epic Games Inc. is battling Apple Inc. and Google over the 30% cut the companies take from game sales on their platforms. Epic says the fee—which has its roots in 1980s Japan and the era of chunky cartridges and primitive consoles—is outdated and unfair. Epic's Fortnite, estimated to generate more than $1 billion a year from in-game sales of cosmetic extras, has given players the option to buy add-ons directly. That cut out Apple and Google, prompting them to remove Fortnite from their app stores.
Even before the pandemic, 2020 was primed to be a blockbuster year, with a host of top-line titles teed up. And this fall, Sony Corp. and Microsoft Corp. will release their powerful next-generation consoles, the PlayStation 5 and Xbox Series X, heralding richer graphics. For gamers that's a big deal, as these generational leaps come around only about once every seven or eight years, so they'll shape the gaming landscape for the next decade.
Sony will continue its strategy of exclusive games such as The Last of Us Part II, a post-apocalyptic action thriller with cinematic production values that has filled the gap left by shuttered movie theaters. Microsoft is going all-in on Xbox Game Pass, a subscription service that's like the Netflix of gaming, offering access to hundreds of titles for $5 to $15 per month. That's good for the software giant, because the next installment of its Halo franchise has been delayed, leaving the new Xbox without a flagship attraction. "Microsoft is aware that the most effective weapon in their arsenal is the Xbox Game Pass," says George Jijiashvili, an analyst at research company Omdia, who expects Sony's new console to outsell the Microsoft machine. "If they can't compete on hardware sales, they need to compete in other areas."
Yet while the industry is among the most sought-after places to work these days, many people who make games feel exploited and discriminated against. Across the industry, coders and designers describe a frat-house mentality and hostility toward women. So-called crunch—toiling nights and weekends with little or no extra compensation for weeks or months—remains a systemic problem. And the industry still embraces employing "permatemps," who work alongside full-time colleagues but lack benefits and job security.
Although video game makers have undeniably prospered in the pandemic, it has taken its toll on productivity and will slow the arrival of titles due this fall and into 2021. With the shift to working from home, almost half of developers say they've been spending more time in front of their screens but getting less done, according to a July survey by the Game Developers Conference. And a third of participants said the outbreak had delayed some titles: In addition to Halo Infinite, dozens of releases have been postponed. If the delays keep getting extended and the recession eats into consumer spending, the buoyant mood might grow more somber. "The uncertainties and unknowns could give a Tolstoy novel a run for its money," says NPD analyst Mat Piscatella. "We have the pandemic, the election, unemployment—the list goes on and on." —With Dina Bass