The Tough Negotiator Turning Trump's Trade Bluster Into Reality
(Bloomberg Businessweek) -- The diorama in the corner of Robert Lighthizer's office looks like any other Revolutionary War scene until you learn the story behind it. Portrayed crossing the Delaware ahead of the 1776 Battle of Trenton is George Lighthizer, the Bavarian-born ancestor of Donald Trump's trade czar and a volunteer in George Washington's Continental Army. The message to visitors is clear: Patriotism goes way back in the Lighthizer clan.
"We've probably got some horse thieves in there," Jim Lighthizer, the U.S. trade representative's older brother, says of the family lineage. "But there's no traitors."
Wilbur Ross, the investor and turnaround king who is secretary of Commerce, and Steven Mnuchin, the ex-investment banker who heads the U.S. Department of the Treasury, have been the TV-friendly generals on the front line of Trump's escalating trade war with China. But the official increasingly in charge of translating the president's often vague and impulsive protectionism into a battle plan is his trade representative.
Little known outside Washington trade circles, the 70-year-old Lighthizer, who declined requests for an interview, is an ascending figure in the Trump administration. He's also a longtime China hawk who has spent years preparing for an economic war with Beijing.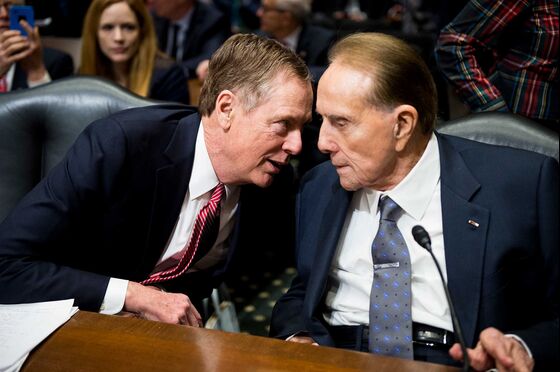 Lighthizer has been working with his peers in Mexico and Canada on a revised Nafta that's getting closer to fruition. He's also Trump's top negotiator in talks with the European Union and Japan. Most crucially, he is the architect of Trump's tariff-driven assault on China, and that's how he wants to be remembered. "We clearly have a chronic problem with China," he told a Senate hearing in July.
"He believes strongly that the endgame is China," says Jim Lighthizer, adding that his brother isn't counting on a quick victory. "He believes that it is going to be a long, long haul with China."
On Sept. 17, Trump ordered his administration to levy 10 percent tariffs on about $200 billion in Chinese goods and to increase the rate to 25 percent in January if Beijing refuses to offer trade concessions. The latest round of duties comes on top of a 25 percent tariff already imposed on about $50 billion in Chinese goods.
If Lighthizer is seen to be driving policy on China, it's because both Ross and Mnuchin have failed to bring Trump a Beijing deal he can live with—and for that they've been publicly rebuked. Asked what he had learned about negotiating with the Trump administration after the U.S. and Mexico announced an agreement in principle on Nafta in late August, Mexico's economy minister, Ildefonso Guajardo, says: "Any deal where Lighthizer is not responsible for the architecture doesn't see the light of the day."
Lighthizer's standing is built in part on his extensive experience as a high-stakes negotiator. In the Reagan administration he served as deputy U.S. trade representative and led talks with Tokyo geared at reducing the then large trade deficit with Japan. After an acrimonious round of Nafta negotiations in Montreal earlier this year, he recounted how he had once smoked an entire box of Cuban cigars in a windowless room to disarm his Soviet interlocutors during 1980s talks on lifting a grain embargo.
After leaving the Reagan administration, Lighthizer made a fortune as a swaggering, Porsche-driving lobbyist-cum-lawyer for the steel industry at Skadden Arps, Slate, Meagher & Flom LLP. Visitors to his home in one of Washington's toniest neighborhoods are greeted by an almost life-size portrait of him. "It's not a miniature," Jim Lighthizer says. "You couldn't fit it in a locket, I'll tell you that."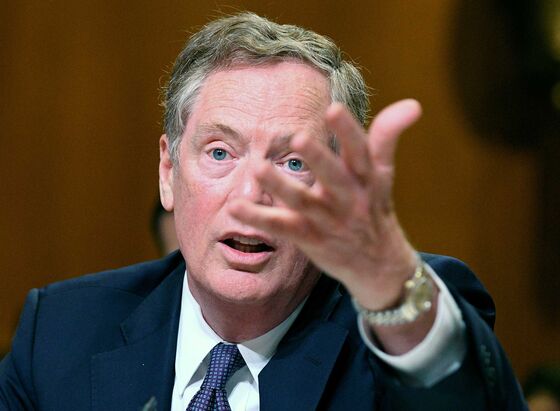 While the portrait sounds Trumpian, one of the keys to Robert Lighthizer's success in the administration has been his careful avoidance of the spotlight. In a White House where the internal combat between protectionists like White House trade adviser Peter Navarro, the economist and author of such books as Death by China, and more pro-business members has produced such high-profile casualties as Gary Cohn, the first head of Trump's National Economic Council, the U.S. trade representative seems to float above the messy battlefield.
In part, that's because Lighthizer is a veteran practitioner of Washington politics. He was chief of staff of the U.S. Senate Committee on Finance in the late 1970s under future GOP presidential nominee Bob Dole, who remained a mentor and introduced him at his 2017 confirmation hearing.
Throughout his career, Lighthizer has demonstrated an ability to overcome Washington's partisan divides and drawn kind words even from critics. Bill Brock, Reagan's U.S. trade representative and a vocal critic of Trump's trade policies, calls his former deputy "enormously talented." He worries, though, that the administration is spreading him thin. "Bob Lighthizer is an enormously strong and intelligent person," Brock says. "But you can't be in multiple places simultaneously."
Almost uniquely in the administration, Lighthizer has managed to forge alliances with Democrats. Sherrod Brown, the Ohio senator and a longtime critic of U.S. trade policy, Nafta, and Trump, calls him "a great person to lead our trade policy as we work to crack down on countries like China that cheat the rules." It helps that Brown's wife, like Lighthizer, grew up in Ashtabula, Ohio, a blue-collar town near Cleveland, and that the U.S. trade representative knows enough to quote Bob Dylan when he and Brown sit down to talk trade. (Dylan rhymed "Ashtabula" with "Honolula" in You're Gonna Make Me Lonesome When You Go.) "Bob hasn't forgotten where he comes from," Brown says. Lighthizer is less sentimental. "It never seemed like a good idea to go back to Ashtabula to live," he told a Washington audience earlier this year.
If Trump's attitude toward trade is instinctual, Lighthizer's is the result of a forensic reading of history and years of going against the Republican grain on the issue. When Trump flirted with a run for president in 2011, Lighthizer endorsed what were then seen as the reality TV star's unorthodox views on protectionism. He defended them as having roots not only in Alexander Hamilton's approach to protecting American manufacturing but also the policies of more recent conservatives such as Richard Nixon and Reagan. "Mr. Trump's GOP opponents accuse him of wanting to get tough on China and of being a protectionist," Lighthizer wrote in the Washington Times at the time. "Since when does that mean one is not a conservative?"
In an essay published this summer in Foreign Policy, Quinn Slobodian, a history professor at Wellesley College, identified the emerging doctrine of "Lighthizerism," calling it "the economic philosophy most responsible for guiding the Trump administration" and predicting that it would last for years.
The basis of Lighthizer's philosophy is a view that U.S. trade policy since the 1980s is best described as a series of mistakes. He and those close to him argue the U.S. misplayed the Uruguay Round of negotiations that led to the 1994 creation of the World Trade Organization and the birth of a binding dispute settlement system that can overrule U.S. trade moves. Likewise, in a report earlier this year, his team argued that the U.S. had made a fundamental error in allowing China to join the WTO in 2001.
Lighthizer also shares Trump's belief that the U.S. trade deficit in manufactured goods, which has grown steadily since 1975, is a symptom of things having gone very wrong. Yet while Trump has fingered a number of countries as culprits, Lighthizer heaps the blame predominantly on China, which he accuses of gaming a global trading system that failed to cope with the nation's rise.
In congressional testimony in 2010, he laid out the case for a tougher U.S. approach toward both China and the WTO. He argued that allowing China to join had delivered none of the promised benefits, such as creating a vast new export market for American companies and workers and binding China to global trade rules. Instead, the U.S. trade deficit with the nation soared, "and millions of U.S. manufacturing jobs have been lost." China's political system is "fundamentally at odds with the American conception of the 'rule of law,' " he wrote. Moreover, China has scale. "For much of history, China had the biggest economy in the world—and it is fully capable of regaining that title," he warned.
As a member of Trump's cabinet, Lighthizer continues to frame the issue in those epochal terms. "I'm in it for one reason," he told the U.S. Chamber of Commerce in May, pointing to the trade deficit as a reflection of a "paradigm" in need of wholesale change. "A big part of that," he added, "is getting the relationship between the United States and China right."
To contact the editor responsible for this story: Cristina Lindblad at mlindblad1@bloomberg.net