French Shopkeepers Went Online to Beat Covid and Decided to Stay
(Bloomberg Businessweek) -- Two years ago, merchants in the French city of Angers got a grant to set up an online shopping platform aimed at competing with the likes of Amazon.com Inc. They initially planned to open it in early 2021, but when strict pandemic lockdowns forced shops across France to shut their doors last year, the site was rushed into service—providing a lifeline to the local economy and giving Angers retailers an edge over compatriots elsewhere in the country. "Businesspeople understood they needed to embrace e-commerce," says Deputy Mayor Stéphane Pabritz. "With Covid, it happened faster than anyone expected." 
Since it opened in April 2020, Angers Shopping has rung up more than €1 million ($1.2 million) in sales, and it's continued to thrive even as lockdowns have eased. The site's 180 merchants offer 90,000 items, from perfume and pet supplies to wedding dresses and manga comics. While sales dipped slightly after stores reopened, merchants say the site has helped them attract new customers, including some who'd never visited their shops but stumbled on Angers Shopping during the pandemic. "It's a good solution for people looking for a specific item or who don't have time to come in," says Laurence Collin, who runs River Woods, a women's clothing boutique in Angers's medieval city center. Online sales now account for about 20% of her business, up from zero before Covid.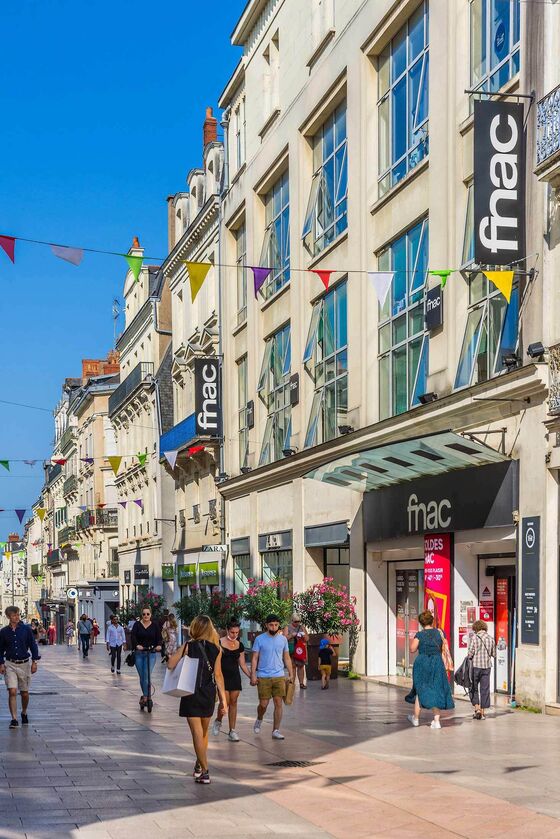 With more and more people shopping online, many local retailers had wanted to move into e-commerce to expand their customer base beyond those who might stroll the avenues and alleyways of the city of 150,000 in the Loire Valley. But few had the time or the digital chops to build and maintain their own sites, and they bristled at the terms demanded by Amazon: fees and commissions totaling as much as a fifth of their sales. Angers Shopping charges 5%—and reduced that to zero during the lockdown, thanks to government subsidies.
A local merchants association approached city and regional authorities for help in 2019, and they agreed to provide €252,000 over four years to fund the platform. Wishibam, a Paris consulting firm that had helped French shopping malls develop e-commerce sites, was hired to set up and manage the marketplace. Angers retailers were operating in "a digital desert," says Charlotte Journo-Bar, Wishibam's chief executive officer. For many shopkeepers, e-commerce "was just too complicated."
Wishibam created a system that lets merchants plug into a vast database of branded goods so they can quickly select photos and descriptions of items to post on the site. They also get access to digital tools to track sales and inventory, and to compare their prices with those of other online retailers. And they're spared the hassle of handling deliveries and returns, which are outsourced to contractors.
The digital marketplace offers everything from sneakers to artisanal chocolate to bottles of Cointreau, the orange liqueur that's distilled on the city's outskirts. Customers browsing the site can select their favorite shop by alphabetical order, or dig into categories from fashion to food to beauty products. "Now, I have clients all over France," says Catherine Sablé, a gourmet shop manager who sells about 10 gift baskets per month to out-of-towners who stop in while visiting Angers.
Unlike the Angers program, some other efforts to set up e-commerce platforms during the pandemic have stumbled. In Nantes, a city of 300,000 about 50 miles west of Angers, local authorities ponied up more than €630,000 last year for a site that's widely viewed as a flop. Skeptical merchants offered relatively few items for sale, which turned off shoppers.
Angers Shopping, by contrast, has made outreach to shopkeepers a priority. It encourages local businesses to raise their social media profiles, and it runs a lively Facebook page where it posts video interviews with merchants in their shops and features promotions for holidays and special occasions.
The online platform can't match the experience of visiting a boutique in an historic building, tasting chocolate or charcuterie, or sniffing samples of perfume offered by a shopkeeper. And customer loyalty remains a challenge, as online shoppers typically flit from site to site in pursuit of deals, paying scant attention to anything else.
But Angers Shopping has shown that even small retailers can find a profitable niche in e-commerce, says Dominique Gazeau, owner of a sporting goods store and head of the local merchants association. "We were flying blind at first," Gazeau says. "But little by little, we're discovering a new business model that's still evolving."